Liza Golden knows how to throw a party. She threw a bash for about 130 people for her daughter's bat mitzvah in 2014 and again for her son's bar mitzvah in 2017.
But there would be no party for her youngest son, Nadav, after his bar mitzvah last August. The COVID-19 pandemic's social distancing requirements wouldn't allow it. "We decided to have a Zoom bar mitzvah," she said. "What happened was a much better — beyond-our-dreams — experience."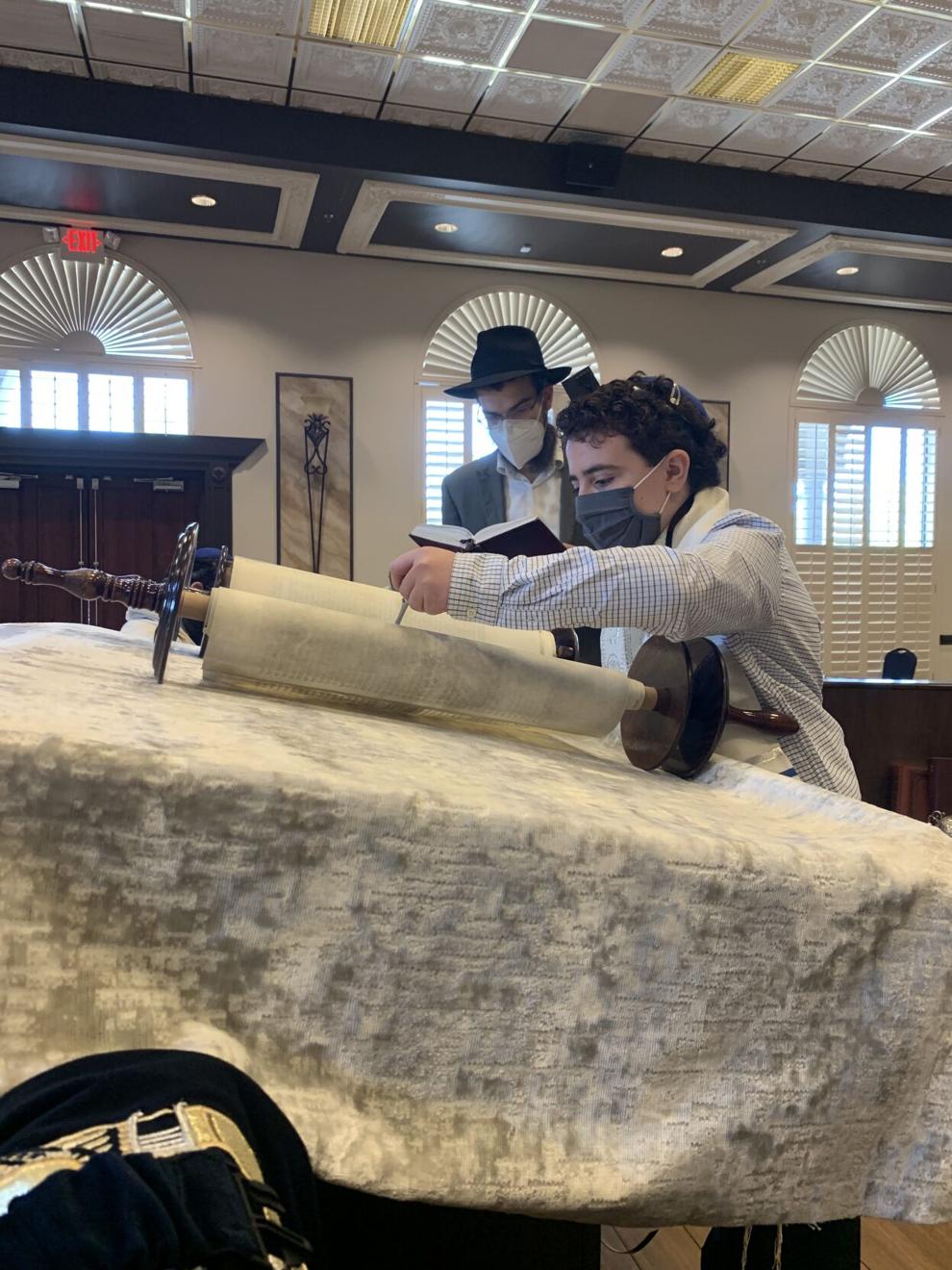 The pandemic has changed the look and feel of b'nai mitzvah, and several area rabbis say the rite of passage has become even more meaningful to families and kids because of the changes.
Up until now, certain aspects of a bar or bat mitzvah have been pretty standard, said Rabbi Mendy Deitsch of Chabad of the East Valley.
"You get up, you say a certain amount of passages and a speech — but not every kid wants to have a bar or bat mitzvah like that," he said.
The pandemic's forced isolation and use of technology has created the flexibility for kids to connect with their ceremony in new ways. Some kids want to sing or read a poem, for example and now they feel empowered to "celebrate the moment" however it feels most authentic to them, he said.
"Up until now, families felt a lot of pressure that everything should be perfect," said Deitsch. "And the boys and girls also felt this, in my opinion, unnecessary pressure and nervousness, because everyone's coming."
Even though lots of family attended virtually from Israel, Nadav Golden said having just 10 people in the Chabad of the East Valley sanctuary, instead of a fully crowded room, made him feel less nervous. That helped him focus on himself, the texts he read and feel spiritually "closer" to the process.
Rabbi Bonnie Sharfman of Congregation Kehillah said COVID has forced families to shift their focus.
"Rather than spending so much time organizing the party aspects — because those are just not happening right now because of COVID — they're really looking at how meaningful the bar mitzvah itself can be," she said. "It should be celebrated, but the bar or bat mitzvah itself is so incredibly precious."
Kids have let go of the party aspect more easily than the parents, said Congregation Beth Israel Rabbi Sara Mason-Barkin.
"How can I squeeze the most meaning out of this day and refocus it to really being about special time with my family and connecting to my Jewish self? The kids have really understood that deeply and quickly," Mason-Barkin said.
Meanwhile, many parents have had to come to terms with their original visions not being realized. "The day your kid is born you start to think about what their bar or bat mitzvah is going to look like and be like, and it's harder to shake that when you realize it's not going to happen the way you'd always planned it," Mason-Barkin said.
The celebration hasn't looked how a lot of families thought it would, and it's been interesting to see what is most important to the kids, Congregation Or Tzion Cantor Dannah Rubinstein said.
"For one student it was incredibly important to read from the Torah," she said. So that student's family borrowed a Torah that he read from his own home. "For another student, what was really important was to have his family gather in person with him. So he decided to delay his bar mitzvah until that could happen."
For Jordanna Schreck, 13, the most important aspect was the people who could be part of her special day. Her bat mitzvah technically happened last May, when she read from the Torah at her house in the virtual presence of Temple Chai Rabbi Mari Chernow and Cantor Ross Wolman. There was an unintended audience as well. A scheduling challenge resulted in Schreck reading her Torah portion to a group of fourth graders and their parents, with some of her own extended family tuning in.
"I would have rather wanted my friends to watch instead of fourth graders," she said. "I was hoping for some really big party and to do my service in front of everyone, which I worked hard for. But that didn't happen."
And the party was designed to make an impression. Sheri Schreck, her mom, had plans for a 135-person party at Grayhawk Golf Club, with what Sheri described as an "elaborate" DJ package that included dancers, two 60-inch screens and more.
Instead they hosted a drive-by celebration. Jordanna saw her friends one car at a time and gave out cupcakes and cookies. She was disappointed about not being able to have a big party, but she has also shifted her focus and is looking forward to her do-over bat mitzvah service this coming May.
"I'm glad I could redo it and actually know more about it, and have the people that care about me come." She feels like a different person compared to last year, and said the ceremony is more important to her now, whereas the party was more important to her then.
For Ellie Gottlieb, 13, the most important aspect of her bat mitzvah was the service itself.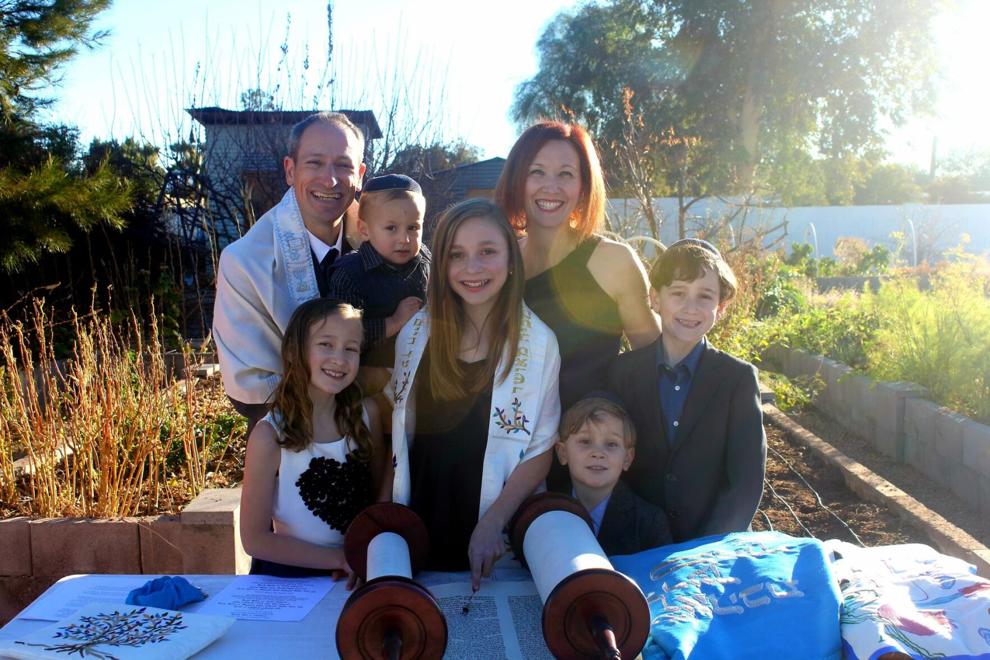 When she envisioned her bat mitzvah it was inside The New Shul's sanctuary, with her family and friends watching.
What ended up happening — a backyard bat mitzvah with family and friends watching on Zoom — wasn't what she expected, but she wouldn't change it now if she could.
More people attended who may not have otherwise been able to without Zoom, she said.
Her mom, Jolene Kuty, said Ellie's backyard bat mitzvah in January was beautiful. But it wasn't what she had imagined. After all, you can't exactly put a chat thread into a scrapbook.
But "in the end, it still felt very whole to us," she said.
Liza Golden said not having a party made the experience less stressful and allowed her to enjoy Nadav's ceremony in a way she wasn't able to with her two older children.
During her previous kids' ceremonies she found her mind racing. "Is the food ready? Is everybody happy? Is he here? Is he seated? Do we have enough kipot? You are so worried about making everyone happy," she said. "You know, do I look okay? What's going to happen this evening at the party?"
But during Nadav's ceremony, there was none of that.
"This was a pleasant experience," she said. "It was purely about Nadav being called to the Torah. It was a pure experience — it wasn't disrupted by minutiae."
And, because of the more intimate setting, she was able to enjoy the ceremony from a new perspective. She couldn't physically see her middle son at the bimah during his bar mitzvah because of the mechitza.
"I was able to see Nadav perfectly," she said. "I stood up, I saw his performance, I was much better connected to him while he was doing it. He made eye contact with me."
Time will tell how Zoom gets incorporated into bar and bat mitzvah ceremonies in a post-COVID world, but Deitsch sees it as an option to be considered.
"The way I envision it — and I hope to share this message with the parents — is that we found an additional way to celebrate the bar mitzvahs and bat mitzvahs," he said. "As we explore the previous available options, let's explore these options as well, which I think will enhance and give the child an opportunity to really grow." JN