2/20/2020, 10:13 a.m.: This post has been updated to correct the names of participants in a meeting at ASU.
The 2019 Jewish Community Survey shows a growing population that is active in charitable giving and generally agrees about the importance of living an ethical and moral life but disagrees on issues ranging from attending Jewish schools to the Israeli-Palestinian peace process. 
Since 2002, the Jewish population in Maricopa County has grown by 19%. According to ASU's tally, the community now includes 82,900 Jewish adults and 98,750 Jews overall. Today, the majority of the Greater Phoenix Jewish community identifies as Conservative or Reform and only attends services once or twice a month or a few times a year.
These are some of the findings in the newly released 2019 Maricopa County Jewish Community Survey conducted by Arizona State University and visiting research professor Dr. Kenneth Goldstein.
The study, funded by the ASU Office of the University Provost, offers a portrait of Jewish Phoenix with a growing and diverse population that reflects the attitudes and demographics of American Jews nationwide. The last such study was conducted in 2002. 
"The key part for us was that we were doing this because we believe in our responsibility to the community that we serve; that's been our motivating factor," said Mark Searle, executive vice president and university provost. "The university has a very strong commitment to taking great responsibility for the communities we serve in terms of their economic, social, cultural and overall well-being. Part of that is demonstrated in our support of different groups who are looking to better understand their own communities within the larger metropolitan area."
Frank Jacobson, a member of the 2019 Jewish Community Study research team and former vice president of philanthropic services at Jewish Family & Children's Service, brought up the idea of conducting a survey in 2014 when he met with Searle and Jim O'Brien, senior vice president of university affairs and chief of staff, to discuss ways in which the university could partner with the Jewish community.
"It struck me that one of the challenges that I had as a fundraising and marketing person at JFCS was that I really wasn't sure of the Jewish population anymore in the metropolitan area," Jacobson said. "I was curious about a number of things, including what that population was, because everybody was just making assumptions; nobody knew what the affiliation rate was anymore, but everybody felt it was going down; we believed that people in the community were supporting secular organizations, but they weren't supporting Jewish organizations. There were just a lot of questions about the sociology of the community that we didn't know the answers to."
At the start of the survey, visiting professor Ken Goldstein had to determine a methodology: Who to survey, how to reach them and how to ensure that responses were representative of the overall community. One major limiting factor of the 2002 study was its reliance on a list of Jewish community
members maintained by the Jewish Federation of Greater Phoenix, which potentially overrepresents community members who are more observant and highly involved. 
"The problem is that people on lists, by definition, tend to have different attitudes, they're going to be more connected to the Jewish community than people who are not on lists. So there's a known bias there," Goldstein said. "One approach is to do the interviews and then try and weight statistically the responses to what the demographics you think should be in the population. As we explained in the report, we didn't take that approach. We thought a better way is to say: A survey of people on lists, at the end of the day, is a good survey of people on lists. Let's make it what it is and not what it isn't."
In addition to surveying members of the Federation list, the new ASU study surveyed three additional groups: synagogue members and nonmembers, identified through Jewish organization lists other than the Federation's, and a random sample of registered Jewish voters who participated in a phone interview. Each group's responses are listed separately in the report rather than being aggregated into an overall measure of attitudes and characteristics.
In order to analyze trends in the Maricopa County Jewish community between the 2002 and 2019 studies, the research team compared the 2002 data with only the 2019 survey responses of members of the Federation list. The comparison shows that over the last 17 years, the community remained roughly half Reform, one quarter Conservative and 3% Orthodox. Other survey responses, including the importance of Jewish identity and levels of involvement in youth organizations, also remained constant.
However, since 2002, the percentage of Jews married to a Jewish spouse and raising their children Jewish rose dramatically. Those figures rose from 60% in 2002 to 84% and 94%, respectively, in 2019.
The study also analyzed similarities between the local community and national Jewish population. Using responses from registered Jewish voters in Maricopa County and a nationwide survey of American Jews conducted by the Pew Research Center in 2013, researchers found that the attitudes and demographics of Jews from the voter file closely match those of American Jews overall, including sex, age and denomination affiliation. 
"My one global point would be, which is maybe not surprising: It's a large area where the incidence of Jews is pretty similar to the incidence of Jews in the country as a whole, a little bit north of 2%. And much of the Jewish community is not from Arizona, but comes from other places in the United States. And I think it's sort of interesting, or maybe obvious, that in a large Jewish community in which people come from all over the United States, the characteristics and attitudes of people in the community look very similar to what nationwide Jewish attitudes and characteristics would look like," Goldstein said.
In addition to analyzing trends over time and comparing local and national populations, the ASU study compared the four study groups' attitudes on a wide range of issues, from the importance of marrying someone Jewish and raising children Jewish to whether the Israeli government is making a sincere effort to achieve peace. The survey revealed distinct differences between synagogue members and the Federation list compared with nonmembers and registered Jewish voters.
Synagogue members were most likely to agree with the statement "being Jewish is very important in my life," with 82% agreeing, while the randomly sampled voter list was least likely, with 45% agreeing. Women were also more likely than men to answer yes.
Federation list and synagogue members were also more likely than nonmembers and registered Jewish voters to agree with statements such as "caring about Israel is essential to being Jewish," "being part of a Jewish community is essential to being Jewish" and "marrying someone Jewish is essential to being Jewish."
Across all four groups, Jews in Maricopa County agreed that the most essential aspects of Jewishness were leading a moral and ethical life and remembering the Holocaust, and that observing Jewish law and eating Jewish food were nonessential.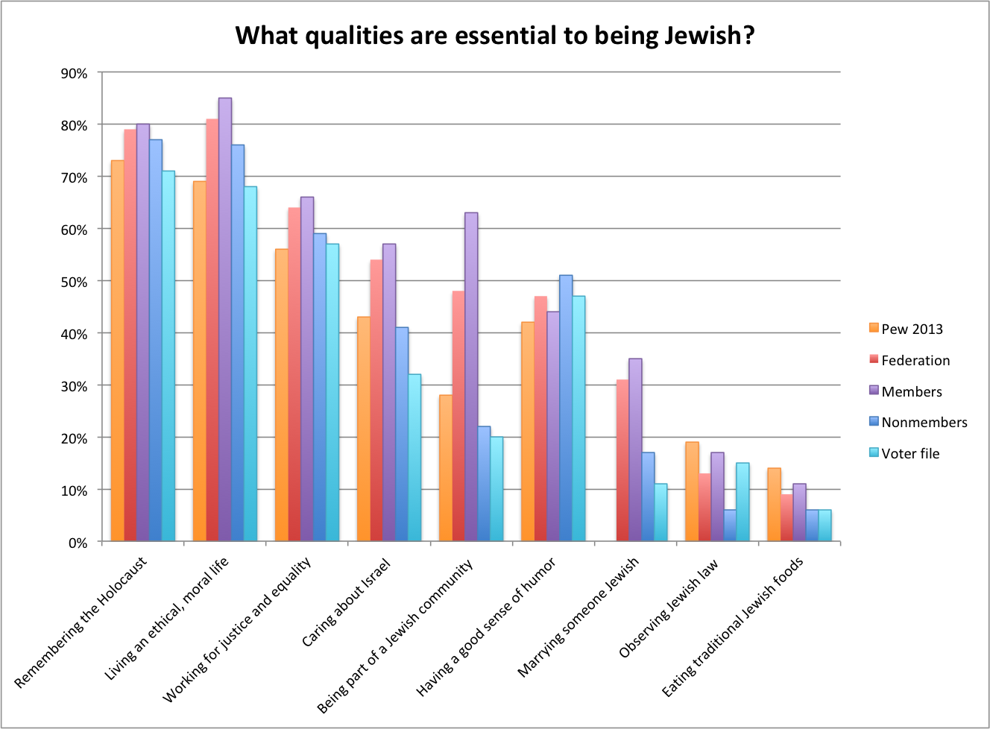 "There were interesting views on how important it was to remember the Holocaust. I was very pleased to see that because I think that's a very important historical touchstone," Searle said. 
Nonmembers and survey participants from the voter file were significantly more likely to be married to a non-Jew than synagogue members and Federation list members, with half of Jewish voters and one in three nonmembers in an interfaith marriage compared to only 9% of members and 16% of the Federation list.
Jewish voters who participated in the survey were also less likely to be raising their children Jewish (59%) or to send their children to a Jewish daycare or preschool (22%) than any other group. In comparison, 96% of synagogue members are raising their children Jewish and 67% sends their children to Jewish daycares and preschools.
In terms of religious observance, members of all groups were more likely to observe rituals such as participating in a Passover seder, fasting on Yom Kippur or keeping a mezuzah on a door than to regularly attend services.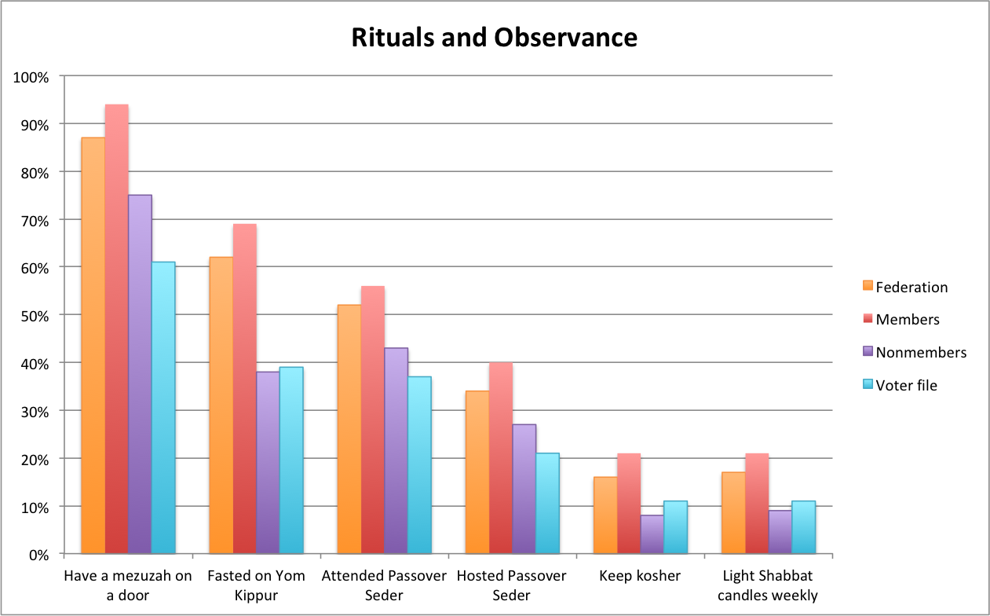 Jews in Maricopa county are most likely to say they were raised Conservative, although today a plurality consider themselves Reform. The overwhelming majority were raised Jewish (72%-89%) and had two Jewish parents (91%-96%).
Most Jews in Maricopa County, ranging from 68% of the voter file to 92% of synagogue members, describe themselves as at least somewhat emotionally attached to Israel. Many — 42% of the voter file and 78% of synagogue members — have also visited Israel at least once. 
Still, only half of randomly selected Jewish voters donated to an organization that supports Israel in the last five years, compared with 98% of synagogue members. And only 21% of the voter file and 36% of nonmembers believe the Israeli government is making a sincere effort to reach a peace settlement with Palestinians, compared with 53% and 52% of Federation list and synagogue members, respectively.
On the issue of anti-Semitism, 78% of the voter file, 91% of nonmembers and 94% of Federation list and synagogue members agreed that anti-Semitism has gotten worse in the past year. Approximately one in five community members personally experienced anti-Semitism in that time.
The study also looked closely at assistance and care for seniors and those with special needs. 
Fewer than 10% Jews in Maricopa County have a family member who is a special needs adult or child. Of those, around 90% reported that finding the help they need is at least somewhat difficult.
Around one in five community members reported that a member of their household has a serious emotional or behavioral problem, and around a quarter of those respondents said it was very difficult to find the help they need.
Another 20% say they or their spouse has a close relative currently in a nursing home or assisted living facility. When asked about the importance of finding a Jewish-sponsored nursing home for their relatives, only 10-16% considered it "very important," although almost half of survey respondents considered it "somewhat important."
Finally, the study examined community involvement. 
Thirty-seven percent of the Federation list and 73% of the voter file were not members of a synagogue. The most common reasons stated for not being a member were: "being a member is not important to me," "there aren't any temples or synagogues in my area that match my values or beliefs" and "I don't need to be a member to practice my faith."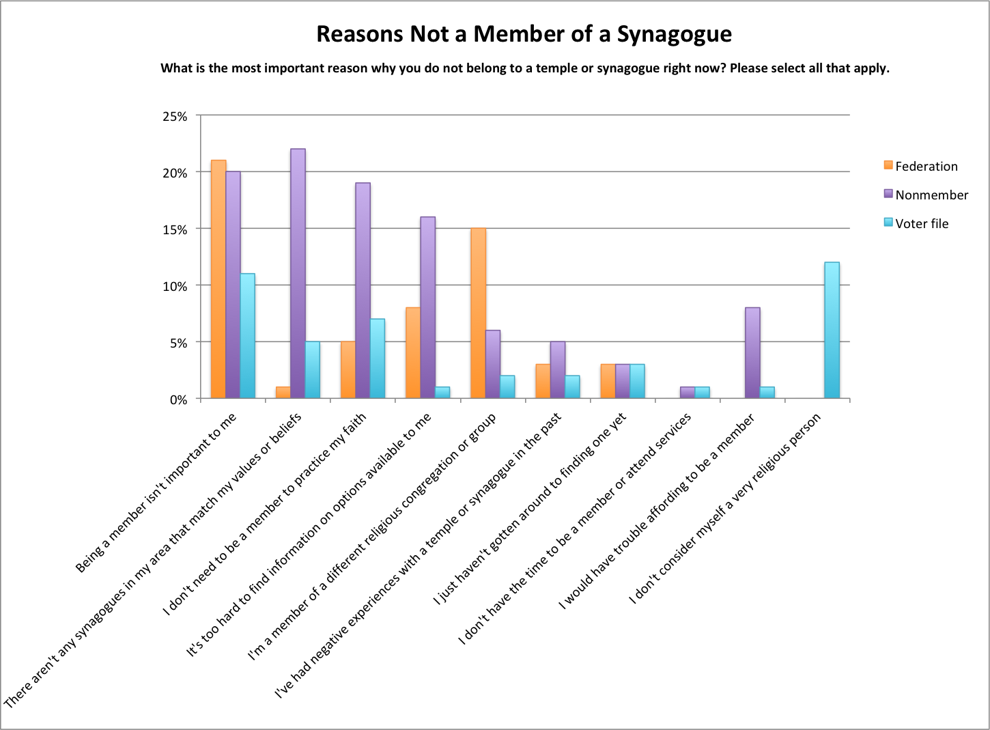 Jacobson, who also serves on the board of Congregation Or Tzion, said he found the reasons that people aren't members of a synagogue surprising.
"I was personally interested in why people don't belong to synagogues," Jacobson said. "I've been thinking about ways that we can reach out further into the community. So what I really wanted to know is, did the price, the cost of being Jewish, prevent people from being a member? And the answer surprised me because I thought the answer was going to be cost was one of the big inhibitors of joining. It wasn't the biggest."
The study also cautioned that a lack of participation in religious life does not predict a similar lack of participation in other aspects of Jewish life. A majority of synagogue members and Jews from the Federation list (57% and 64%) belong to a Jewish organization other than a temple or synagogue, as do a substantial number of nonmembers and registered Jewish voters (42% and 23%). Many also participated in a program or event run by a Jewish organization they do not donate to or volunteer with, ranging from 28% of the voter file to 74% of synagogue members.
Given that the community largely identified with shared cultural and ideological attitudes, such as leading an ethical and moral life and working for justice and equality, the survey suggested that those seeking to reach out to Jews on the periphery focus on emphasizing shared values, such as giving back to the community and working for a more just society.
"Our conversation was: How might we collaborate with each other as we've done on a number of other projects over the years? And how people can come together and find meaning in the study on a collaborative basis, how people can respond to this?" Jacobson said. "I want to see how we can engage more Jewish people in the community who are not currently engaged. I think it's up to those of us in these organizations to find ways of reaching out." JN