"I've loved seeing everyone back together for the biggest BBYO international convention ever!" 16-year-old Sadie Feinberg told a rapt audience just before Shabbat began on Friday, Feb. 17. The Scottsdale teen served as part of BBYO's press corps during its 99th international convention (IC) in Dallas this year, which was livestreamed.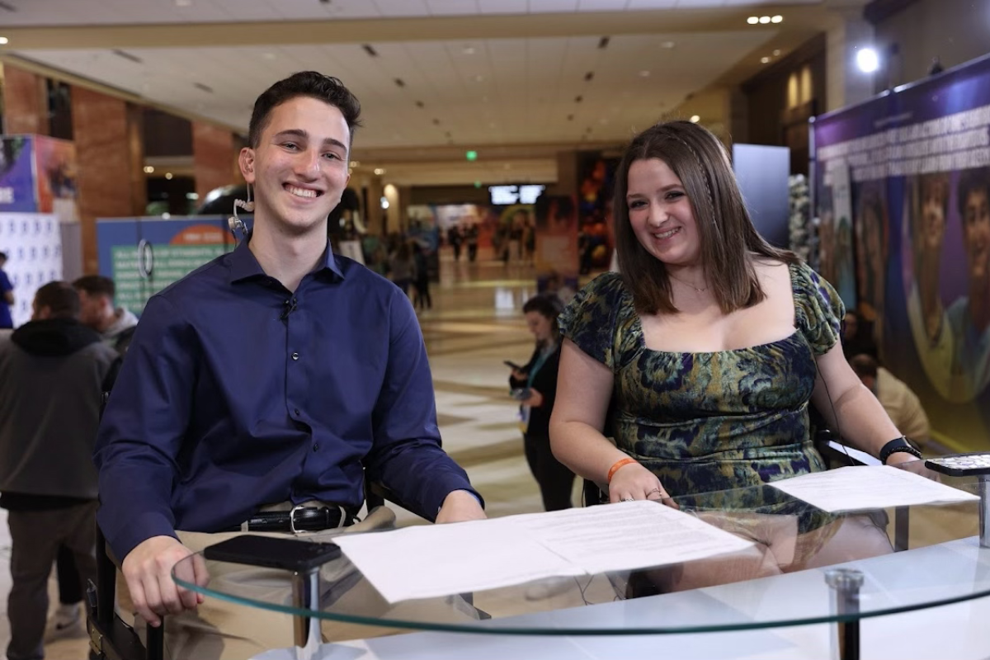 The Jewish youth organization prides itself on developing leadership skills in teens, so to become one of the faces of BBYO's largest convention yet, Feinberg, already with podcasting experience in her local BBYO chapter, had to apply for the IC role and prove herself to be an apt young journalist ready for an international stage.
As part of the news desk, Feinberg and her co-host, Jason Calderon, interviewed Matthew Grossman, BBYO CEO, asking him about the ins and outs of running a growing international organization and his plans for its future, in addition to talking to a social media expert, quizzing teen participants and introducing TikTok videos.
"Jason and I wrote the whole script ourselves," Feinberg told Jewish News.
The number of opportunities for leadership positions is one of her favorite things about the organization because "it gives everyone a chance to lead and everyone can find their own place," she said. Currently, the Horizon High School junior and member of the Center for Jewish Philanthropy of Greater Phoenix's Youth Board is the Mountain Division's Regional Chair for Senior Appreciation, where she plans programs for BBYO seniors, including organizing a letter-writing campaign to let members in their final year know how much they'll be missed.
Feinberg's roots in BBYO are deep, going back to her maternal great-grandfather, who was active in Denver. Three generations of Feinbergs have served on the board of the Mountain Region, which includes Las Vegas and Henderson, Nevada, Salt Lake City, Chandler, Phoenix, Scottsdale, Sun City and Tempe.
"I was more drawn to BBYO because my family was in it, and then my sister really pushed me in and I love that because it gave me a new social network. Being a part of the Jewish community is very important to my family," she said.
Dallas was her third IC, though the convention was held online her freshman year due to COVID. Last year's meeting in Baltimore was very chaotic because people hadn't seen one another in person in so long, she said.
This year's convention, titled "Now is Our Time," was more about reuniting with old friends and bidding farewell to the seniors who will be leaving soon. It also offered a huge array of speakers and activities to the 3,200 teens who participated.
There were 35 featured speakers from all walks of life. Among them were Israeli Prime Minister Naftali Bennett, U.S. Second Gentleman Douglas Emhoff and U.S. Special Envoy to Monitor and Combat Antisemitism Deborah Lipstadt. Additionally, there were dozens more speakers, guests and musical performers participants could sign up to see.
Feinberg was most excited to hear from TikTok influencer Chris Olsen, who uses his platform to help his followers manage mental health while on social media, and some of the touring cast of the musical "Hamilton," because she's a self-described theater kid.
"David Hogg (founder of March for Our Lives) talked about a better future and gun safety — he was one of the cooler speakers there," she said.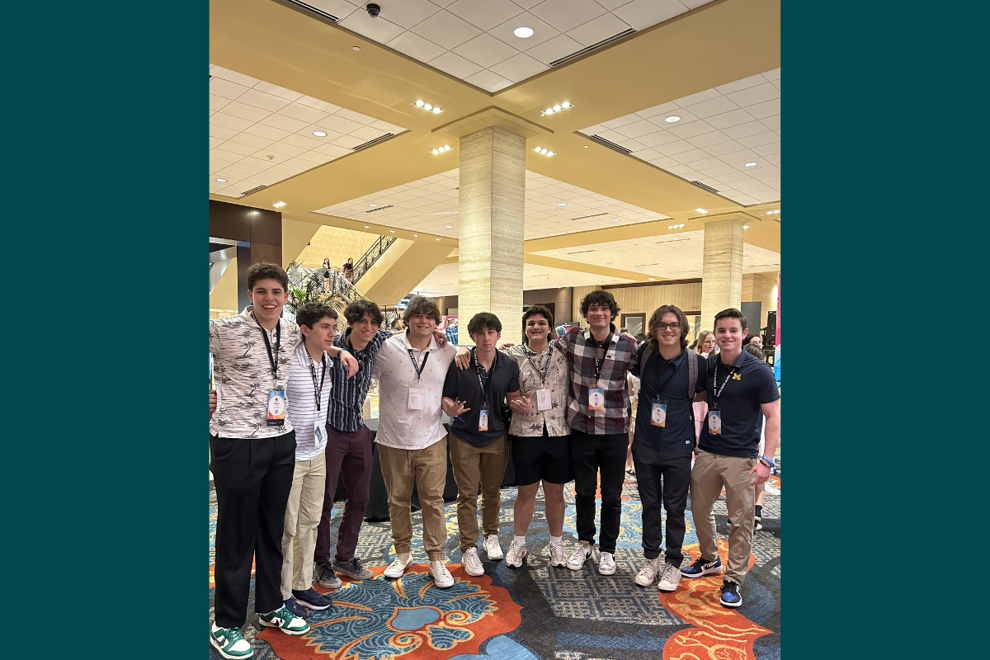 Regional President of Mountain Region Noah Fox, a senior at Horizon High, has been "super engaged" in BBYO throughout high school.
"I instantly fell in love with it, and I love the leadership aspect. As teens, we can plan and decide how we want to run events," he said. Being on the board offered him the freedom to get creative. "It was the first time in my life that I felt part of something and in charge of it and helping it grow."
He spends roughly three to four hours every week on his responsibilities for the organization, in addition to traveling to other chapters in the region. The investment of time has been worthwhile because the communication and social skills he's developed will put him in good stead in any career he chooses, he said.
Due to his position on the executive body, Fox was invited to a private town hall meeting at IC with Emhoff to discuss antisemitism.
"We got screened by the secret service! Being in proximity to someone with that much influence was really inspiring to me, and he's interested in the causes that are important to me," Fox said.
Though he's not normally a fan of gymnastics, he went to hear three-time U.S. Olympic gold medalist Gabby Douglas and was blown away. "She was a really great speaker and talked about motivation and sticking with your goals — I walked away with a lot more than I expected," he said.
Coming together as Jews and celebrating Shabbat is an important aspect of every IC. For Fox, Havdalah with thousands of other young Jews is a transformative experience.
"Being in a room with 3,200 kids who all know the same prayers even though they're from different countries and speak different languages is incredible. We sat next to kids from Spain who didn't speak much English and we didn't really speak Spanish, but we knew the same prayers and it was great," he said.
Older kids had told fifteen-year-old Hayden Press that Havdalah at IC was among their favorite things, but he still wasn't sure what to expect when he arrived in Dallas, his first convention.
"It was really cool to see everyone in one room, and it reminded me of camp," he said.
That was how he summed up the whole weekend, which he hadn't expected "to be so big and fun." Meeting other kids from across the country and world — teens from 45 countries participated in IC — was a high point.
Before going, he sat down with his mom and planned his weekend. She advised him that he had to have a game plan going in or it would be overwhelming given all the speakers and activities on offer.
"There were so many options and you could go to one and if you didn't like it, you could go to a different one. I liked the ones I chose, so I didn't have to move," he said.
He was very impressed by Deborah Lipstadt, who he hadn't expected to be so interesting, and Gabby Douglas. "I liked how she talked about not giving up," he said.
The students weren't the only ones overwhelmed by this year's opportunities. Tess Perez, regional director for Mountain Region, was impressed listening to Andrew Stern, a Holocaust survivor, and his granddaughter, who represented the Los Angeles organization If You Heard What I heard.
"Hearing them talk about the importance of passing on the stories to future generations was really special," she said.
Hearing the Second Gentleman tell the thousands of young Jews that he's proud of his Judaism was another special moment, she said. But like so many others, Havdalah is her favorite time.
"We're all there together — it's what BBYO is all about," she said. JN
For more information, visit bbyo.org.
Jewish News is published by the Jewish Community Foundation of Greater Phoenix, a component of the Center for Jewish Philanthropy of Greater Phoenix.