Adina Anhalt didn't hesitate to offer her help when she learned of an opportunity to support Afghan refugees resettling in Arizona.
"I can not even begin to imagine what these refugees have been through," Anhalt said. "As a Jew, as a mother, as a human being — I couldn't not help."
She is one of many in the Greater Phoenix Jewish community who have donated financial support or items to Valley Beit Midrash's Welcome Tent initiative, which was created to fill in the "gaps" left by the large service agencies for Afghan refugees, most of whom are Muslim.
"There have been many times throughout history when Jews were forced out of their homes and helped by members of other faiths and communities," she said. "These Muslim refugees are no different than us and we should help any way we can."
Anhalt and her family donated clothing and household items. Her 10-year-old daughter, Abbie, chose to donate a journal and a wallet. "She thought after all they have been through, someone might want to write down their feelings and someone may have left quickly and had to leave their wallet behind," Anhalt said. "I tried to think about what parents might need to cook for their families and set up a home."
VBM launched the initiative through Arizona Jews for Justice, its social justice arm, in September. Rabbi Dr. Shmuly Yanklowitz, president and dean of VBM, said the organization has since received about 400 pieces of children's clothing, over 100 strollers and car seats and over 100 baby food items.
According to the Arizona Department of Economic Security, 2,015 Afghan evacuees have been approved to resettle in Arizona by the end of next March.
Yanklowitz said it's been uplifting to see so many different members of the Jewish community show support.
"All types of strangers from the broader Jewish community have been dropping things off," he said. "We're at the point where we're even looking into renting storage, because there's so many people reaching out with supplies."
An anonymous donor gave $25,000 to help launch Welcome Tent, and a little over $1,000 in donations have since come in on top of that, Yanklowitz said.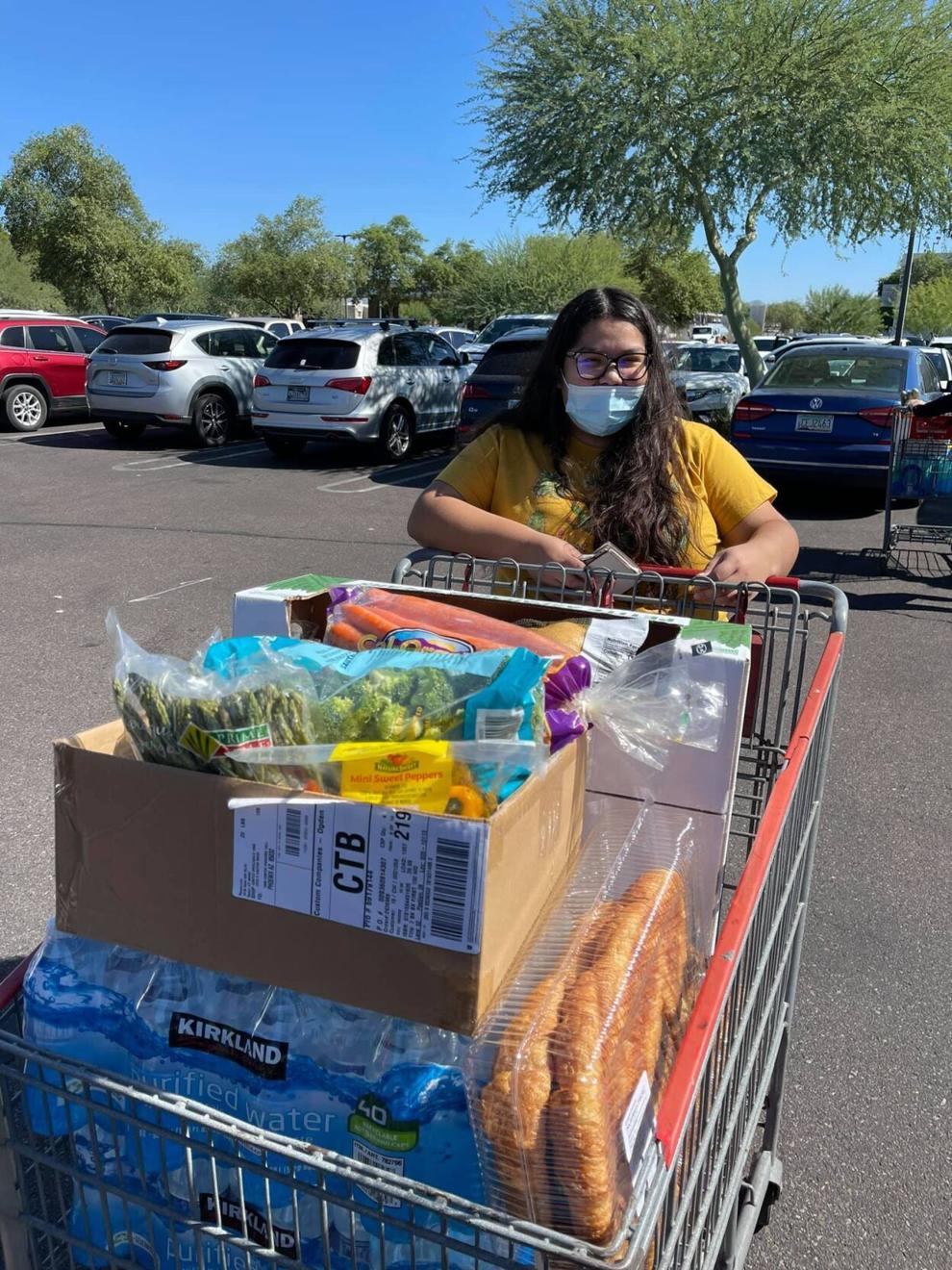 Iris Fox and her husband, Michael, decided to donate to Afghan refugees when they read about the turmoil and saw disturbing footage on the news in the wake of the U.S. withdrawal from Afghanistan.
But Michael wasn't keen on donating to an organization that would keep a significant amount of donated funds for administrative costs, and wanted to be sure most, if not all, proceeds would go directly to the people who needed it.
Iris saw a Facebook post by Yanklowitz soliciting items to help Afghan refugees, and knew a financial contribution would end up in the right place.
They brought the idea of raising money for Welcome Tent to a group they are part of, which includes other Temple Chai members, all of whom regularly give to specific causes agreed upon by the group.
The 14 of them donated a combined $350.
"For most of us in the group, our family were immigrants," Iris said. "It's just something that we feel is a very Jewish imperative: Welcoming the strangers."
Judy Gardenswartz and her husband, David Efron, donated a "fairly significant" amount to VBM, and they are gearing up to offer more support to Welcome Tent.
Gardenswartz said she is glad to support the Afghan refugees, especially if they are Muslim.
"These are human beings," she said. "The more we understand each other, the less likely there is to be conflict."
Yanklowitz said he would be helping refugees no matter where they come from, but "there's a special element here." It stems from the Jewish community showing up to support Afghan refugees.
He's been working to cultivate dialogue and trust between Muslim and Jewish groups for many years, he said, and he intends to highlight the Jewish community's efforts to support Muslim refugees once immediate needs are met.
"Right now, stage one of this crisis really is bare necessities," Yanklowitz said. Refugees need a place to live, they need food, furniture, household items. Then, they're going to need job training, help finding jobs, help with schools, English classes — all the things for "basic survival in America," he said, noting he is seeking volunteers for service work — like teaching English or providing childcare. After that, VBM can work on deeper relationship building.
"Islamophobia and antisemitism are often intertwined," he said. "We're in this together."
Yanklowitz said social workers from Lutheran Social Services and the International Rescue Committee visit the VBM office to pick up donated items almost every day to distribute.
Even before the U.S. completed its withdrawal from Afghanistan on Aug. 30, VBM began organizing to help the anticipated resettlement of Afghan refugees in the Greater Phoenix.
"We decided we needed a whole coalition," Yanklowitz said. He reached out to a variety of local rabbis and pastors, many of whom have been meeting regularly to better understand the needs of the refugees and how to work better with local organizations tasked with resettling refugees.
Rev. Rachel Gilmore, pastor at Central United Methodist Church, was happy to be invited to participate in the interfaith initiative and has been in those coalition meetings. Gilmore is the church's missional consultant and she's been working with other faith leaders to coordinate the transportation of goods. The church has an empty education building, which is now used to store donated items until they are ready to go to their "forever home," she said.
"There are strangers in our midst who are trying to make this community their home and it's our job to welcome them with radical hospitality," Gilmore said. "I know how important it is to feel welcomed, invited and supported when I'm new in an area."
Gilmore said being able to collaborate with other faith leaders has also been a "gift" in a time of great polarization.
"It's a reminder that we're all in this together, and we're called to serve and to love each other and to move towards a place of understanding, mutuality, respect and friendship," she said.
The fact that a Jewish organization is leading the interfaith effort to support refugees who happen to be predominantly Muslim is a "beautiful thing," she said, adding it is a refreshing reminder to the local community, and even the country, that people don't need to feel threatened or judgemental when there are people who don't always share the same belief.
"I love that the Jewish community is modeling that for the rest of the Phoenix area, and hopefully the U.S.," she said.
Rabbi John A. Linder of Temple Solel was also happy to be invited to participate.
Solel is set to co-sponsor an Afghan refugee family with Shepherd of the Hills Congregational United Church of Christ. Rev. Rock Fremont said things are set to kick off Jan. 1 and he hopes to be able to support more than one family.
Solel co-sponsored a Syrian family four years ago with Lutheran Social Services of the Southwest and it was "one of the most meaningful things we have done." The congregation welcomed the family to America by "literally being the first faces they see when they arrive," furnishing the apartment that has been arranged through LSS-SW, filling the refrigerator and following the lead of the LSS-SW case worker assigned to the family to identify other ways to support them.
"The goal, of course, is to help them acclimate to a new country and culture, get the children in schools, help find work, sustainable living and be their friends," he said. Linder is in the process of reaching out to Solel families to see who wants to participate in co-sponsoring an Afghan family.
"Given that most (not all) of the Afghan refugees are Muslim, it surely strengthens our bond as Jew and Muslims," Linder said. "Yet, it's more about the common bonds all of our religious faiths share; it's an opportunity to recognize our interdependence, to strengthen us as a community. The whole is greater than the sum of our parts." JN