With 2020 lost to lockdowns, Congregation Beth Israel decided to hold off celebrating its centennial anniversary last year until 2021. The party may be a little later than expected, but the memories of the oldest synagogue in Phoenix are flowing and a vision for the future is bright, said Rabbi Stephen Kahn, CBI's senior spiritual leader for the past 18 years.
"There are very few times in our lives," Kahn said, "when we get to enjoy a past, present and future moment like a 100th anniversary of a synagogue, especially in the southwest where there aren't many synagogues that are 100 years old."
The Reform synagogue, now in Scottsdale, is marking its centennial with a special Shabbat evening service on Oct. 22, at its original downtown building on Culver Street.
"We really want to acknowledge that we stand on the shoulders of some really amazing people who founded not only our synagogue but the Jewish community in the Valley," Kahn said. "We are always aspirational in the way we look towards the future, especially at a time when congregational Judaism is at a crossroads in North America."
The kickoff event at what is now the Cutler-Plotkin Jewish Heritage Center will be followed by a year-long celebration, including a speaker series, gala, golf tournament, concert, the commissioning of a new Torah and a trip to Israel.
"We intend to celebrate our history and honor our legacy and many of our founding members," said Robin Roeder, chief communal and executive officer.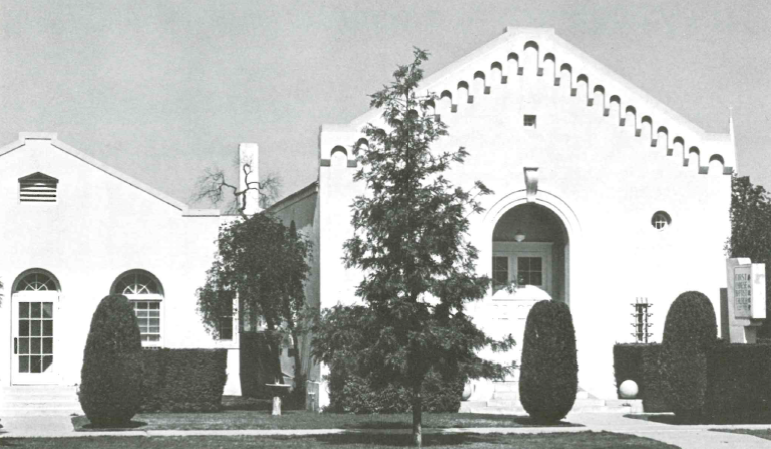 Jewish settlers in Phoenix began gathering for High Holiday services as early as 1906. The synagogue, then called Temple Beth Israel, was incorporated in 1920 with 38 families. The house of worship became affiliated with the Reform movement in 1935.
Abraham Lincoln Krohn was rabbi from 1938 to 1953. During his tenure, the synagogue flourished, growing from about 100 families with 64 religious school children, to 600 member families. By 1955, Phoenix's Jewish population would grow to over 3,000 families with just two synagogues, Beth Israel and the Conservative Beth El Congregation.
Krohn participated in the community as a leader of several secular organizations and Jewish Family & Children's Service. He was succeeded by Rabbi Albert Plotkin, who served for 36 years.
During his tenure at Beth Israel, Plotkin was heavily involved in Phoenix's Jewish and non-Jewish communities. "Rabbi Plotkin was the go-to Jewish religious leader during his decades of service," said Martin Shultz, a past CBI board member and longtime volunteer. A public policy executive, Shultz joined the congregation when his family moved to Arizona in 1953. Of Plotkin, Schultz said, "he and other religious leaders really had to work hard at bringing moral fiber into what is Phoenix today. That transition from the '40s and '50s was tough."
Plotkin, who died in 2010 as a rabbi emeritus, was a staunch supporter of Israel, an advocate for civil rights and a supporter of the arts. He founded the Jewish Studies program at Arizona State University and taught there. He volunteered for 25 years as a chaplain at Phoenix Veterans Hospital.
Plotkin "was the most outstanding in our history, active in the community and a good pulpit rabbi," said Jerry Lewkowitz. Now 90, he was born into the temple by virtue of his parents Herman and Carrie Lewkowitz, who were founding members. Lewkowitz, a lawyer, remembers his bar mitzvah and confirmation. He has since served as a president of the board, like his father did, and his own son.
Lewkowitz recalls the move after 25 years to 10th and Fowler for a much larger building with classrooms. In 1997, the congregation moved again to its current location at 10460 N. 56th St. and Shea Blvd.
Along the way, Beth Israel became more than just a synagogue. In addition to the Mark L. Haberkorn Religious School, the congregation added the Chanen Preschool and the residential Daisy and Harry Stein Camp in the Bradshaw Mountains surrounding Prescott. The synagogue started a food pantry and built a library of 20,000 volumes. The congregation's Beth Israel Cemetery is one of the oldest historic cemeteries in Arizona.
"We really go through a full lifecycle," Roeder said. "We look at our total community as very large because of those entities."
Cantor Seth Ettinger estimates that CBI actually serves an additional 600 families today through its school and camp offerings. Ettinger joined the synagogue four years ago from Wilshire Boulevard Temple, the oldest synagogue in Los Angeles. "I was prepped, if you will, for this congregation being the oldest congregation. They have a lot of pride in their history and we want to immortalize our history and ensure that our history will continue into the next 100 years." JN