Long before Rabbi Emily Segal stepped foot in Phoenix's Temple Chai, before she even became a rabbi, there existed a hint of the path she would walk.
During her bat mitzvah at Temple B'nai Shalom in Fairfax, Virginia, the young Segal said, "Dear God, this is my time. This is my prayer. This is my moment." She elaborated by pronouncing her moment as one connected to the Jewish future.
Temple Chai congregants learned this piece of her story from Segal's own rabbi, Amy R. Perlin, who not only presided at the bat mitzvah but "saved every note, every email, every recommendation, every question" that Segal ever sent her.
"I can trace the making of your rabbi, her thoughts, her lifelong desire to make Jewish choices and the Jewish song in her heart," Perlin told approximately 400 people in Temple Chai's sanctuary, who had come to watch Segal be installed as the temple's senior rabbi on Friday, Jan. 6.
"This is your moment Rabbi Segal, and we are blessed to share it with you," Perlin said.
The song-filled service was infused with emotion from the moment Segal invited everyone to come in, find their seats and welcome the presence of Shabbat.
Ron Paler, who attends services with his husband, Michael Loya, somewhat regularly, said he was surprised and delighted by how many people had come to support Segal, who is "an inspiration to us."
Stacey Leshner usually brings her kids to Tot Shabbat, but she prioritized coming to Segal's installation, especially because they have something of a shared history. Though not the same age, they grew up in the same place, went to the same synagogue and had the same rabbi. Leshner joined Temple Chai two years ago and remembered being taken aback when she saw that Segal would be the new rabbi.
"It's such a small world," she said. Leshner's parents came to watch Segal be installed, too.
Segal's parents, in-laws, husband and children, as well as a few local rabbis, were in attendance, but they made up only a tiny fraction of the flock of people.
The boisterous and responsive crowd was so large that Segal quipped that if she didn't know any better, she might have slipped and said, "Shana Tova" rather than "Shabbat Shalom," drawing a comparison with the traditionally robust attendance during the High Holidays. Even Temple Chai President David Weiner commented on the turnout, saying he was consigned to sit with the choir because there were no empty seats.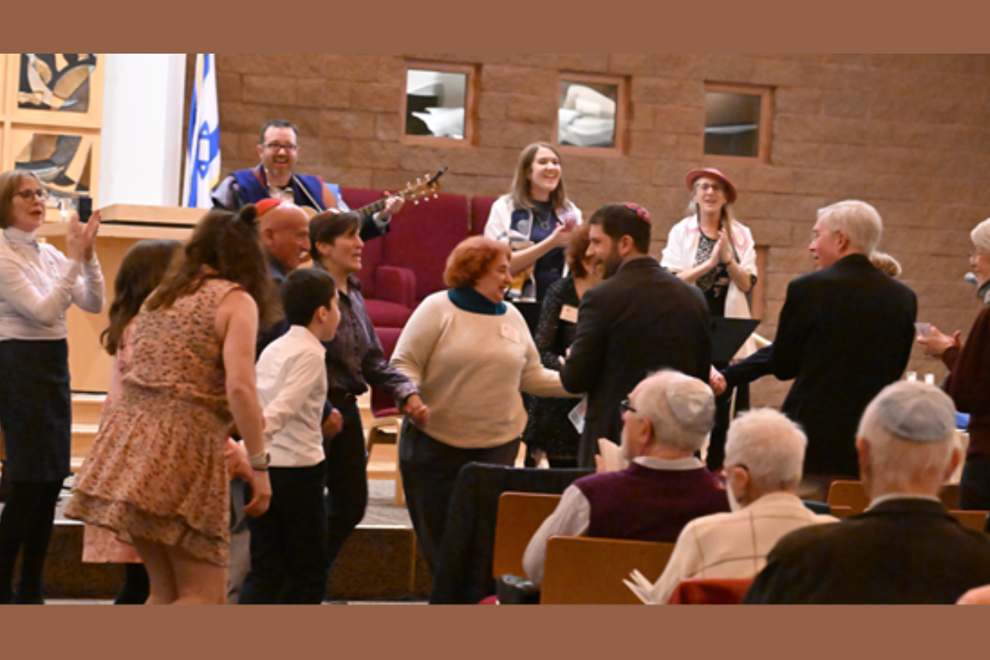 As the evening progressed, various members of the temple were invited to participate in the service: the choir, the youth choir, board members, past presidents, people with January birthdays and those with January anniversaries — a group that included Segal's parents.
Temple Chai Associate Rabbi Bonnie Koppell playfully teased Segal at one point by holding up a sign with her initials "RES" and then wondering aloud what the "E" might stand for besides "Emily."
"We are 'ecstatic' to welcome you to Temple Chai. We are 'extremely' inspired. You are an 'extraordinary' leader, 'energetic' and highly 'educated,'" she said, emphasizing every word starting with an "e."
Then she paused and asked everyone in the sanctuary why they supposed it was that in staff communications, Segal uses the initials "REES." What could the extra "E" possibly stand for? she asked before continuing to riff on possibilities.
"Is it because she's 'exemplary,' 'essential,' with an 'enlightened' and 'engaged' style?"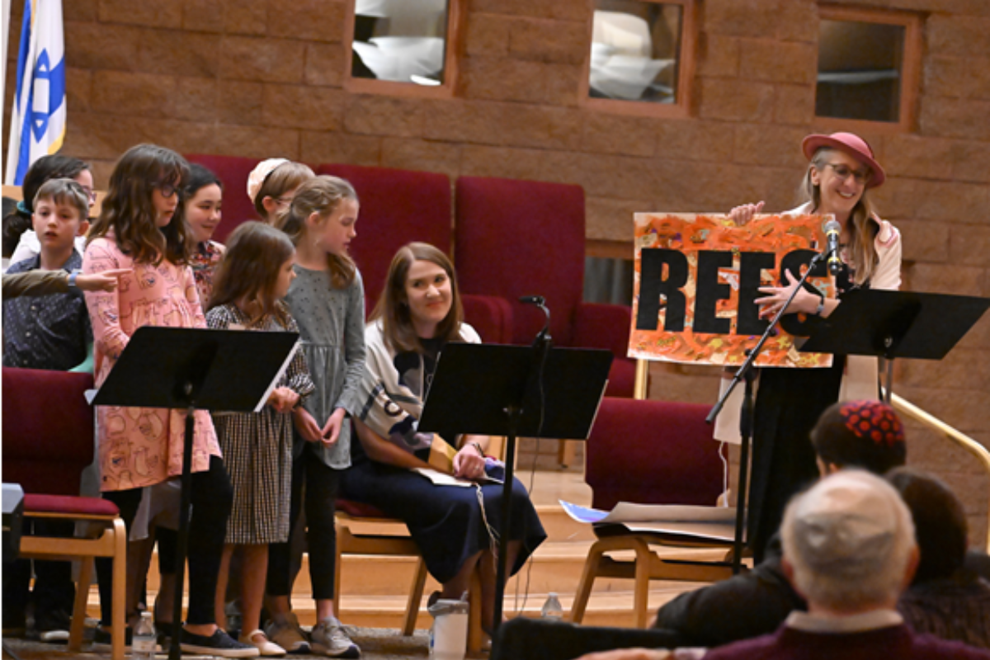 While all of that is true, Koppell said, that extra "E" is most likely to stand for Elizabeth, her middle name. But apparently, it's also because she likes how closely the fuller set of initials, REES, resemble the word Reese's on her favorite candy, peanut butter cups.
The crowd laughed and cheered as Koppell presented Segal with the gift of a huge Reese's peanut butter cup, the biggest she could find.
Halfway through the service, Segal introduced Perlin, "my rabbi, my teacher, my inspiration and my mentor," explaining it was Perlin who taught her that to be a rabbi is "to open your heart and love your people."
Perlin nodded to Segal and told the congregation, "I love her," to which some members loudly responded, "We do, too!"
Then Perlin regaled listeners with memories of watching the young Segal grow up and take an active role in her temple's community, of officiating her lifecycle events from her bat mitzvah to her wedding and assisting her on the road to the rabbinate.
Perlin always knew her protégé was special, especially given that in nearly 50 years of teaching, Segal was her only confirmation student to produce not one but three separate confirmation essays.
Perlin asked Segal's clergy partners, Cantor Ross Wolman and Koppell, to join Segal as she received the community's blessing. They stood at her side and lifted a cloth, a healing quilt made by Temple Chai's Shalom Center, above her head. That led to a bit of levity in an otherwise solemn moment when it became clear that the already tall Segal — even taller in heels — could not quite stand upright under the cloth without hitting her head.
Everyone chuckled as she made the best of it and Perlin, who is much shorter, laughed and said, "I have no problem!"
Once Weiner had passed Segal the Torah, he gave Wolman and Koppel an assist, helping to raise the cloth high enough for the senior rabbi.
Perlin told Segal she now inherited the long rabbinic tradition of training the Jewish people and exhorted her to continue the tradition by being deliberate in her judgment, raising up students — and sending them to rabbinical school, she cheerfully added — and protecting the integrity of the Torah.
"Through you, Emily, the old will be made new and the new will be made holy," Perlin said.
As Segal began to pray for the strength she would need for the momentous task of serving as senior rabbi, she became overwhelmed with emotion momentarily and had to pause before promising to bring honor to her "precious Temple Chai family."
She told her congregation that she felt its strength and the power of its heritage and legacy.
When she first met with the rabbi search committee in the fall of 2021, Segal knew that moving to Phoenix and becoming Temple Chai's rabbi was her true path. She promised members both her presence and her continuity.
"I cannot wait to create our future together in the days, in the months and in the, God willing, many, many years to come," she said. JN