On Oct. 1, the Scottsdale Museum of Contemporary Art (SMoCA) opened its latest exhibition: "In Our Time: Selections from the Singer Collection." A snapshot of 40 paintings by 27 artists, "In Our Time" is a moving, high-concept and reflective showcase for artists from the African Diaspora. The pieces, ranging from surrealistic melodramas of color to photorealistic portraits with elusive narratives, display SMoCa's commitment to culturally enriching programming. But there is more to the exhibition, as "In Our Time" also highlights a local Jewish art collector's curation of pieces that seek to go beyond the ordinary.
Iris and Adam C. Singer are the eponymous collectors whose paintings make up "In Our Time". It took them 16 years to amass the pieces featured in the exhibition. Adam, who comes from a "long line of collectors" remarked that: "My grandfather and father collected art, but my mother, aunt and uncles and even my brother collected various genres… I feel as though collecting has always been in my blood."
The collection taking up space on SMoCa's gallery walls is foreign yet familiar. That might be because these paintings and collages are, in a single word, stunning. From the images available to preview, the sheer breadth of the collection's thematic elements is reflective of the collectors' desire — conscious or not — to create a mirror to our own community, perhaps even to make us a little uncomfortable. And while there is so much hidden beauty found within these pieces, what is most affecting are the paintings where the subject looks back at the viewer, as if inviting them to comment on the nature of predominately Black figures in an institutional space where Black voices are not often heard. 
"I do hope the public will enjoy the exhibition of our collection of Black and African diaspora artists," shared Singer. "I don't believe Iris and I thought it through when we first began our conversation with the SMoCA… you do feel vulnerable and a bit on display, just like the art. However, given the times we are in, we felt it was very relevant."
Artists whose work appears in "In Our Time" include: Kehinde Wiley, Amoako Boafo, Chris Ofili, and Tunji Adeniyi-Jones.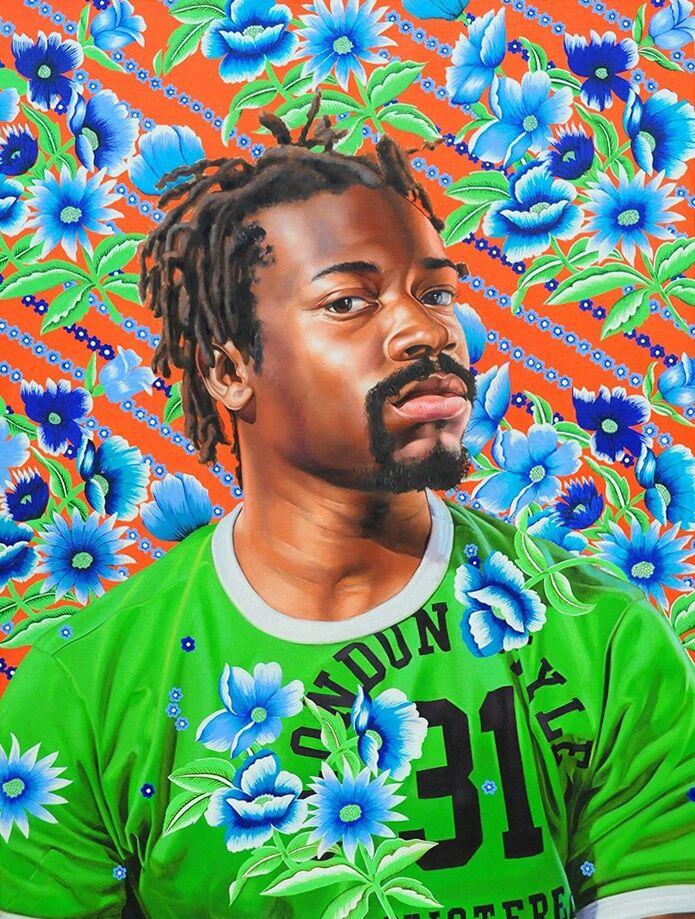 According to Jennifer McCabe, director and chief curator at SMoCA, a major inspiration for "In Our Time" were the Singers themselves. "We see the works from the Singer collection as part of a greater historical view of painting and how Black artists are often neglected from those histories. In the end, we have a snapshot of the moment through the lens of 27 artists from a wide range of places internationally."
"For us, art can invoke many sensations. Even the same work can invoke different emotions at different times," said Singer.
At the behest of the museum, the exhibition was organized and guest-curated by Allison Glenn, currently the senior curator at Public Art Fund in New York City. Glenn's most recent exhibit has been met with critical acclaim for "Promise, Witness, Remembrance" an exhibition that reflected on the life of Breonna Taylor.
In press materials prepared by SMoCA, the museum breaks down the different aspects of the exhibition. There are four distinct sections: The first begins with portraits that look at how the presence of the body is an affirmation in-and-of itself. Second is the mythologies section, where certain artists rely on painterly approaches to convey ideas and narratives rooted in "parafiction." The third section explores the tensions between historic figuration and abstraction. The exhibition concludes with a gathering of works of abstract compositions that subvert and question preconceived realities.
"I think the beauty and scale of the works will elicit a sense of awe and wonder from the community," McCabe said.
And although the Singers are members of Temple Solel in Paradise Valley, the exhibition itself doesn't have any overt Jewishness to it. Singer doesn't believe that "there is a direct connection to our Jewish heritage and the works on display in the exhibition. However, my understanding is that many European Jews during the Holocaust were major art collectors. I believe this tradition is still prevalent today."
No matter who attends the exhibition, the overarching message could be understood as a universal one: connection. Additionally, the opportunity for community members of all backgrounds to come together to bask in the meaningful dialogue that art engenders is a powerful one in an era where everything feels divisive.
"We welcome everyone to come to the museum and enjoy the exhibition," said Singer. "Iris and I are grateful for the opportunity to participate in this event. There is a fantastic representation of both domestic and globally recognized artists on display.
"We hope everyone who comes learns something new and simply has a wonderful time." JN
"In Our Time: Selections from the Singer Collection" is open through Feb. 12. For more information, visit smoca.org.
AJ Frost is a writer/editor based in Phoenix.