Last month, 16 Chaparral High School students brought "I Never Saw Another Butterfly" to the Edinburgh Festival Fringe, one of the world's biggest and best-known art and media events held annually in Edinburgh, Scotland. It was the fourth group of student actors and crew that Ed Como, Chaparral's former theater head, had accompanied to the famous festival.
He said each of those trips was special in its own way, but "this time was the most meaningful by far."
When Adena Astrowsky, vice president of Phoenix Holocaust Association and a founding member of 3GAZ (for second and third generation descendants of Holocaust survivors), first suggested the play to him, Como liked it, both for its powerful themes and its brevity. The latter increased its appeal as a candidate for the Fringe, where the maximum time for shows is 90 minutes and the guidelines don't allow intermissions.
"I thought a play of around 45 minutes is best because it's most comfortable for the audience," Como said, adding the salient point: "A lot of venues aren't air conditioned in Scotland."
Then there's the powerful nature of the show's content.
The play, told from the point of view of survivor Raja Englanderova, is based on the poetry and drawings created by Jewish children at the Terezin concentration camp between 1942 and 1944. Raja shares her story of living in the camp while retaining an imaginary world filled with butterflies and flowers shared with the camp's children.
The one-act show — culled from the original full-length play — was first performed in November 2021 on Chaparral High School's stage. Since not everyone in the original cast could make the trip to Scotland, some parts were recast in May.
Sarah Astrowsky, Adena's daughter, was part of the original cast, but when she performed in Scotland, she took on a new role. After taking time to get into the character, "it got better and better," she said.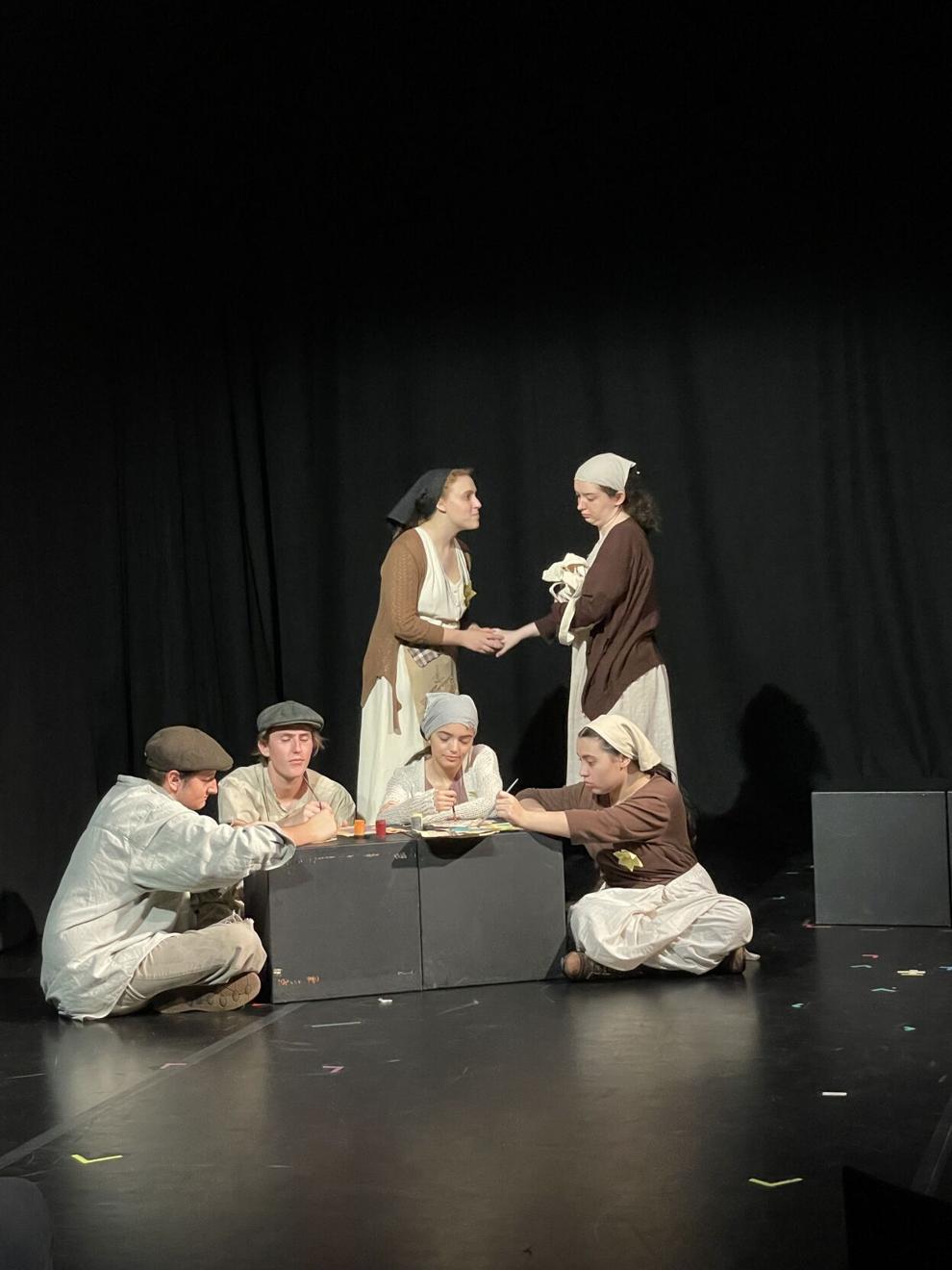 "I felt more connected, and having my great grandmother as a survivor, I felt she was with me in Scotland."
Now a freshman at University of Arizona studying film and television, with an eye toward a career in acting, writing and directing in Hollywood, Sarah said performing at the Fringe "was really eye-opening" and gave her a taste for professional theater. There was also the added bonus of impressing people she met in Edinburgh by telling them she was performing at the festival.
The best part, though, was the excitement of performing before an international audience and having people thank her for sharing the story.
"People would be crying after we finished and we talked to some people who didn't expect it to be this sad," she said. "It made me happy that we touched so many people."
Sarah said through playing the part of Irena, she felt more connected to the history the show represents.
"I feel more respect and more connected, and at a deeper level, I feel like I'm in it. I was really her. I'm not playing a made-up character. It's a real-life person — they were kids."
Astrowsky said it was "incredible" watching the students perform at the festival in Europe, in a beautiful theater, with people who had no personal connections coming to see the show.
Como, who retired at the end of last year after 30 years of teaching, described the festival's rigorous rules. Each group has only 15 minutes to set up before the performance and 10 minutes to take down afterward. With such a tight turnaround, the cast and crew had to be swift and sure in their cues.
Of course, a big part of the show's success was down to the actors, but Como also spotlighted the technical work of Austin Kaye, Broderick Schmidgall, Sonora Tooke and Bella Quinn. Additionally, Allison Moyers, a teacher at Cocopah Middle School, worked with Sarah to create the perfect front-of-house look at the Fringe. He also thanked the district and school administration for allowing the students to make the trip.
The "meaning and depth" of the show's theme made it successful, too, he said. "From that aspect, I was the most satisfied and proud of the decision to do it because it seemed important."
Como took care that the show was never didactic or boring. To that end, the choices made with sound cues and visual projections helped. Without the benefit of a set, he said they created a multi-media show.
"I felt like our closing show was about as good as it could be," he said. "It was really emotionally impactful and their best performance and I saw that people were emotionally impacted — it made them think."
Como had one unexpected but welcome audience reaction. One of the people who worked for American High School Theatre Festival, the organization that provided the Fringe application and helped with logistics, told Como he had seen the play. His grandfather was a survivor, so he thought he was prepared and didn't expect to be so affected by it.
"He came up to me and told me, 'I wanted to let you know your show impacted me more than any other Holocaust-related play ever has.'" JN