With the pandemic slowly settling down and the world opening up again, the theater is one of the best places to (re)visit. For audiences in the Greater Phoenix area, there's a show currently running at the Herberger Theater Center that will get you off your feet and your heart pumping. "Women of a Certain Age: The Musical" is a rowdy, madcap and ultimately cathartic experience filled with pure fun. The Jewish News of Greater Phoenix sat down with one of the stars of the new show, actor Abe Goldfarb, to talk about his experiences in the production.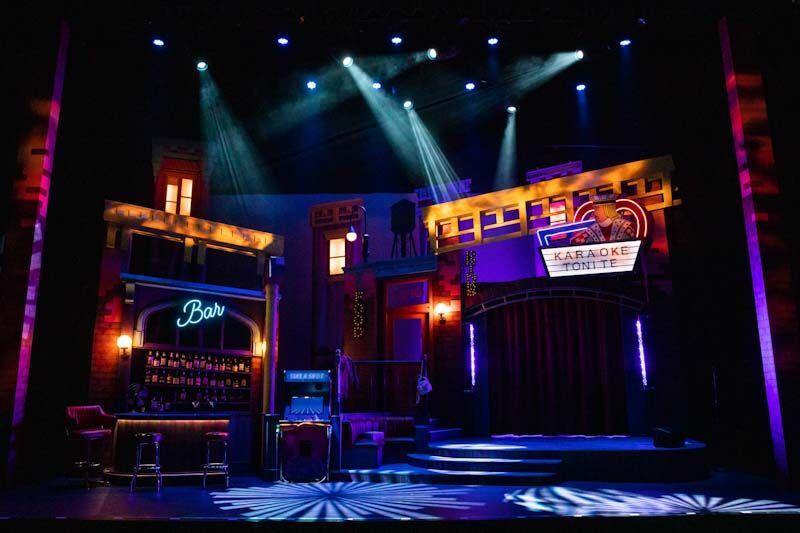 Can you tell me how you first learned of "Women of a Certain Age: The Musical" and how you got involved in the production?
I've known Jeff Thomson and Jeremy Desmon [the composer and the writer, respectively] for some time now. About a year and a half ago, they sent me the script in hopes of setting up a Zoom reading. I was instantly taken with the sensibility, the jokes and the humanity of it. Even though I hadn't heard the music, I knew and loved Jeff's work well enough that I was confident it would be a nonstop string of bangers. Which, of course, it was. I did a handful of readings as it developed and one thing that stuck out to me was that it's a musical with three lead roles for women who are generally either relegated to boring supporting mom stuff or forgotten altogether. And here they're the focus of the piece!
You're an accomplished Broadway actor as well as a prolific voice actor? How do you approach each discipline?
I wouldn't say accomplished! I've done one Broadway show, "Beetlejuice," and it was one of the best experiences of my life. I love voice-over acting because I get to play literally anything: A mouse, a monster, a mad scientist, someone who enjoys sports! It's always about the character and that always starts with finding the voice. Everything after that comes easy. As a result, I'm bad at playing people who sound normal.
Can you tell me about your background as an actor?
I fell in love with it as a kid going to Buck's Rock Camp [a performing arts camp in Connecticut]. You had to find your thing when you were there, and I found acting and clowning. I started getting serious about it in high school and eventually ended up studying at the Bristol Old Vic Theatre School [in England] for three years. As far as what made me interested in the first place — it was that acting wasn't sports. I'm garbage at sports, always have been. The funny thing about being 43 is that stage acting starts to feel as exhausting as sports!
In "Woman of a Certain Age," you play every male character. What were the challenges and opportunities of such a demanding role?
It's completely bananas to do 16 costume changes and eight distinct characterizations in a 90-minute show. I'm drenched in sweat and sore at the end of the night. But I get to be so ridiculous that I have trouble not just cackling. People let me DO this — as a JOB!
Were there any hallmarks of Jewish humor that you feel you integrated into the show?
Well, most of my comedy heroes are Jewish: Elaine May, Jack Benny, Mel Brooks, Mel Blanc, the Marx Brothers, for instance. There are some direct homages in there (a Jack Benny slow burn, the fast dialogue of the Marx Brothers, etc.). You have to understand people to make them funny. I hope I've succeeded.
How would you describe "Woman of a Certain Age?" Certainly, it's a comedy, but do you feel that there is a more serious underlying message to the silliness?
It's a comedy and a party show. Audiences have been boisterous and wonderfully interactive. I think they're responding to the humor and the fun of it all, but they're also responding to something deeper. This is a show that confronts age, disappointment and social invisibility for women and it does that with jokes. It's a balancing act that shouldn't work, but it does. And for that you have to credit great writing and astonishing work by Andrea Canny, Fredericka Meek and Sheri Sanders. It's incredible to share the stage with them and watch them bring the audience into their conspiracy. Everyone falls in love with them because they're funny. They're playing the truth. JN
"Women of a Certain Age: The Musical" is playing now at the Herberger Theater Center through June 19. For more information, visit herbergertheater.org/events/women-of-a-certain-age/.
AJ Frost is a writer/editor based in Phoenix.