By the time you read this, Chanukah will be winding down or already past. And if you are anything like me, you might be in a post-holiday slump after the lights have all died down. If you need a bit of help re-creating that cozy holiday feeling, I have two recipes that might help. These might also help you use up any extra potatoes you had on hand after you finished frying up your latkes.
Cauliflower Potato Soup
This dish is fairly easy to pull together and the flavors of garlic and onion will make for a decadent and rich soup. You can serve it with some warm bread and make it a light meal or have it as a side. Even if you aren't normally a fan of cauliflower, I urge you to try this recipe and have a feeling you will become a cauliflower convert.
Ingredients
1 pound cauliflower, riced/pearled
2 medium-sized, gold potatoes, peeled
and diced into about 2-inch cubes
1 small yellow onion, chopped
2-3 cloves of garlic, minced
2 cups chicken or veggie stock
Salt and pepper, to taste
Scallions (optional for garnish)
Place the peeled, diced potato cubes into a saucepan with the chicken/veggie stock and bring to a boil.
Once boiling, lower heat and cook until potatoes are cooked and easily mashed.
While potatoes are cooking, saute the diced onion in a pan with a bit of olive oil until slightly translucent. Add riced cauliflower along with 2 tablespoons of water and gently stir. Cook on medium for about five minutes until cauliflower is mostly cooked through.
Add minced garlic to the cauliflower and onions and cook on low until mixture is thoroughly cooked and fragrant. Generously season with salt and pepper and set aside.
When potatoes are cooked, add them along with the stock to the cauliflower mixture and blend using a blender, food processor or an immersion blender until smooth. Add additional water or stock if necessary to thin the soup out and reach desired consistency.
Serve hot soup with chopped scallions if desired.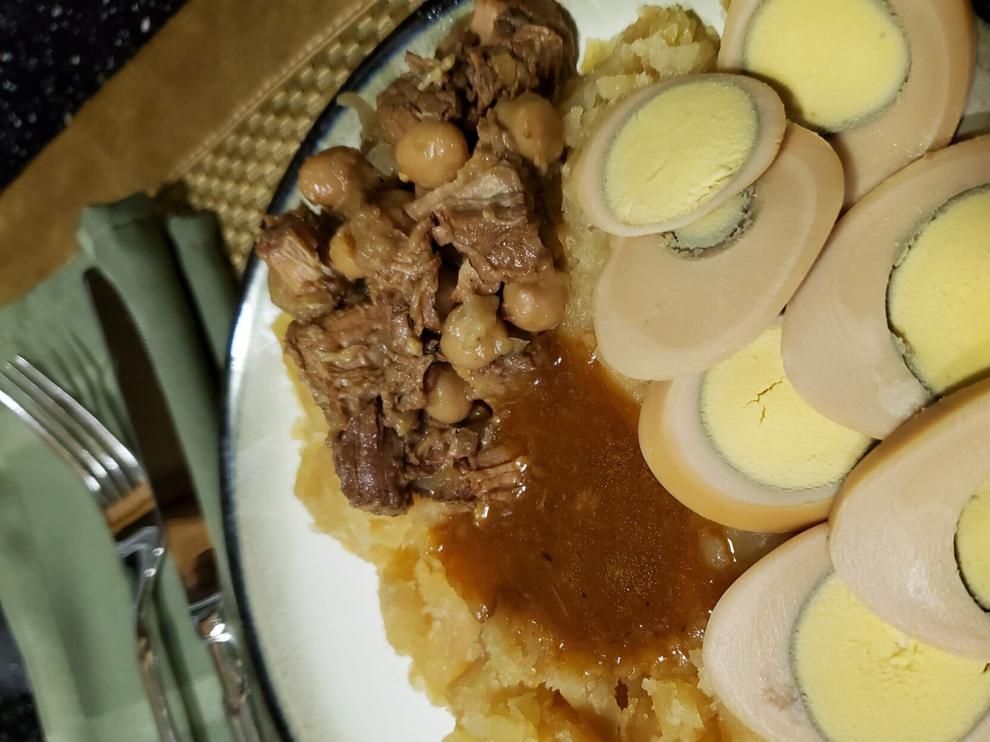 Cholent
This slow-cooked stew is traditionally served as a meal during Shabbat lunch and requires a long cook, which makes it perfect for colder weather. My husband assured me that true cholent is "cooked by taste and sight" and not measuring cups. Still, I offer the recipe for those who need it.
Ingredients
4 large potatoes, peeled and chopped into 1/2 or 1/3 (depending on size)
11/2 pounds beef stew meat
2 small yellow onions, thinly sliced
1 can of chickpeas, rinsed and drained
6-8 eggs, washed and left in shell
depending on how many servings desired
1/2 head of garlic
1 tablespoon paprika
2 tablespoons of silan (date honey) or honey
Salt and pepper to taste
Oil (vegetable or canola oil)
Brown the cubed meat in a large pan with a bit of canola oil. When evenly browned, put meat aside.
Using the same pan, fry the onion until the slices begin to shrink. When onions are slightly cooked, transfer to an oiled 6-quart crockpot turned on high. Top the onions with the rinsed and drained chickpeas and browned meat.
On top of the meat, layer the large potato pieces and add the garlic, paprika, silan, salt and pepper. Add the washed eggs (with shell!) on top and in between the potato pieces. Don't overcrowd, but everything should be layered nicely with small spaces in between.
Top everything with water until everything is completely covered. It will probably take you right to the rim of the crockpot. Leave temperature on high until water begins to boil. Then lower temperature and cook on low for at least 8 hours.
When ready to eat, remove the potatoes and eggs and place in one serving bowl. Remove the meat, chickpeas and onion mixture and place in a second serving bowl. Reduce the liquids until a thick sauce is formed and pour this into a container to serve.
Serve family-style making your own individual combination. JN
Jennifer Starrett is an events and marketing consultant. Visit jewphx.com, for more of her recipes and blogs.