In a large room on the bottom floor of the Phoenix Art Museum, more than 10,000 8 inch by 8 inch fabric squares line the walls. But they won't for much longer.
The squares, rendered in equal parts red and blue symbolizing Republicans and Democrats, represent artist Ann Morton's "Violet Protest" against political polarization. And on Sept. 5, when the exhibit comes down, she and the four Jewish women who make up her project's steering committee plan to pack them up and deliver them to every member of the U.S. Congress.
In January 2020, Morton sent out a call on social media and via email for makers across the nation to send her knitted, embroidered, crocheted, needle pointed or woven violet-hewed squares if they believe, as she does, that it's time for politicians to come together, put an end to political divisions and work with one another to solve the nation's problems.
"I'm just tired of political divisiveness," said Susan Stander, a steering committee member. "It's time we work together."
Stander is not alone in her opinion. More than 2,000 people — Democrats, Republicans and Independents — have sent in nearly 11,000 squares so far with another 6,000 squares committed by Aug. 1. Each square represents up to five hours of work, which means there are approximately 55,000 hours of work on display.
But Stander, a retired marketing specialist, isn't showing her support by knitting or crocheting. Instead, she's working alongside fellow Jews Beth Ames Swartz, Mitzi Krockover and Laura Roskind to help Morton get the word out about the artistic protest and to contact the hoped-for audience: elected officials.
"We're going to bundle them (the squares) up, and right now we have enough to give everybody 25 to 30 squares," Morton said.
Phoenix Mayor Kate Gallego has already visited the exhibit, and the Jewish mayor issued a proclamation declaring April 13 Violet Protest Day.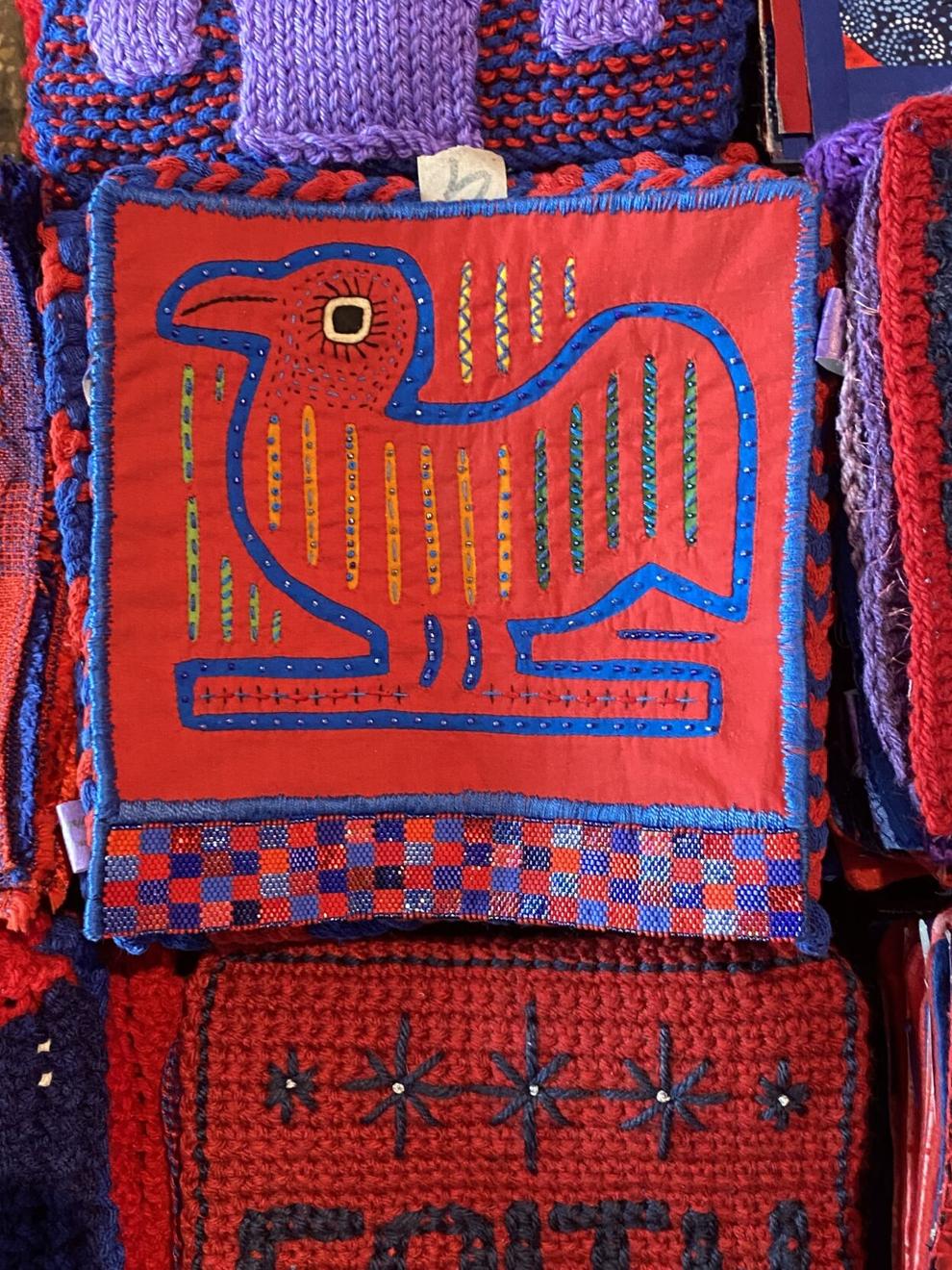 U.S. Rep. Greg Stanton and State Rep. Aaron Lieberman, both Democrats, have also come. Stanton suggested that the squares should eventually be hung outside congressional offices in a demonstration of unity.
Arizona Senators Mark Kelly and Kyrsten Sinema, both Democrats, have tentatively planned to visit the exhibit in August, as have U.S. Reps. Ruben Gallego, a Democrat, and David Schweikert, a Republican.
"It's been an exercise in extreme networking," Stander said.
Krockover is optimistic they'll be able to achieve their goal once some key people get on board. "We just need a few yeses and the dam will break," she said. "This is a grassroots project and illustrative of what a democracy can provide. We just want to get our message to our elected officials that we're tired of the polarization."
Swartz, an Arizona artist who has known Morton for 15 years, was the person who rallied the women to the project. Her whole life has been about making art with purpose, even power, she said, and this project struck a chord with her due to its combination of aesthetic beauty and social values. She knows in her soul that art can make a difference, she said.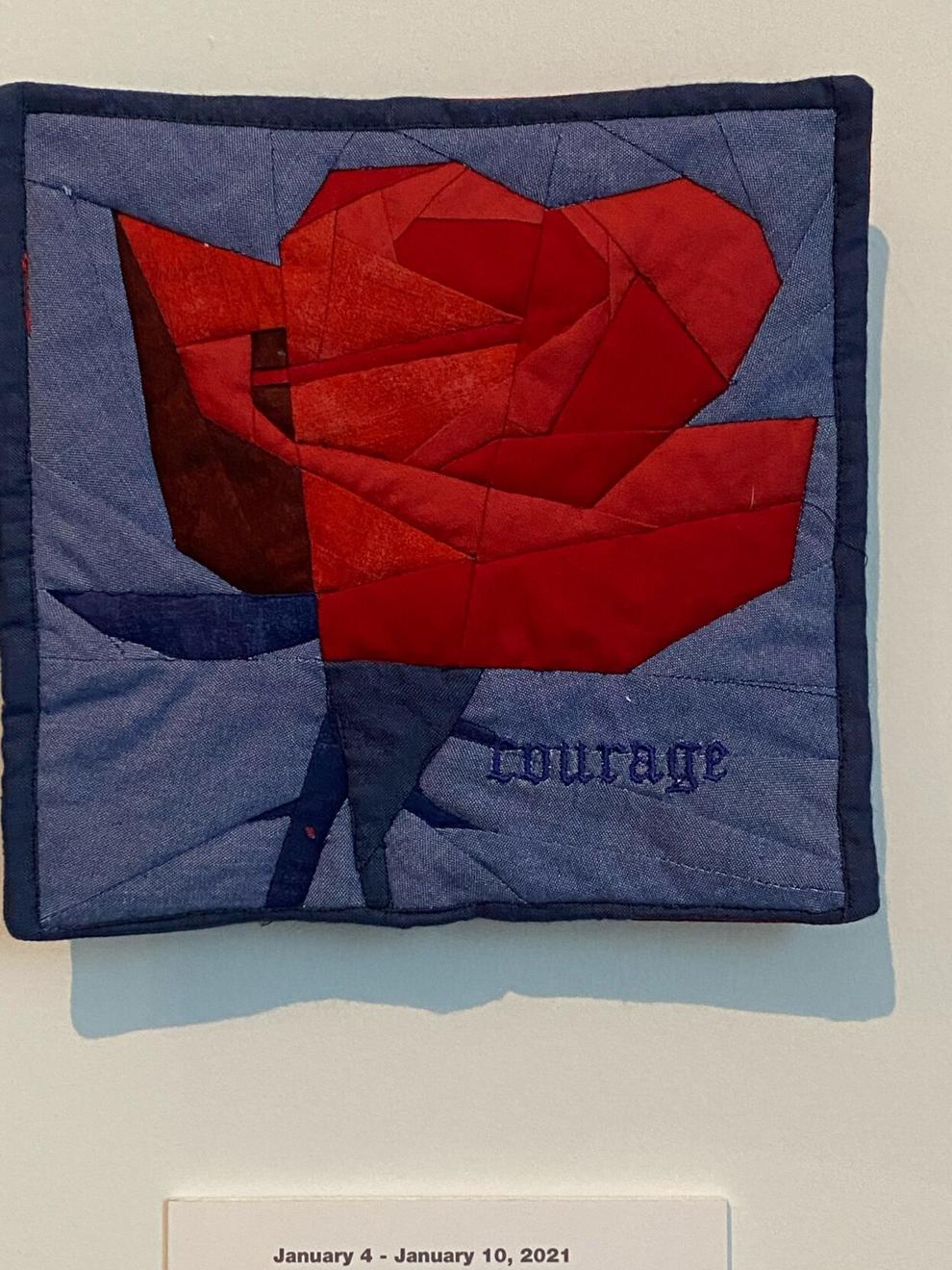 Swartz set out to enlist women who would be as passionate about Morton's project as she was. It was just a coincidence they were Jewish, but not a surprising one.
"Jews have always been at the forefront of humanistic and compassionate concerns," Swartz said.
Krockover said she didn't come on board thinking it was a Jewish group. "It's really part of our makeup to be drawn to these kinds of projects because they do reflect our values."
Stander, whose family came to the U.S. to escape Nazi persecution, sees this project as urgent, in part, due to Jewish history.
"As a Jewish person, the threat of discrimination, fascism, loss of democracy is very frightening," she said. But she's hopeful for the future — she said she has to be. "It's the Jews' M.O."
But it's not only about connecting with politicians, Krockover said. It's also a community-building exercise.
When she reached out to Visions Art Museum in San Diego, which promotes textile art, they booked Morton to talk about her project in a webinar scheduled for Aug.10.
"It's an example of how things grow organically and how powerfully it resonates with people," Krockover said.
When Morton initially proposed the project to the museum after winning its 2019 Arlene and Morton Sculpt Artist Award, which recognizes a mid-career Arizona artist, she didn't know if it would resonate with people. At that point, nobody knew that the coming year would bring a global pandemic and a vitriolic election season. And nobody had yet committed any squares.
But throughout 2020, the project continued to gain momentum.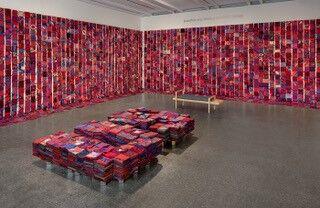 She gives credit to the museum for taking on a "risky" project. "We didn't know if people would even respond," Morton said.
She works mostly in textiles and chose that medium for the project because they "take what would traditionally be considered women's work and kind of turn that on its head to become a powerful tool for social engagement and social commentary," she said. And she liked that violet is between red and blue — the only two colors makers could use — on the color wheel.
"It really shows you that when opposites come together, you can create something beautiful — a beautiful representation of hope and cooperation," said Stander.
Morton, who is not Jewish, doesn't know how many of the squares might have been created by Jews. She didn't ask and said it's not relevant to the project. But she personally has been drawn to several aspects of Judaism, especially the idea of tikkun olam, which she feels is represented in her work.
Swartz seconded that idea. "I love the idea of healing the world," Swartz said. "It really needs it." JN