Eden Levi doesn't think of herself as a writer, and she's not planning to make it a career. But last month, the 17-year-old junior at Shearim Torah High School for Girls published a book and is selling it on Amazon.
"Spiritual Sunshine" is about emunah (faith) — from a teen's perspective. The topic is big, complicated and seemed to Levi to be exclusively the province of adults. She searched nearly in vain for something written by a young person, finding only one small volume. She suspected she could write something that would be of value to other teens who harbored similar questions.
Since the book's release, she's been receiving emails from teens asking for advice and she was even invited to speak at a high school in Chicago. But she doesn't claim to be an expert, just someone on a journey who wants to learn all she can and share it.
Levi is interested in poetry, art and music and plays piano, guitar and even a bit of the Native American flute. "I just like crazy creativity and self-expression — and the outdoors," she said.
She also loves taekwondo and has a third-degree black belt. She has been training with her mother since she was 2-years-old.
But writing? In general, she's not that interested.
"It was more that I wanted to write about this topic, so I did. It wasn't that I was coming from a place of loving writing," she said.
Levi's mother encouraged her to write the book after listening to her daughter opine on the topic for some time. Levi demurred, thinking she couldn't do it. Still, a year later she completed her first book. Using the Fiverr app, she was able to get assistance designing, printing and binding an actual book complete with cover art giving her a product to sell on Amazon.
Three sections make up the structure of the book. The first is focused on defining various aspects and levels of emunah. A section on various ways to apply faith to one's life follows. The third section, Levi's favorite, is filled with faith-filled poetry and stories. "It's just like a fun game, a chill and visually fun vibe that also poses challenges," she said. "But it's straight-up fun."
She took months researching the topic, reading widely and asking teachers and rabbis for help in defining terms and getting some historical perspectives. She asked these experts to read her words to ensure she was presenting things accurately, and she got some feedback from fellow teens to ensure the book is readable and fun.
Rabbi Raphael Landesman, head of school at Shearim, has read a large part of the book and thinks it's good.
Levi is someone who feels strongly about sharing things that are important, he said, and struggling with one's understanding of faith and belief matters to her.
"She wanted to make it accessible for teens who might view it as a heavy thing, but she knows it's an important and blessed part of one's life," he said.
While the book delves into deep issues, she keeps her language light, accessible and filled with lots of LOLs and slang. She also offers her readers encouragement along the way: "Dude, you are literally doing fantastic so far. I am just so pumped that you actually are reading right now. I'm not kidding."
Landesman acknowledged that Levi's light tone and use of slang lend the book a unique angle when talking about a serious subject, but that doesn't lessen its impact. He looks forward to hearing how kids who read it are inspired and able to gain a new understanding of faith.
"She's very open about herself and her struggles and what she's dealt with and that adds to the light and to the accessible feeling," he said.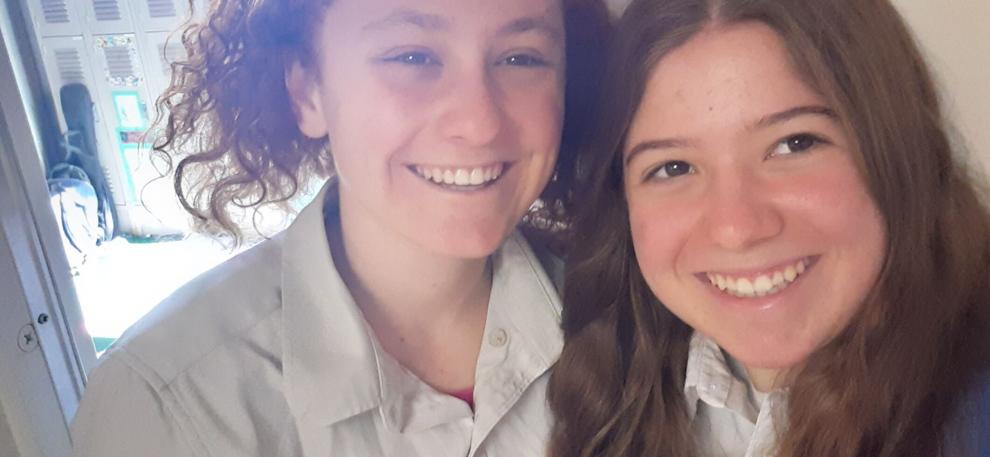 Chana Weisman, 16 and a junior at Shearim, was wowed by the book. Levi makes a difficult topic easy to understand for teens, she said. "I thought it was amazing."
Weisman doesn't have a favorite chapter, but she especially appreciates the exercises Levi included. Listing what one is grateful for or identifying a difficult circumstance and then attempting to find the good in it makes the idea of faith "more than just a nice thought," she said. Exercises like these encourage the reader to apply what they've just learned, which make the lessons stick.
Teens get overlooked when it comes to complex issues, Weisman said, but they have needs and will be able to identify with Levi's struggles.
"I think once people hear about the book, people will buy it — and they should," she said. "If you ever met Eden you would buy it just because she's so amazing."
Levi praised her teachers and advisers as "awesome people who have taught me everything," she said. She feels blessed and wants others to have the same learning opportunities she's had. The book is just one step to do that.
"I want teenagers to be able to take what I learned that really helped me — I want to share that," she said.
As far as writing a second book, she's open to the idea, "because I'm going to keep learning," she said. "And how I see things will change and I'll have different perspectives, so I probably will write another book — just not as a full-time job."
She's OK not knowing what she'll do after college. She wants to help people so she thinks maybe something in a healing profession. Her musical aptitude might lead her to be a professional musician. She knows that she doesn't need to decide that now. And in the meantime, "I don't need to wait until I'm older to start helping people," she said.
That's what she feels she's doing already with her book by letting kids know faith is for everyone:
"Just remember that emunah is just as much for the cool as it is for the uncool. Emunah is just as much for the trendy as it is for the nerdy." JN