BJ Borris came to Phoenix's Temple Chai on Oct. 29 prepared to dance.
She joined a nearly full house of people who came at the end of Shabbat to enjoy the music of Nefesh Mountain, a husband-and-wife duo from New Jersey that has been a standard-bearer of Jewish bluegrass for years.
Eric Lindberg and Doni Zasloff, who make up Nefesh Mountain, have appeared in Rolling Stone and national bluegrass magazines and have worked with some of the most respected bluegrass session players. They have put an Americana spin on Jewish prayers such as "Mi Chamocha" and "Modeh Ani" and released other songs that tap into Jewish traditions.
While introducing the musicians, Cantor Ross Wolman told the audience that he had been hoping to bring them — "the best in the Jewish world" — to Phoenix for years, but it wasn't until the last few months that the dream became a reality, thanks to the help of staff, volunteers and sponsors.
"I cannot tell you how much it means to stand here and see the room full," Wolman told the audience in Temple Chai's sanctuary. "During High Holidays you came and added your voices to our own, something that was sorely missed for far too long."
It was a message the audience applauded vigorously as they waited for the music to start.
Borris was one of several in the audience who loved bluegrass but had yet to hear Nefesh Mountain.
Stephanie Fishman, a member of Temple Emanuel of Tempe, also didn't know the band but came because she's "a huge supporter of Jewish music." She also used to play the fiddle, so when the opportunity arose to enjoy Jewish bluegrass, she was ready to come and see "some Jewish fiddle music," she said.
Lisa Kaiser, a member of Temple Chai, also came because she's a fan of bluegrass.
"I'm just excited for some contemporary Jewish music," she said.
On the other hand, Rachelle Lederman, a member of Beth Emeth Congregation of the West Valley in Sun City West, knew exactly what to expect.
"I follow Nefesh Mountain on Facebook and I love their music. I couldn't believe they were coming to Phoenix."
She added there was an additional draw that evening. She hadn't seen Temple Chai Associate Rabbi Bonnie Koppell in 40 years and since "she sat next to me in middle school, I would like to say hello to her."
After introductions, Wolman told Nefesh Mountain to take it away and that's what they did, playing a variety of songs for roughly 90 minutes that had the audience clapping their hands, singing along and eventually getting up to dance.
The night's music was a mix of traditional bluegrass interwoven with songs directly or indirectly inspired by Jewish music or Jewish history. Lindberg explained that the duo tries "to push the envelope of bluegrass music while wearing the star and bringing the influences of Jewish Americans to it" while also honoring its secular tradition.
Their first song of the evening, "Wanderlust," might seem secular but it was inspired by a gift from Zasloff's mother inscribed with Tefilat Haderech, the traveler's prayer.
"We fell in love with this prayer and wrote our bluegrass version," Zasloff said.
They also played a mountain medley that included "Esa Einai."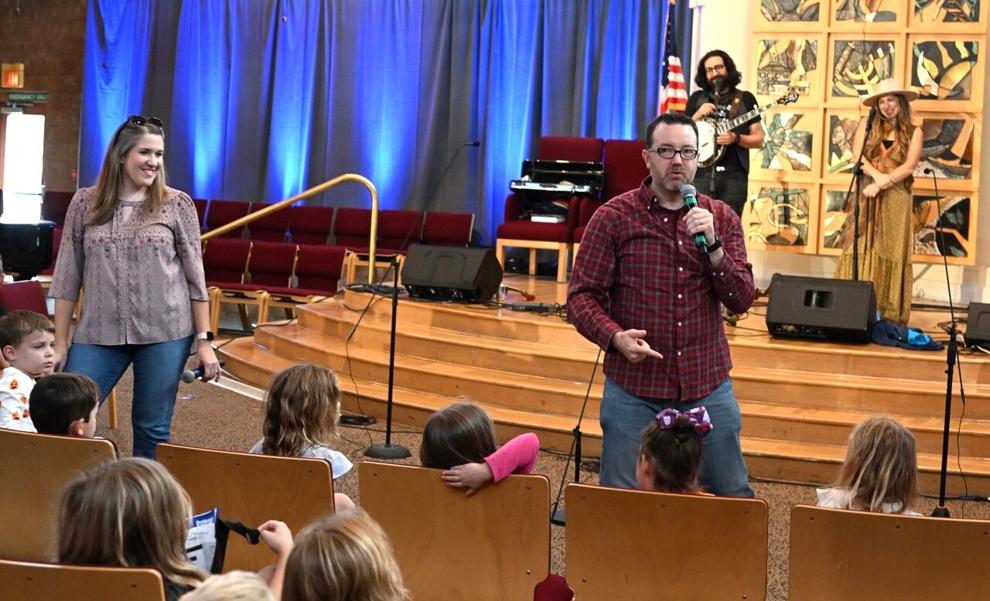 "We love mountains," Zasloff laughed before starting "Somewhere on This Mountain," a song from their third album "Songs for the Sparrows," released last year.
Zasloff explained that they released the album on June 11, 2021; she paused and said, "on June 10, we had a baby. It was a very busy week for us!"
That was prelude to her leaving the stage to check on her infant daughter while Lindberg, who played both the banjo and guitar, dove into some instrumental music along with Alan Grubner on the fiddle, Thomas Castle on the mandolin and Sam Webber on the bass.
She was soon back to let the rapt audience know the baby was fine, awake and would hopefully sleep when they got her back to the hotel after the concert.
After that moment of levity, things turned a bit more somber when Zasloff explained the origin of the album.
It was a response to the wave of feelings and emotions the pair felt after coming back from a "roots' trip" to Poland and Ukraine in 2018, where they visited many of the towns and cities where their ancestors were from. They found the cemetery where Lindberg's great-grandfather was buried, but it "was completely destroyed," Zasloff said.
They spent hours looking for the stone that marked his grave but never found it.
"It was just this incredibly heart-shattering experience to be there and it changed us forever," she said.
While they searched, they looked up at the sky and saw many little birds flying above. "These tiny little sparrows — we couldn't forget that moment," she told the audience. The couple were still talking about it six weeks after they returned home. Then the Tree of Life synagogue shooting in Pittsburgh happened.
They both felt numb and didn't know what to do, so they poured their emotions into their music and made their third album, "Songs of the Sparrows."
Those sparrows were like a "small but mighty symbol of people who have been hated and discriminated against. This is our way of pouring love on something that is so awful," Zasloff said.
The room was quiet when they performed "Sparrow's Song," a rather sorrowful melody from the album. When it ended, the audience applauded loudly for several minutes.
Not to finish on a sad note, Zasloff said it was time to share a song of gratitude and joy and "if you're a dancing type, come on!'
That was all Borris needed to hear. "I was just waiting for permission," she said.
A few chords in, she rose out of her chair and moved to the side, where she danced alone while most people swayed and clapped in their chairs.
Finally, the temptation was too much and several others stood and started dancing as well, some pulling reluctant people up and into the aisle.
When people found their seats again, Lindberg talked about the dark nature of some of their lyrics, particularly on their third album, and how they have to remind themselves not to get lost in negativity.
"Growing up as a young Jewish lad in Brooklyn, I learned that we celebrate the here and now and enjoy this life while we are here, and we are here to do just that," he said, introducing "Where Oh Where," a song about hope.
It also includes a nigun — vocal music, often with repetitive sounds such as "bim-bim-bam." Zasloff taught the audience the melody and then threw down the gauntlet by explaining they had performed the same song on the stage of the Grand Ole Opry in Nashville, Tenn., whose audience had sung along.
"Don't freak out," she reassured the audience. "However it comes out, it's perfect. Please sing with us."
After a couple of traditional bluegrass songs, Nefesh Mountain invited Wolman to the stage to sing "L'dor Vador." It became another chance for the audience to join in.
They closed their show, as they traditionally do, with "Oseh Shalom," another audience favorite.
Lindberg told Jewish News that performing for communities like Temple Chai was "like walking into our own synagogue. It's a connection that goes deep. We kind of feel like we're family."
Borris said the evening "was more than I expected and better than I hoped for."
Her partner, Arlene Hazelkorn, agreed, even though she decided not to dance.
"She's the dancer," she said, pointing to Borris. "I'm not. I only dance at b'nei mitzvah or weddings. But I thought Nefesh Mountain was great and very spirited."
Debbie Berkowitz, co-chair for the concert, is a longtime fan of Nefesh Mountain and she was excited the opportunity to host them at Temple Chai finally came to fruition. She brought her mother, Janie Kuznitsky, along with her — even though she didn't know the band.
Before the concert, Kuznitsky said she was prepared to be overwhelmed.
As people slowly filed out of the sanctuary after the concert's end, Kuznitsky told Jewish News all her expectations were exceeded and summed up what most people were feeling.
"They were just awesome!" JN