Fifty years ago, I put down my pen as the Teen Talk columnist for the Phoenix Jewish News. I still have fond memories of working with then-editor Flo Eckstein, who was always kind and thoughtful with her edits of my work.
Much has changed. Remember when we used to worry about acne instead of grey hair? But one thing that has remained a constant for me is my love of writing. My parents, Jonathan and Maxine Marshall, were the publishers of the Scottsdale Daily Progress and one of my grandmothers was a poet and novelist, so it was no surprise that I became a proficient and enthusiastic writer at a young age.
My grandmother helped me to write my first poem and enthusiastically encouraged my efforts. I remember telling her that someday I would write a book of poems. It took a few years more than I anticipated, but "Inheritance Of Aging Self" is now available from Finishing Line Press.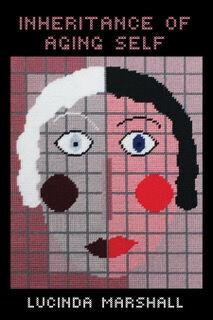 The poems in this collection are a journey that began during the later years of my parents' lives when my siblings and I were making numerous trips back to Phoenix to help them with eldercare issues. My father suffered the first of numerous health setbacks when my youngest son was an infant. He died when my son was a senior in high school. My mother lived for another seven years.
In all, there were more than 20 years when they needed our assistance. It was during those years, when I turned 50 and my mother turned 80 that it occurred to me she wasn't the only one who was aging and that there were likely as many years in my rearview mirror as ahead of me. That got my attention.
During the years that I was traveling to visit and care for my parents, I developed a habit of journaling during the long flights home, which gave me a chance to clear my head, check in with myself and record my observations and feelings. Those journals became the basis of several of the poems in this collection.
The title of the book comes from one of the poems, which is based on a conversation that I had with my mother a few years before she passed. I was visiting with her and we were getting ready to go out. She was taking a long time and I went to check on her and found her in front of her vanity brushing her hair and staring at the mirror. I asked if everything was OK and she threw down the brush and angrily told me, "I do not know this old lady."
Mom had developed some memory issues over the years and when she said that, I was panicked that she had just taken some precipitous leap further down that path. Cautiously, I asked her what she meant. Her reply was a very righteous rant about how she still expected to see her 16-year-old self when she looked in the mirror. When she saw her elder self instead, it was like seeing her grandmother and that really ticked her off.
So we spent a few minutes shouting out all the things that annoyed us about growing older and then went on about our day. That conversation inspired the title poem as well as another poem in the collection, "Mirror Image."
Several poems in the book are based on recollections of other elders in my life. "My Grandmother's Tea Cups" is a recollection about both of my grandmothers, of afternoon tea with one grandmother and my other grandmother's collection of tea cups, two of which are now mine. As the book progresses, I also address confronting illness, death and grieving, and how our perceptions of those experiences change as we age.
Throughout the book there are also poems that consider our sense of place in the natural world, including "Ebb Tide," which draws on memories of summer trips to San Diego as a child.
It has been a fulfilling journey of discovery and understanding since I wrote those first fanciful poems of my youth to my debut collection being published in the same year that I will apply for Medicare. During that journey I have also published numerous essays as well as poetry and pursued artistic expression as a mixed media artist and quilter. I'm also the proud mother of two amazing sons — now married to my equally amazing children-in-law — and am known as Gaga to my wonderful granddaughter.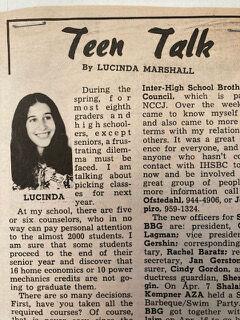 I have to wonder whether some of the same people who read my work when I wrote Teen Talk are now reading this. I hope so and would love to hear from you. And for those of you who may remember my siblings — including my sister Laura who was also a Teen Talk columnist — I'm happy to say that they are all well and leading full and interesting lives. JN
Lucinda Marshall is the Jewish News' former Teen Talk columnist and the author of "Inheritance Of Aging Self" (Finishing Line Press, 2021). She lives in Gaithersburg, Maryland, where she is the founder of DiVerse Gaithersburg Poetry Reading. Marshall is also an accomplished mixed media and fabric artist.