At Scottsdale's Harkins Theatres Shea 14 next month, Jewish movie lovers will have the chance to hear directly from first-time filmmaker Marvin Samel, the director and creator of one of the Greater Phoenix Jewish Film Festival's (GPJFF) three featured films.
Samel will be on hand to speak directly to viewers about his film, "iMordecai," a comedy starring Judd Hirsch and Carol Kane as married Holocaust survivors living in Florida and learning to use technology. The filmmaker loosely based the two main characters on his own parents.
The festival will welcome its viewers back in person, something it hasn't been able to do for the last two years — but with a couple of important caveats: Films will be screened in two theaters (Harkins Shea in Scottsdale and Harkins Theatres Tempe Marketplace) for only the first two days, Sunday, Feb. 19 and Monday, Feb. 20. The remainder of the festival, which takes place Feb. 23-March 5, will be virtual.
The three films shown in person, "iMordecai," "Farewell Mr. Haffmann" and "The Replacement," are those that GPJFF's executive directors find to be both the most engaging films and those that benefit most from a group dynamic and an energetic crowd, said Deborah Muller, GPJFF's public relations consultant.
Tricia Beran, GPJFF co-executive director, is very excited about being able to offer at least three films in person.
"Nothing replaces the buzz and excitement of being together and watching great films on the big screen," she said.
"To be back in person, even a little, reiterates what a wonderful community experience the film festival is," added Muller.
"This way, you can watch movies while laughing next to your friends — and sometimes crying next to them," she said.
Beran has heard from viewers, some who can't wait to be back in person and many who "really enjoy the ease and flexibility of watching our festival films from home."
Sue Adatto, GPJFF co-executive director, agreed, adding "the hybrid model offers the customers flexibility in viewing."
This year's virtual options have expanded to allow the greatest amount of flexibility in the time frame someone has to finish viewing a movie. Last year, once a movie began, the clock started ticking, with 72 hours to finish watching. This year, a viewer can start a film on Feb. 23 and wait to finish it until the last day of the festival, two weeks later.
By extending the viewing window of each film, "it's now a super convenient film schedule," Muller said.
As is the case every year, the co-executive directors have aimed to offer a wide variety of Jewish films, including comedies, dramas, documentaries and short films.
Hundreds of films are evaluated each year by the festival's screening committee, a process that begins immediately after the close of the preceding year's festival. Then, three area screening committees view the top 50-60 finalists. From these, the final slate of 25 feature-length films best representing the GPJFF's mission of showcasing Jewish life, culture and history from around the world is selected. There are also short films and bonus content.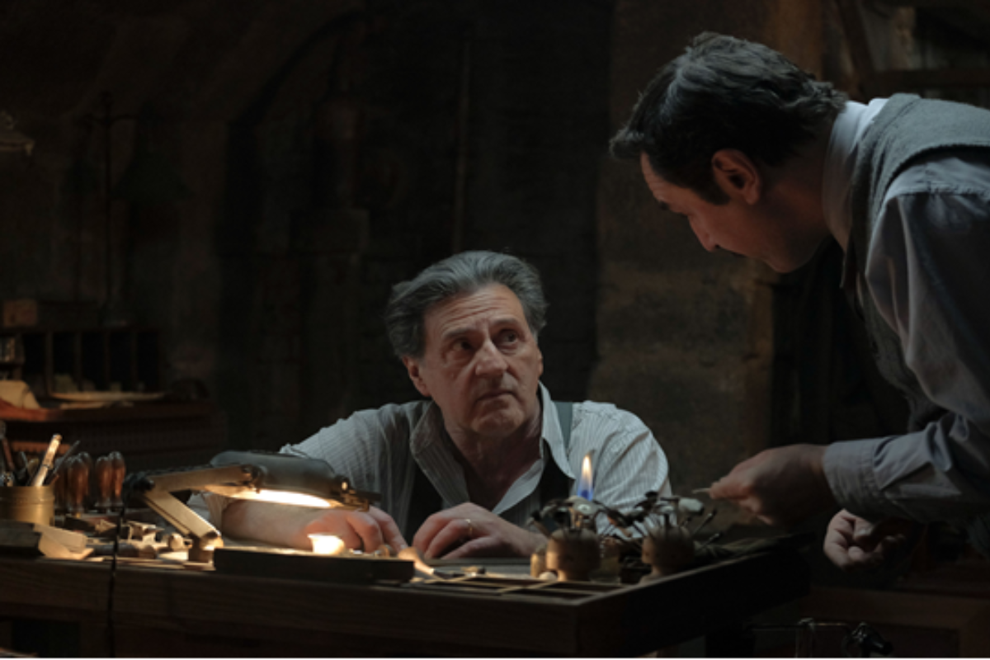 In addition to America and Israel, this year's films hail from across the globe. World War II and the Holocaust continue to be important topics for the festival's films.
"The Conference" is a German docudrama that recreates the Wannsee Conference, where the Final Solution was decided. It was released last year to mark the 80th anniversary of the infamous conference.
"Farewell, Mr. Haffmann," one of the three films offered in person, is a drama set in 1942 Nazi-occupied Paris. The drama involves a jeweler's assistant who suddenly has power over his Jewish employer who is looking for a place to hide.
"Lost Transport," an offering from the Netherlands, tells the story of the friendship that develops between Russian sniper Vera, German village girl Winnie and Jewish-Dutch woman Simone after a train deporting hundreds of Jewish prisoners gets stranded in the spring of 1945.
The festival's offerings touch on a wide array of modern topics as well.
For example, the filmmaker behind "Barren," an Israeli film telling the story of a haredi Orthodox couple experiencing childlessness after four years of marriage, hopes to spur discussions about the ethical implications of the couple seeking spiritual help rather than medical opinions to deal with the issue.
"More than a Roll with a Hole" is a light-hearted documentary of the history of the bagel, while "Rose" tells of a newly widowed 78-year-old woman who begins to pursue the long-forgotten aspirations of her youth. JN
The three in-person films have limited seating. For more information or to purchase tickets, visit gpjff.org.