When Steven Pressman left his long career in journalism to begin making documentary films, he never suspected that one day he would tell the controversial tale of two popes named Pius and what their actions — and inaction — had to do with the Holocaust. In 2017, he began work on "Holy Silence," his documentary showing on PBS in November. Arizona Jewish Historical Society will stream it for free Nov. 13-15.
Growing up in the suburbs of Los Angeles and attending a Conservative synagogue, Pressman wasn't "real religious," he said. "But I did Hebrew school, bar mitzvah — the whole bit." He learned about the Holocaust in school but didn't feel the strong connection that many Jews do.
It was only 10 years ago, when he left journalism to become a filmmaker, that he found himself researching the topic in order to make "50 Children." The documentary is about his late wife's grandparents — a couple from Philadelphia who rescued a group of 50 children from Vienna in 1939.
"It's a terrific story that had never been told," Pressman said. "I had access to this unbelievable story that nobody knew that came out on HBO in 2013, and it's floated around for the last several years."
After that experience, Pressman felt finished with the topic.
"I spent a couple years immersed in that world," he said. "It's a dark place to go, and I thought, 'I've done my Holocaust film. I can find something else to do.'"
But he made strong connections with scholars at the United States Holocaust Memorial Museum who told him it wouldn't be long before the Vatican archive on Eugenio Pacelli, the man who became Pius XII and is sometimes referred to as "Hitler's Pope," would open. The world would finally have the chance to see a huge cache of previously secret documents from his papacy.
Thus, Pressman began a journey of telling a more difficult and more contentious piece of Holocaust history — the role of the Catholic Church. "Holy Silence" opens with the words of Pope Francis: "Who knows if the church could have done more during the Holocaust? We must seek the truth."
Pressman talked to Jewish News about trying to answer that question and why some important historical episodes were included in the film, while others were left on the cutting room floor.
After Francis opened the Vatican Apostolic Archive in March, it quickly closed again due to COVID-19. Now it's open again, but few people have examined documents. Your film includes two of the scholars that were inside: David Kertzer and Robert Ventresca. Kertzer's work on Ambrogio Damiano Achille Ratti, who became Pope Pius XI, seems to set up a binary: good pope, Ratti, vs. bad pope, Pacelli.
How do you respond to criticism saying that's too simplistic?
It's a tough one, because I've always insisted that I didn't set out to make a film that portrays Pacelli as the villain. I readily acknowledge, and most of the scholarship supports this, that he's not a villain. There's not enough in the historical record that backs up the notion of Pacelli as "Hitler's Pope," nor as a Nazi sympathizer. But there's plenty in the historical record to portray that Pacelli was this guy who saw himself as a statesman and as somebody who was determined to remain neutral, and that's what I'm trying to portray in the film.
I'm not naïve. I know that a lot of people will come away saying "Good pope, bad pope." It's not that simple. And in a 70-minute film, you don't have the real ability to go into all the nuances that you would in a 400-page book. Someone might say I'm dismissing Pacelli as a Jew hater.
In both cases, we're talking about popes who are temperamentally very different. Both of them are still coming out of a Catholic Church which was still steeped in 2000 years of anti-Semitism and anti-Judaism, and they're both victims of that.
In the 60 years since Pacelli's death, partisans on either side are no closer to agreeing whether he merits ignominy or sainthood. Apart from Norbert Hofmann, a priest on the Vatican's Commission for Religious Relations with the Jews, the film's experts are more on the side of the former appellation.
Did you think about including Pacelli defenders?
No. I'll be very honest. I did not approach this as an "on the one hand, on the other hand." It's not that I knew before I started putting the film together exactly what the arc of the film was going to be. If that wasn't the case I wasn't putting Pacelli on trial in the sense that I felt the need to have equal time between his critics and his defenders.
It just so happens that it sort of falls this way because roughly half the film is Pius XI and the second half is about Pacelli. Pacelli's the one we remember, because he's in charge when the Holocaust is actually happening as opposed to Ratti.
I'm aware that Pius XII has his defenders. I remember doing research and this Jewish guy in New York had anointed himself the defender of Pius XII. He's entitled to his opinion. But I was interested in talking to the scholars who have really steeped themselves in this work.
The priests in the film, Kevin Spicer and Charlie Gallagher have a nuanced view. My interest was in talking to the people who have really delved into the serious scholarship on this issue.
I'm really grateful that Father Hofmann is in the film, and I give him a lot of credit for agreeing to be in it. When I approached him, I described what I was doing but didn't tell him my perspective. He never asked. He put no conditions on the interview, and I'm grateful and appreciate having his voice in the film.
One little-known but fascinating angle that you explore is the role of John LaFarge, an American Jesuit working to promote racial justice in the U.S. whom Ratti asks to write an encyclical for him focusing on the evils of anti-Semitism. Alas, Ratti died right before it was finished and it did not come to light except for the work of Church historians in the 1970s who published letters about the existence of the encyclical in the National Catholic Reporter.
So few facts are known, what was your motivation in including the episode?
The more I learned about it, the more I thought, "Wow! What a great character." I knew that very few people were aware of him.
The problem was as a character he had this issue that the encyclical disappears halfway through the story. There was no way I was going to make a film about the Holocaust and the Vatican and not focus a fair amount on Pius XII for obvious reasons.
It's unfortunate for me as a filmmaker but more importantly unfortunate for history. Pius XI died on the verge of issuing this encyclical but also on the verge of war breaking out in Europe.
There I am as a filmmaker trying to create some drama out of this episode in history and one of my leading characters and one of the most dramatic parts of the story, LaFarge and the encyclical, go away. I couldn't do anything about that. 
He just disappears from the scene, literally, and never resurfaces because Pius XI was dead and gone in 1939.
Peter Eisner and Kertzer agree that the best evidence is that the draft was kind of sitting on Pius XI's desk. But he was quite ill by the time he died, and there's no way to know one way or another. If he actually read the draft or spent any considerable amount of time with it, there's just no way to know.
Then Pacelli comes in and deep-sixes the encyclical. That's it for LaFarge. He does a good job as an obedient Catholic priest and there was nothing left for him to do.
My film editor and I knew we had to figure out a way to keep the dramatic momentum going in the film and hopefully it works. But it resolves with Pacelli as the pope, and he's the one who's continued to be the lightning rod and controversial pope all these decades later.
Charles Coughlin, a controversial Detroit priest, is another noteworthy element of the film. Coughlin was famous for his radio broadcasts, and though he was very popular among American Catholics, he was a virulent anti-Semite and something of a thorn in the side of the Vatican who would have preferred he just go away.
But since he didn't have a direct connection to the story, why include him?
I've got this bias which goes back to my first film. Coughlin has a cameo in that film in the context of difficulties of bringing Jewish refugees into this country. He was on my radar, but I thought he was a side character in a film about Catholics in the Catholic Church.
The focus is on the Vatican and the popes, but it was relevant for making a film that tells the story about the church and the Holocaust not to ignore that right here in this country you had this extraordinarily influential, sort of rogue Catholic priest, who had immense power and influence, not just in the religious world but in the political world.
I didn't feel you could ignore that. It was a difficult task to weave Coughlin in and out of the film. There were things I wanted to squeeze into the film, and we couldn't make it work creatively.
There were lots of efforts here in the states to get people in the Vatican to put the leash on Coughlin and that part got too complicated and a little too far afield. But he's a vital figure in this part of the story.
He serves as a reminder even though the focus is on Pacelli and whether he harbored anti-Semitic views, right here in the states you had rampant anti-Semitism during the 1930s and '40s. Not just among Catholics certainly, but in a film looking at the Catholic Church, he more than anyone personifies the power that anti-Semitic views being broadcast to tens of millions of Americans have, and I thought that was relevant to the story.
The attempts at diplomacy by President Franklin Delano Roosevelt with the Vatican is another aspect you highlight that doesn't get much coverage elsewhere. FDR met Pacelli when the latter came to the U.S. before the start of the war and reportedly warned FDR that communism was the greatest evil facing the free world. FDR countered that it was fascism.
You show a little of Pacelli's antipathy toward communism, but when there's so much ground to cover in trying to explain the big decisions they made, how do you know what to include and what to leave out?
When I was working with Richard Levien, my talented film editor, and we were putting together the film, we had some discussions about that, and whether to make a specific reference about the context of the debate over the Lend-Lease Act when Roosevelt was preparing to get into the war and looking for ways to support the allies.
There was a bill in Congress that would have provided material support to the Soviet Union under the guise of one of the Lend-Lease laws, and FDR tried to make sure the pope would be on board to give Roosevelt political coverage — knowing there was a lot of Catholic opposition precisely because of the anti-communist stuff.
For better or worse, a discussion about Land-Lease laws was a little too in the weeds for a 70-minute documentary about the Vatican and the Holocaust. I said, "It's nice, it's important and it's just not going to work."
Michael Phayer makes the point about Pacelli's early views shaped by his personal experiences when he was in Germany. And there are a couple other references by Eisner that I set up as a dichotomy. But otherwise it wasn't a political science treatise. If this were a four-part documentary about the pope there would be a lot more back and forth about Pacelli's views on Bolshevism vs. fascism.
There is a lot of great footage from newsreels and period photos, but a lot of it highlights the pomp and circumstance of the papacy and the Catholic Church in general. Pacelli, in particular, always looks rather grim.
Why did you choose some of that footage?
He doesn't smile a lot, and I wasn't avoiding pictures of him smiling. There are more photos of him smiling postwar, but I wasn't going to use those photos. This isn't a biopic of Pacelli.
The pomp and circumstance is part of the enduring majesty and power of the Catholic Church through the millennia — the pomp of the church itself, the iconography of the church, and it's manifested even more so in a guy like Pacelli who clearly loved it. I would venture to say that he really loved that kind of stuff.
He's got the whole machinery of the church behind him, therefore it was a conscious decision to look for footage that I think accurately provided a window into his psyche.
You open and close your film with Pope Francis who is now facing his own drama about hidden documents in terms of the Church's sex abuse crisis.
Did you consider using another figure?
Francis is the one who decided to open the archives. He's the one who says the church can't be afraid of the truth whatever the truth is. As a result I knew I was going to close with him walking through the gates of Auschwitz.
Other popes have gone there, but this is the pope who made the declaration, that it's time for the Catholic Church to allow a much fuller historical examination of the papacy of Pacelli.
He not only walks into Auschwitz in 2016 but said, "The church is not afraid of history." That represents a rather stark contrast to the silence of the pope at the time who knew exactly what was going on but continued to speak in a failed diplomatic use of language that avoided ever saying the word Jew.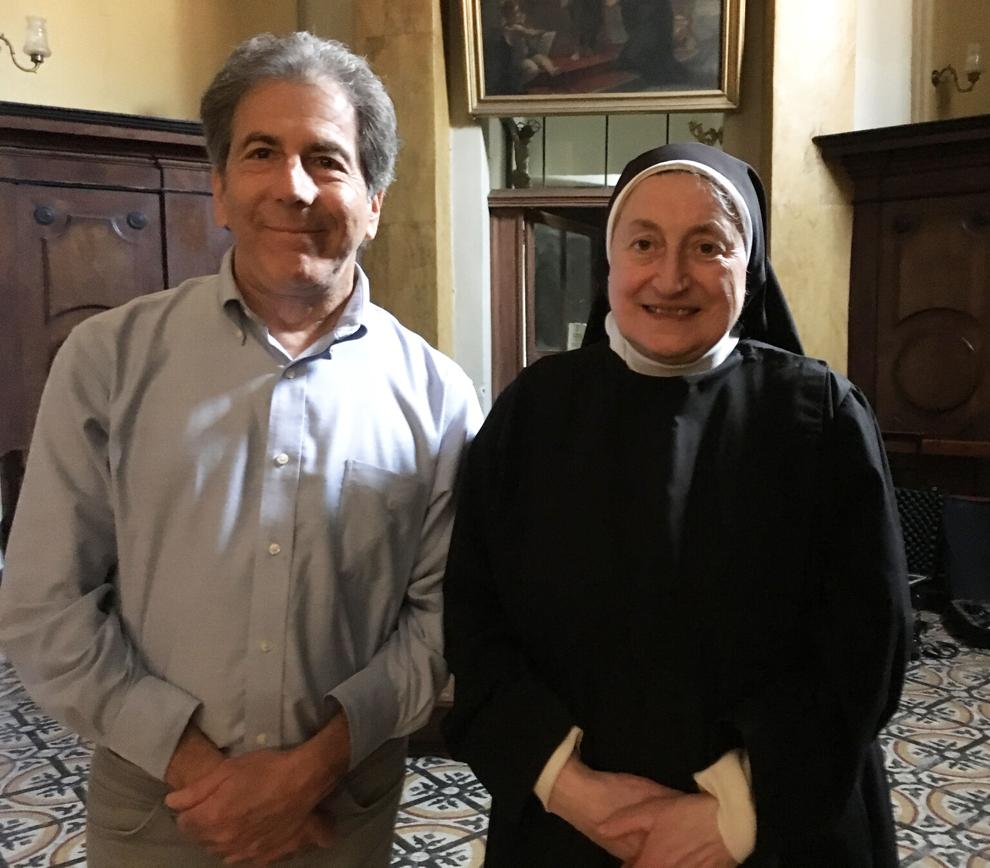 How did you find the Italian nun who talks about how Jews hid in her convent during the war?
I was in Rome at the time to, among other things, film an interview with a leading Italian academic authority on the church. I was working with a Rome-based cameraman who came up with the idea of filming the interview in the chapel at the convent very close to Vatican City.
While we were setting up and waiting for our interview subject to arrive, Sister Pascalizi — who doesn't speak a word of English, and I don't speak more than a few simple words of Italian — was asking what the film was about.
When I told her, her eyes lit up and she started speaking very enthusiastically about the 150 or so Jews who had been hidden in the convent during the war, thanks to the courage and determination of the then-mother superior.
I asked if she'd be willing to tell the story on-camera, and she instantly agreed. And then afterward, she pulled out a handwritten journal from the war years (some pages of which are in the film) that made reference to the Jews who had been hidden there.
Couldn't have worked out any better had we planned it all along.
On that note, did you ever consider including Angelo Giuseppe Roncalli, who became Pope John XXIII after Pacelli's death? He saved many Jews during the Holocaust in his official role as papal ambassador to Turkey.
He absolutely did. But the answer is no.
I've been asked why I didn't talk about the Catholics who helped. My answer is not necessarily satisfying. I readily acknowledge that there were Catholics, and high-ranking Catholics including Roncalli and others who were working at the highest level to save Jews.
But that's not the film I was making. My film is about two popes and, as the ultimate head of the church, what they were doing or not doing at the time. There are some great stories but that wasn't the film I was making.
After more documents come out of the archive, do you envision a new film?
Never say never. But it would be hard to imagine myself doing that. Not because I wouldn't be interested, but from a filmmaking point of view it would be difficult.
The issues raised in the film aren't going to dramatically change in terms of the narrative and what we know about Pius XII.
I could be wrong and there could be smoking guns one way or the other. We'll see what happens over the next several years. It's hard to imagine there will be a smoking gun, and I can't figure out how I would make a film that would create a new sense of drama of historians pouring over 16 million pages of documents.
I'll leave that to the scholars. JN
To register for the film, go to: azjhs.org/holy-silence