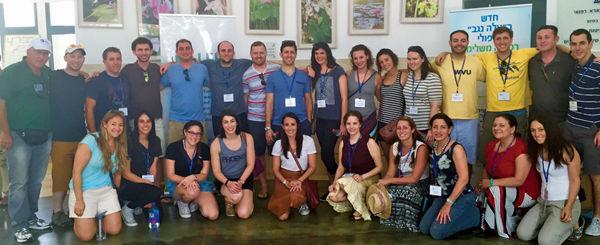 Connect with your community
With 5776 on the horizon, it's time to reflect on the past year and think ahead to next year. As with any new year, Jewish or secular, looking to the future usually means making resolutions, many of which include how we spend our hours and days. If you're looking for new ways to invest your time while connecting with your community, Jewish News has rounded up a few organizations you might consider joining or volunteering with to make 5776 more fulfilling.
JNFuture provides an introduction to Jewish National Fund (JNF) for young Jewish professionals ages 22-40 through programming, events, missions to Israel and forums with young Jewish leaders. The Arizona chapter was organized last year and already boasts about 70 members, according to Hayley Magerman, JNF campaign executive. The idea behind JNFuture is to instill an understanding of philanthropy and leadership in young professionals, she says.
Some of the events scheduled for this year include the "JNFuture Fall Kickoff" on Oct. 13 at Kerr Cultural Center, where Arizona participants from JNFuture's August mission to Israel will share their experiences. On Nov. 9, JNFuture will hold a women's cocktail reception with Jewish journalist Jessica Abo, who will be the featured speaker at the annual JNF women's luncheon the next day.
Other events include "Shabbat in the Desert," scheduled for March, parlor meetings with speakers pertinent to Israel and multiple networking opportunities. New this year for Arizona is a December JNFuture Volunteer Vacation in Israel for young professionals ages 25-35. Participants are asked to raise $1,800 for JNF's Blueprint Negev initiative and they will get an all-expenses-paid trip, including airfare, to spend a week volunteering and experiencing Israel with their peers.
For more information about JNFuture, contact Magerman, 480-447-8100 or email hmagerman@jnf.org.
National Council of Jewish Women Arizona section has had a presence in the state since 1920. The organization is devoted to improving quality of life for women, children and families, and strives to ensure individual rights and freedoms for all people through advocacy, outreach and education. Areas of emphasis include advocating for judicial appointments, reproductive justice laws, voter registration and fraud, contraceptive access and domestic violence.
Most years, the Arizona section concentrates on a social justice theme such as sex trafficking or teen dating abuse, but this year they aren't limiting themselves to one topic, according to Carol Consalvo, NCJW state policy advocate chair. The local section has about 250 members, Consalvo says, and holds monthly meetings. This year, the section has a variety of programs planned that include an ice cream social for grandmothers, mothers and granddaughters to discuss bullying and self-esteem; a session about reproductive justice with NCJW's senior policy adviser in Washington, D.C., Amy Cotton; a program about dying with dignity and compassionate choices from a Jewish point of view; and a wellness/spa day in January.
In addition to meetings, the section offers other opportunities to participate through interest groups that focus on a particular area – mahjong, writing, knitting, dining out and others.
For more information about NCJW, visit ncjwaz.org.
Entering its second year, Limmud AZ, A Day of Jewish Learning, gives Jews from all walks of life an opportunity to study, discuss and experience Jewish culture together under one roof on the same day. Limmud AZ will take place on Jan. 31, 2016, at Arizona State University from 9 a.m. to 5 p.m. and will be packed with everything from text study to musical performances.
Limmud AZ is looking for volunteers to teach, but is also seeking volunteers to help plan and organize the event as well as work on the day of the event. "We're only asking for a two-hour volunteer slot so they can go to sessions," says Suzanne Swift, one of Limmud's organizers. They need help with registration, monitoring sessions, lunch coordination, giving directions and hospitality. "We call them volunticipants," she says. "Limmuds are all volunteer-run."
The Arizona Jewish Historical Society, founded in 1981, is charged with preserving Arizona's Jewish history and educating the public about Jewish contributions to Arizona and American life. AJHS owns and operates the Cutler-Plotkin Jewish Heritage Center, which houses and maintains a large archival collection of more than 50,000 items pertinent to Jewish Arizona.
Lawrence Bell, AJHS executive director, says he relies heavily on volunteers. "I like to arrange a time to sit down and interview (volunteers) a little bit about what they like to do and what their experience is," he says. He's looking for volunteers to be museum exhibit docents, to work with the archives cataloguing and processing incoming collections, fundraising, office work, website design and many other opportunities.