Special Section: Good Health
ASU student describes symptoms of sleep disorder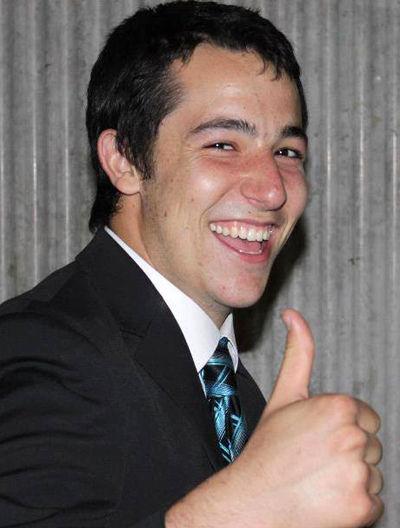 In 2011, during spring break of his junior year in high school, Mat Sherman started to feel a little "funky." "I thought it was a reaction to smoking some marijuana. I thought it was because I felt high at the time, so I went to bed," Sherman explains. That was on Friday. Saturday he was fine and on Sunday, "this wall of disorientation and wall of sleep hit me. I had no idea what was going on," he says. "It lasted for a week."
Four years and about 19 episodes later, Sherman now has a name for what ails him: Kleine-Levin syndrome (KLS), a rare sleep disorder affecting an estimated one to five people per million, according to a study published in the journal Nature and Science of Sleep. "There are only approximately 200 reported cases to date in the literature. It is a disease predominantly of teenagers, and boys are four times more likely to be affected than girls. ... Prevalence is slightly higher in the Ashkenazi Jewish population," according to the study.
Over the last four years, Sherman has tried to maintain a normal life, going to school at Arizona State University, serving as president of the student board of Hillel at ASU and being active in many campus clubs. Typically, when he has an episode, he sleeps for 22 hours and wakes up only to eat and go to the bathroom, and then goes back to sleep. When he's done with the sleeping part of the episode, he goes into a disoriented phase, "where I'm awake, but there's a serious wall between me and reality. My appetite soars and I steal food from my roommate. I act like a kid – very resistant to cleanliness, I don't shower, I don't brush my teeth," he says. Then, he enters the third phase of the episode – disoriented, but coming back to reality. Sometimes that phase can last as long as two weeks. "If you talk to me (during that phase) I seem kind of OK, but the stimuli of the world – I'm just not ready for it."
Sherman says his mother, Randi Jablin, has been a fierce advocate for him. In July 2013, Sherman's psychiatrist called and told Jablin that Sherman was there for an appointment, but that he seemed a little tired and didn't think he should drive. "She mentioned the word hypersomnolence (recurrent episodes of excessive daytime sleepiness or prolonged nighttime sleep), which I'd never heard before. I spent several hours researching the word and in one of my searches it said that hypersomnolence was a symptom of Kleine-Levin sydrome," Jablin says. "I'm reading this and I'm thinking this has got it be it. He seems to be a classic case of KLS."
In an effort to get a diagnosis, Sherman submitted to a sleep study, but couldn't stay awake because he was in the middle of an episode. "They were trying to pry my eyelids open and I just couldn't do it," he says.
If he makes it through this week, Sherman will have had only one episode in a year, so the syndrome may be on the decline. "Hopefully, God willing, it will disappear when he's in his 20s after a few more years," Jablin says. "It normally disappears as mysteriously as it appears when the patient is in his 20s."
No one knows for certain what triggers the syndrome, but infection and fever, alcohol and sleep deprivation are cited in the study as possible causes. "The episodes have no rhyme or reason and there's no cause, no cure and no treatment, although lithium has been found to help in 41 percent of cases," Jablin says.
Sherman says he just recently started talking about his experiences with KLS. "The goal to doing this outreach is so that more people will know about it. People who don't know they have it might realize, wow, that sounds really familiar to me."