Rosh Hashanah
Easiest Rosh Hashanah dinner ever
Some people take great pride and pleasure in planning their Rosh Hashanah menus for weeks or months in advance, chugging away at kugels and cakes and soup to put in the freezer. I know my grandmother and Aunt Ruth both did their High Holidays cooking all summer so they would be "ready."
But not everyone cooks for 20 people or enjoys the toil and preparation of holiday cooking for weeks on end. And for those people, this simple menu is for you.
Traditional Jewish New Year flavors of apple and pomegranate can show up in unexpected places – like sangria, which is a perfect, easy choice for entertaining, since you can make a large batch and chill until ready to serve. And even a simple roast chicken becomes special for the holiday with an apricot mustard makeover and crispy roast potatoes.
You can keep your preparations and flavors simple while serving up a sweet, delicious and deceptively impressive spread for family and friends.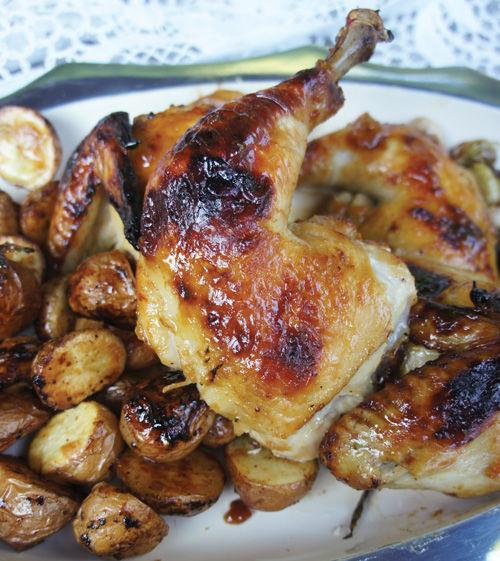 Sheet Pan Apricot Dijon Chicken with Brussels Sprouts and Potatoes
Sheet pan dinners are all the rage this year and with good reason: Throw all your ingredients on one large sheet pan and then pop it in the oven. Your cleanup is reduced without sacrificing any deliciousness. This recipe can easily be doubled to feed a larger crowd.
1 pound small red or Yukon gold potatoes, halved
1 pint Brussels sprouts, trimmed and halved
2 tablespoons Dijon mustard
2 tablespoons orange juice
1/4 teaspoon black pepper
2. Cut chicken along the backside, removing spine. Flatten and lay on top of sheet pan.
3. In a small bowl, mix together apricot jam, mustard, brown sugar, olive oil, orange juice, salt and pepper.
4. Spread around three-quarters of the seasoning mixture on top of and under the skin of the chicken; reserve one-quarter.
5. Spread potatoes on one side of the pan, Brussels sprouts on the other. Drizzle potatoes and Brussels sprouts with olive oil, salt and pepper. Add whole, unpeeled garlic cloves to the tray, alongside the potatoes and brussels sprouts.
6. After 30 minutes, check on Brussels sprouts and, if caramelized to your liking, remove and set aside. Toss potatoes to ensure even cooking and place back into oven for another 25-30 minutes.
7. Remove from oven and spread remaining seasoning on top of chicken. Cut chicken into quarters and serve immediately.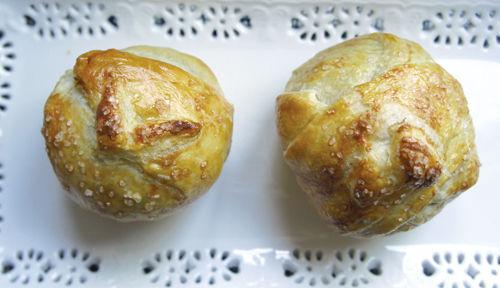 Puff Pastry Baked Apples
Growing up, baked apples were a tradition in my house. This dessert looks impressive but is actually easy to execute. Serve with sorbet, vanilla ice cream or whipped cream for an extra sweet start to the new year.
1/4 cup margarine or butter
Pinch fresh ground cloves
1. Take puff pastry out of freezer and allow to sit at room temperature 30 minutes.
3. In a medium bowl, mix together margarine (or butter), brown sugar, cinnamon, ginger, nutmeg, clove and salt. Add in raisins and mix.
4. Peel and core each apple, leaving apple intact but with a cavity for stuffing. Stuff sugar-margarine mixture inside each apple.
5. Cut each sheet of puff pastry in 2 pieces (there should be 4 pieces in total). With a rolling pin, roll each rectangle piece gently, stretching puff pastry so it is slightly larger.
6. Sit each stuffed apple in middle of puff pastry. Fold puff pastry up and over apple until completely covered, trimming excess pieces. (Optional: Using extra puff pastry, carve decorative small leaves to place on top.)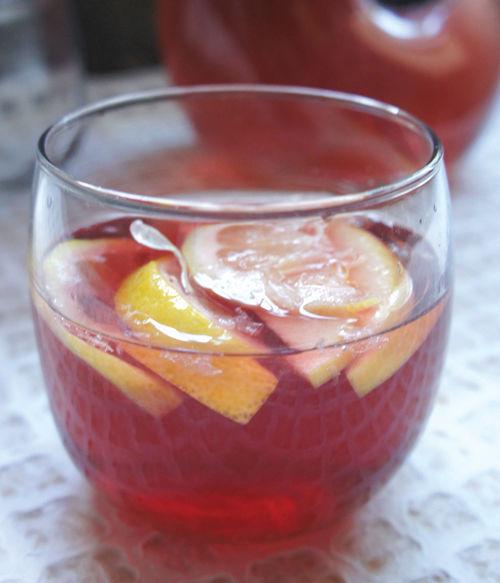 Apple Pomegranate Sangria
Sangria is the perfect drink to serve for Rosh Hashanah – it's supposed to be sweet and is perfect paired with two traditional flavors of the holiday. You can use whatever wine you have lying around, or change things up with red wine if you prefer.
1 bottle white wine such as sauvignon blanc or pinot grigio (or moscato if you like very sweet wine)
4 ounces vodka (optional)
1 apple, cored and sliced
1 1/2 cups ginger ale or club soda
Pomegranate seeds (optional)
1. Place sliced apple and lemons in a sealable container.
2. Add 1/2 cup pomegranate juice,
1/2 cup wine and vodka (optional).
3. Allow to sit overnight in the fridge.
When ready to serve, place fruit and liquid in a large carafe. Add remaining wine and pomegranate juice. Top with ginger ale or club soda to your liking. Serve chilled or with ice.
Optional: For an extra-special presentation, make pomegranate seed ice cubes by adding a few seeds into each section of an ice cube tray. Fill with water or pomegranate juice and freeze overnight. When ready to serve, add 1 or 2 ice cubes in each guest's glass, or all the ice cubes to the carafe of sangria.