Chef and best-selling author Paula Shoyer offers recommendations that she guarantees will match the Passover culinary tradition while simultaneously enlivening your seder.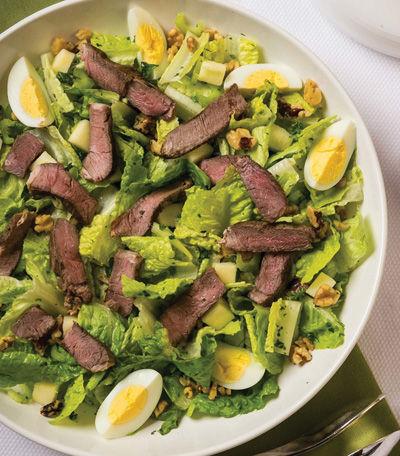 Seder plate salad
Shoyer's version of a French niçoise salad uses lamb instead of tuna.
Ingredients for the salad:
2 pieces of lamb shoulder (about 20 ounces total)
2 teaspoons extra virgin olive oil
1 large head romaine lettuce, cut into 2-inch pieces
2 stalks celery, thinly sliced
1 cup loosely packed fresh parsley leaves, roughly chopped
1/3 cup walnut halves, roughly chopped into 1/2-inch pieces
2 apples (Red Delicious, Fuji or Gala), cored and cut into 3/4-inch cubes
3 large eggs, hard-boiled and quartered
Ingredients for the dressing:
4 teaspoons jarred white horseradish
2 tablespoons sweet kosher wine
1. Heat oven to broil or an outdoor grill to medium-high heat.
2. Rub the lamb shoulder pieces with oil and sprinkle with salt and pepper to taste. Broil or grill for 4 to 5 minutes per side for medium rare, or until desired doneness. Let cool for 5 minutes and, if serving immediately, slice into thin, 2-inch-long pieces. If making in advance, wait to slice the lamb until after reheating. The lamb may be roasted 2 days in advance; cover and store in the fridge.
3. In a small bowl, whisk the mayonnaise, white horseradish, sugar and wine until well-combined. Add salt and pepper to taste. The dressing may be made 2 days in advance; cover and store in the fridge.
4. Place the romaine pieces in a large bowl. Add the celery and parsley and toss to combine. Sprinkle the walnuts and apples on top and arrange the egg quarters around the perimeter of the bowl. Scatter the lamb pieces on top. To serve, scoop some of everything onto each plate and drizzle with the dressing.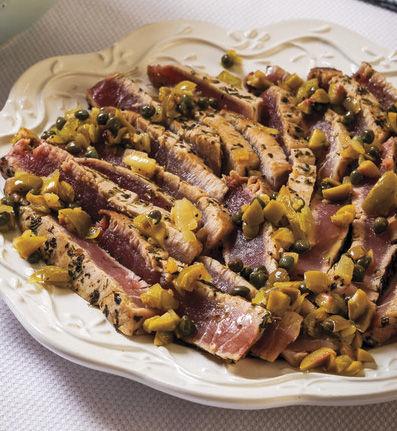 Seared Tuna With Olives and Capers
4 tuna steaks (6 ounces each)
3 tablespoons extra virgin olive oil
3 tablespoons chopped red onion,
4 cloves garlic, chopped into 1/4-inch pieces
3 tablespoons capers, drained, or green olives, cut into 1/4-inch pieces
1/3 cup green or black olives (or a combination), cut into long slivers
1. Sprinkle both sides of the tuna steaks with the basil, thyme and pepper to taste. Heat a large frying pan over high heat (do not add any oil). When the pan is hot, add the tuna steaks and cook for 1 to 1.5 minutes on each side, just long enough to sear the outside. Leave the center raw, unless you prefer tuna cooked all the way through.
2. Remove the tuna steaks to a plate. Reduce the heat to medium and add the oil. Add the red onion and garlic and cook for 2 minutes, stirring often. Add the capers, olives, sugar and pepper to taste, and cook for 1 minute. Remove the pan from the heat.
3. Place the tuna steaks on a cutting board and slice into 1/3- to 1/2-inch-thick slices. Place the slices on a platter and sprinkle the caper and olive mixture on top, or serve it alongside in a small bowl.