Even during Jewish holidays, when food is so abundant, it is possible to eat well.
My cookbook, "Great Meals with Greens and Grains," highlights many of my favorite plant-based, vegetarian recipes that not only are healthful but delicious, as well. And many of its recipes are kosher for Passover or can be easily modified by removing or substituting a single ingredient.
The following three recipes would be great when served as a light dairy lunch after a traditionally heavy seder. They are colorful, flavorful and packed with good-for-you ingredients.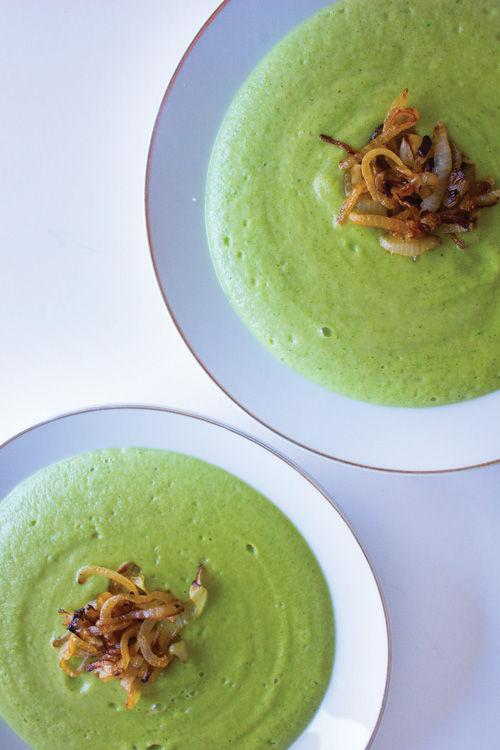 Broccoli and Parmesan Soup
3 tablespoons olive oil, divided
1 large russet potato, peeled and cut into 1-inch pieces
2 large cloves garlic, minced
1/2 cup grated Parmesan cheese, plus more for garnish
1/4 teaspoon ground nutmeg, plus more for garnish
1 1/2 cups low-sodium vegetable stock (or more, depending on how thick you like your soup)
1. Heat the oven to 425 degrees.
2. Remove the bottom portion of the broccoli stalks and peel the thick outer layer with a vegetable peeler. Separate the florets from the bunch and chop the stalks so that you are using the entire broccoli. Although the stalk is a bit fibrous for a salad, it is perfectly usable for this application.
3. Toss the broccoli with 2 tablespoons of the olive oil and salt to taste, spread on a baking sheet and roast until soft and golden brown, about 15 to 20 minutes.
4. Heat the milk in a large, heavy-bottomed pan over medium-low heat – you want to gently heat the milk so it doesn't scald. Add the potato pieces to the milk and cook until tender, about 12 minutes. Once cooked, set the potato and milk mixture aside.
5. In a separate skillet, heat the remaining 1 tablespoon olive oil and the butter over medium heat, and cook the onion and garlic until translucent and fragrant, 8 to 10 minutes.
6. Place three-fourths of the onion mixture in a blender, and continue to cook the remaining portion until golden brown and more caramelized, another 10 to 12 minutes, then set aside for garnish.
7. Add the potatoes and milk, broccoli, Parmesan cheese and nutmeg to the blender or food processor with the onion; blend until combined.
8. Begin adding the stock until you have achieved your desired consistency, adding more if you need. Season to taste with more salt if necessary.
9. Divide the soup among 4 bowls, top with a spoonful of the caramelized onions, a pinch of nutmeg and a sprinkle of Parmesan cheese. Serve immediately.
Kale Salad with Candied Almonds, Apples and Maple Dressing
2 tablespoons maple syrup
1/2 cup whole raw almonds
1 bunch kale, stems discarded and leaves roughly chopped
1/2 cup crumbled feta cheese
4 scallions, thinly sliced
1 medium tart apple (Granny Smith, Northern Spy or Braeburn), halved, cored and thinly sliced
1. Heat the oven to 300 degrees.
2. To make the dressing: Combine all the ingredients in a bowl and whisk until well-incorporated, then set aside.
3. To make the candied almonds: In a bowl, toss the almonds with the olive oil, maple syrup and salt, spread in one flat layer on a parchment- or foil-lined cookie sheet and bake for 10 minutes.
4. To make the salad: In a large bowl, combine the kale, feta, scallions, apple and warm almonds, toss with the dressing and serve immediately.
Tip: If you don't have almonds, you can use any other nuts on hand – pecans or walnuts would be delicious.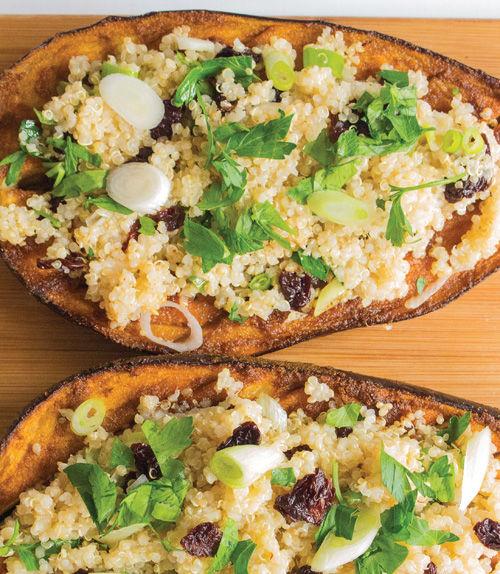 Spice-rubbed Eggplant with Quinoa and Cherries
2 large eggplants, halved, tops left intact
2 teaspoons smoked paprika
2 tablespoons lemon juice
(certified kosher for Passover)
1/3 cup unsweetened dried cherries or raisins
1/3 cup chopped parsley, divided
1/3 cup thinly sliced scallion (white and green parts), divided
2 tablespoons lemon juice
1. Heat the oven to 400 degrees.
2. To make the eggplant: Place the eggplant halves cut-side up on a nonstick baking sheet. With a sharp knife, score the eggplant diagonally every 1/2­­ inch, then run the knife down the center of the eggplant. Be sure to only score the flesh of the eggplant; do not pierce through the skin.
3. To make the rub: In a small bowl, combine all the ingredients for the spice rub. Massage the spice mixture evenly across each of the eggplant halves, being sure to rub it into the flesh. Turn the eggplants cut-side down and roast for 45 to 50 minutes, or until very soft and cooked through.
4. To make the quinoa: Combine the quinoa and water in a pot and bring to a boil over high heat. Reduce the heat to low, cover and continue to cook until the water has evaporated and the quinoa is fluffy, 10 to 12 minutes. Mix the cooked quinoa with the cherries or raisins and set aside.
5. When the eggplant is cooked, add half of the parsley and half of the scallions to the quinoa, stir to combine and season to taste with salt. Top each eggplant half with equal amounts of the quinoa mixture, then top with remaining parsley and scallion, drizzle with the olive oil and lemon juice and serve immediately.
Recipes excerpted from "Great Meals with Greens and Grains," by Megan Wolf. Reprinted with permission from Page Street Publishing Co.