In an effort to build a Jewish teen community across the Valley, Jewish News and The League introduces Teen Scene, monthly content devoted to teen programming. In this Get Connected issue, we feature teen groups and a roundup of their fall events.
Although the Valley's Jewish community is spread out, there are plenty of opportunities for Jewish teens to come together. Here is a listing of local youth groups and programs to explore.   
BBYO
A kickoff event for Phoenix BBYO will be held 5-9 p.m. Sunday, Aug. 21, at Stratum Laser Tag. Transportation will be available to and from the VOSJCC. Cost is $20. The event is open to all Phoenix area Jewish teens in grades 9-12. To register, visit bbyo.org/phoenixkickoff2016.
In Scottsdale, BBYO chapters will meet at 7 p.m. Mondays at the VOSJCC. Contact Zach Madick, Phoenix BBYO city director, zmadick@bbyo.org.
In the East Valley, BBYO chapters meet at 7 p.m. Tuesdays at the East Valley JCC, 908 N. Alma School Road, Chandler. Contact: Aaron Wiener, East Valley supervisor, awiener@bbyo.org.
CTeen
CTeen of the East Valley will hold a kickoff event at 6 p.m. Sunday, Aug. 21, at Chabad of the East Valley, 875 N. McClintock Drive, Chandler. Call or text (347) 241-7089 or visit CTEENAZ on Facebook.
There is also a CTeen group in Phoenix that will offer a "Super Jew: The Miracle of Jewish Survival" course for students in grades 7-9 that starts in the fall. Email cteen@chabadaz.com.
The Friendship Circle
The Friendship Circle offers volunteer opportunities for teens to work with children with special needs. The Volunteer Kickoff will be on Aug. 28. Contact Leah, leah@fcaz.org.
Hebrew High
The Bureau of Jewish Education's Hebrew High starts in three locations later this month for students in grades 8-12. Registration is underway for the program, which meets Tuesdays in Scottsdale, beginning Aug. 23; Wednesdays in Chandler, beginning Aug. 24; and Mondays in the West Valley, beginning Aug. 29. For more details, call 480-634-8050 or visit bjephoenix.org.
Israeli Scouts of Arizona
Launching this month is an Arizona chapter of the Israeli Scouts, with a goal of strengthening relationships between Israel and North American Jewry. Shevet Shemesh will hold its first program 3-5 p.m. Sunday, Aug. 28 at the Valley of the Sun JCC. Registration is required before Aug. 28 at shevetshemesh.com/registration.html. If rides are needed from the East Valley, email shemesh@israelscouts.org.
Jewish Student Union
The Arizona Jewish Student Union (JSU) season starts at 9 p.m. Saturday, Aug. 27, at Mega Event Entertainment, 8545 S. Emerald Drive, Tempe. The evening will include laser tag, bowling, gravity ropes and video games. Cost is $25. To attend, text 602-327-3692. For more information, call 201-362-2074 or email shmuli@dojsu.org.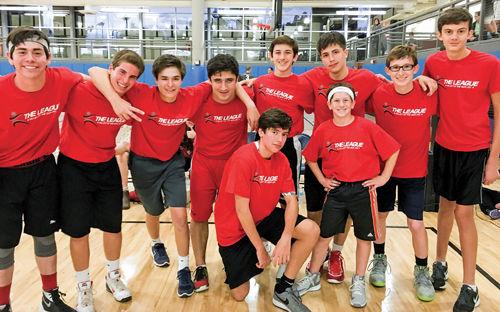 The League
Registration is now open for the Jewish Youth Group Sport League – known as "The League," which debuted last year. The league is for members of Jewish youth groups; the basketball games will be held 5-7 p.m. Sundays at the Valley of the Sun Jewish Community Center, 12701 N. Scottsdale Road, Scottsdale.
The League is funded, in part, by a grant from the Jewish Community Foundation of Greater Phoenix.
NFTY
BITY, Congregation Beth Israel's youth group, will host a pool party 1:30-3:30 p.m. Sunday, Aug. 21. For location and to register, email Jessielyn Kreitzer, youth@cbiaz.org.
TCTY, Temple Chai's youth group, will hold a kickoff event 6-8:30 p.m. Saturday, Aug. 20, at Temple Chai, 4645 E. Marilyn Road, Phoenix. The event includes food and team games. Cost is free for TCTY members, $15 for nonmembers. To attend, email ewynn@templechai.com by Aug. 16.
Other NFTY groups (NFTY stands for North American Federation of Temple Youth) are KATY at Temple Kol Ami, TETY at Temple Emanuel of Tempe and TSTY at Temple Solel.
USY
Beth El USY will host a youth group kickoff pool party 5-7 p.m. Sunday, Sept. 11, at a private home. All youth group members and prospective members, in grades 4-12, are invited to attend. The event includes pizza, snacks and swimming. Cost is $5. To attend, contact Nanci, 602-944-3359, ext. 123, or nsiegelmanson@bethelphoenix.com by Sept. 7.
Or Tzion USY will try to break some Guinness World Records at its kickoff event, 1:30-4 p.m. Sunday, Aug. 21. To attend, email Stephanie@congregationortzion.org. The group will also go on a "Disneyland Turn-Around" trip, Sept. 3-5. Cost is $200, which includes transportation, a Disneyland ticket, breakfast and a midnight snack. USY dues must be current. Email stephanie@congregationortzion.org.
Temple Beth Sholom of the East Valley USY will be meeting for Night Splash at Golfland Sunsplash, 155 W. Hampton Ave., Mesa 7-10 p.m. Saturday, Aug. 27. To attend, email sarah.bochenek@tbsev.org. The group will also attend a screening of the movie "Embrace," a documentary about the female body image, at 7 p.m. Thursday, Sept. 22.