Pilates studio offers 'Buff Bones'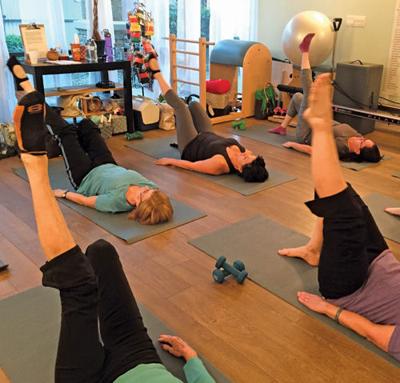 When Deborah Lavinsky, PMA-CPT, was training to become a Pilates instructor, one of the requirements was to design an individualized training program. One of her clients had osteoporosis – a medical condition that causes bones to become brittle and fragile from loss of tissue – so Lavinsky began researching a training plan for her.
While doing research, she found videos by Rebekah Rotstein, the founder of Pilates for Buff Bones, a medically endorsed system that combines Pilates, functional movement, strength training and therapeutic exercise with bone-strengthening and balance techniques to optimize the health and safety of bones, according to the buff-bones.com website. "It just made so much sense and I really liked how she put it all together," Lavinsky says.
Rotstein, a Pilates instructor in Manhattan who grew up in Tucson, was diagnosed with osteoporosis at age 28 and developed the program after conferring with medical professionals. "The exercises have to be done in a specific order to get the most benefit," Lavinsky says.
After Lavinsky opened her BellaBody Pilates studio in August 2014, she contacted Rotstein to arrange to host the first-ever Buff Bones training in the Southwest. This past March, participants from Arizona, California, Chicago, Colorado and New Mexico attended the training in her studio, Lavinsky says, and she became the only certified Buff Bones instructor in Phoenix (there are also two in Scottsdale). During the training, Lavinsky says she learned a great deal not only about osteoporosis, but also about safe movements that help strengthen bones.
Everyday movements – such as bending over to pick up a sock – can potentially cause harm to someone who has osteoporosis by causing microfractures in their vertabrae, Lavinsky says. These type of movements are avoided during the Buff Bones exercises.
"A big component of the program is teaching people how to safely move every day functionally" and the exercises themselves help the students strengthen their core, Lavinsky says. It also addresses challenges with balance, as falls increase the likelihood of fracturing a bone in the hip, wrist or spine, which is a special concern for those with osteoporosis.
The Buff Bones program is not only for those with osteoporosis, however. It's also ideal for those who are new to exercise or who aren't used to exercising regularly, she says, or for those with neck or back injuries. It also includes light weights, light-impact exercises and spine-safe stretching.
"That's not to say it's an easy class by any means," she says. "After the first class, when they come back, they all tell me they can really feel their abs the next day. They really feel like they worked out."
The classes are held at 2 p.m. Mondays and 10 a.m. Wednesdays at BellaBody Pilates, Lavinsky's fully equipped Pilates studio, located at 13825 N. Seventh St., Suite E, in Phoenix.
Other classes include a barre class and a foam roller class. She offers private and group instruction, as well as team-building activities. She helps her clients develop an individualized program, addressing issues such as hip or knee replacements, spinal fusion, ankle fusion, scar tissue in cancer survivors, back issues, cerebral palsy, rheumatoid arthritis and osteoarthritis. Her oldest student is 76 years old, and her youngest is a 12-year-old with scoliosis.
A first-time class is $10, and drop-in classes are $20 per class; a package of 10 classes is $150. The studio also offers tai chi and Kundalini yoga using gong meditation, with other instructors.
Lavinsky, who is the wife of Rabbi Arthur Lavinsky at Beth El Congregation, discovered Pilates about 10 years ago and after being inspired by the transformation of her body and health, became a certified Pilates instructor through the Pilates Sports Center Certification Program. This is her third career – she was a professional flutist for 25 years and retired last summer after 18 years as a financial adviser.
"I have not looked back," she says.