When Shemesh Camp at Martin Pear Jewish Community Center opened May 26 with a slew of new guidelines, the one thing that was unchanged was the campers themselves. Happy to be among old friends they hadn't seen in months, the kids also found some unfamiliar restrictions on their movements. No field trips, no tromping through the building, no intermingling of camping cohorts and — at least initially — no masks.
That changed Monday, June 22, after Scottsdale and other cities mandated the wearing of masks in public spaces. Exceptions to the mask requirement are kindergarteners and campers exerting themselves physically.
Kim Subrin, camp director and chief operating officer of MPJCC, felt a sense of trepidation initially about whether the children would comply easily with the order. But last Monday morning came and went without incident. The kids had been watching their mask-wearing counselors since camp began, and — as with adults — this is their new normal.
"I was beyond pleasantly surprised how adaptable all these kids were to wearing the masks," Subrin said.
"My kids are old enough to know it's a precautionary thing," Audrey Hummell, third-grade counselor, said of her camper cohort. "It's becoming normal — something they see all over."
From the beginning, counselors and staff have been wearing nametags complete with photos so kids could recognize them since they've been wearing masks all along. "The kids told me I need to chop the nose off in my picture, because I don't have one in real life," Hummell joked.
"It was weird the first week," said Maxwell Freestone, fifth and eighth grade leader, about wearing his own mask at camp. "Now I don't notice it."
"Kids are a lot smarter than you think they are," said Abigail Runyon, third and fourth grade leader. "They've seen us do it the whole time, so they know it's possible to wear them."
Normalizing masks has been key to acceptance.
"We're the role models for them," Runyon said.
In every room the counselors have created a mask-free space to help kids when they're overwhelmed. One camper can go into a marked-off space in the room and take the mask off for roughly one to two minutes. Then the mask goes back on, and the camper returns to the group.
While this summer is different, the counselors said it hasn't been as problematic as they feared. It's nice to have a space the kids can make their own with decorations. They also no longer worry about backpacks going missing since the kids don't move from room to room.
To the surprise and relief of the counselors, the campers aren't asking about the missing field trips, and they don't complain about the masks. "The kids see it in the world," Runyon said. "This is the way it is now."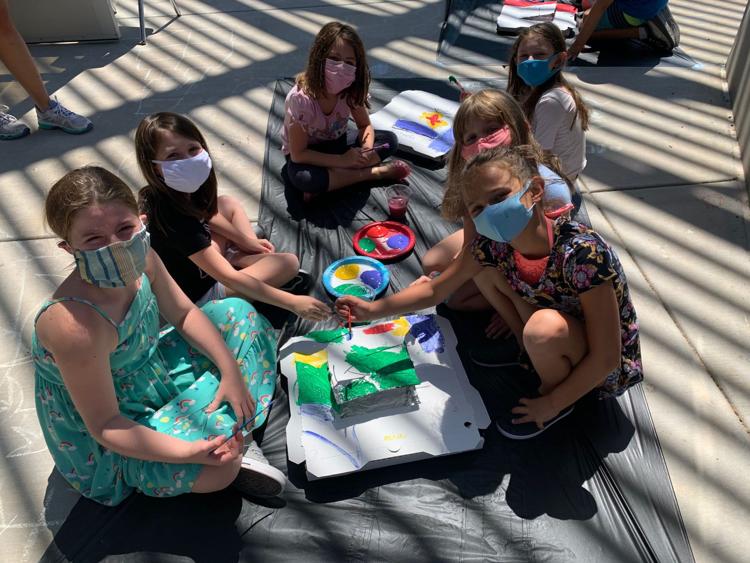 Jaxson Gregorec, 10, has been attending camp at MPJCC since first grade. He said wearing a mask has been pretty easy. "If it gets a little humid you kind of get annoyed, but otherwise I think it's OK," he said. He's happy to be at camp spending time with his friends after months of being at home, so wearing a mask is a worthwhile tradeoff.
Zoe Brown, 10, agreed about how good it is to spend time with her friends at camp finally. She also doesn't mind wearing a mask. "There's less chance of people getting sick, and we can just have fun," she said.
Parker Subrin, 8, has a mask called a gaiter that doesn't attach behind his ears. He said it's more comfortable for him to raise it and forget about it. And if he forgets to put it in place again after lunch, his counselor reminds him. Once in a while, it does annoy him, but that's mainly because — in his words — he's a "mouth breather." However, even with that difficulty he said he's having his best summer yet.
Annie Robinson, parent of two Shemesh campers, said her 8-year-old daughter hasn't complained. "She practiced [wearing the mask] the whole weekend so she was comfortable talking," said Robinson. Her son, 5, isn't required to wear one, but has asked about having one for himself.
Robinson and her husband both have full-time jobs, and they felt strongly their children needed some kind of social interaction after being at home for 12 weeks. They attended the MPJCC's early childhood programs, and Robinson felt good about her choice after watching the Zoom call the camp staff held in early May. "I was beyond impressed with everything they had thought of," she said.
When two different counselors tested positive for COVID-19, "it gave me pause slightly," she admitted. But she also liked the camp's transparency about the situation. In the end, it was a balance of comfort with the safety precautions and getting her kids back into some semblance of normalcy.
The first positive case in early June led to 22 counselors and staff getting tested instead of going into work, and the camp closed for the day. Subrin said they paid everybody for the day and supported their decision. The affected counselor and her campers self-quarantined for two weeks.
When a second counselor tested positive the last week of June, the counselors said they were less alarmed since the affected person hadn't been in the building for a few days. Again, those affected were told to self-quarantine.
Subrin called all the parents of the affected cohort and emailed parents of the camp. "What I learned is that the parents were beyond amazing, supportive, kind and appreciative for everything we're doing," she said. "I learned that open communication and complete transparency equals success."
Shemesh is in the strange position of being one of the first camps in the country to open. "We didn't have anybody else to lean on," Subrin said. She even presented the situation on a Zoom call to other camp directors.
Remaining calm and being open with her staff is an important part of running a camp amidst COVID-19, she said. Hiding anything is anathema to success. In the midst of the counselors testing positive and the campers getting used to masks, it's critical to remember how much trust the community has put in Shemesh, she said.
"It's an honor that they're giving us this opportunity." JN