Scottsdale Museum of Contemporary Art reopened its doors to the public on Saturday, Oct. 3, after being shuttered since March 16.
"It's time to make these exhibitions available to the public again," said David Itzkowitz, SMoCA's advisory council chair.
Opening day was completely booked, according to Lauren Zapien, SMoCa's membership and events manager, who is looking forward to people continuing to come back to the museum in the weeks ahead. To that end, admission is free for the month of October, although attendance will be limited to 20 visitors per hour and group tours limited to six visitors in a group.
In order to protect visitors and staff, SMoCA instituted safety guidelines consistent with Scottsdale and Maricopa County ordinances. Masks are required, the museum high-touch locations will be cleaned and sanitized throughout the day and there will be several hand sanitizer stations.
"SMoCA is a hidden gem," Itzkowitz said, noting that many in Greater Phoenix are not aware of its existence. He hopes that will change, and said he wants people to be aware of the museum, but not for the exhibitions alone. "What we're striving to do," he said, "is not only expose the general public to contemporary art, but also to promote diversity and comity among all our patrons."
Itzkowitz, who is Jewish, pointed out that the museum has a substantial Jewish membership that is very supportive of the arts in general.
"BEYOND: Works by Nellie King Solomon and Barbara Stauffacher Solomon" is one two new exhibitions that will run from the opening through Jan. 31, 2021. It presents the work of two Jewish women who also happen to be mother and daughter.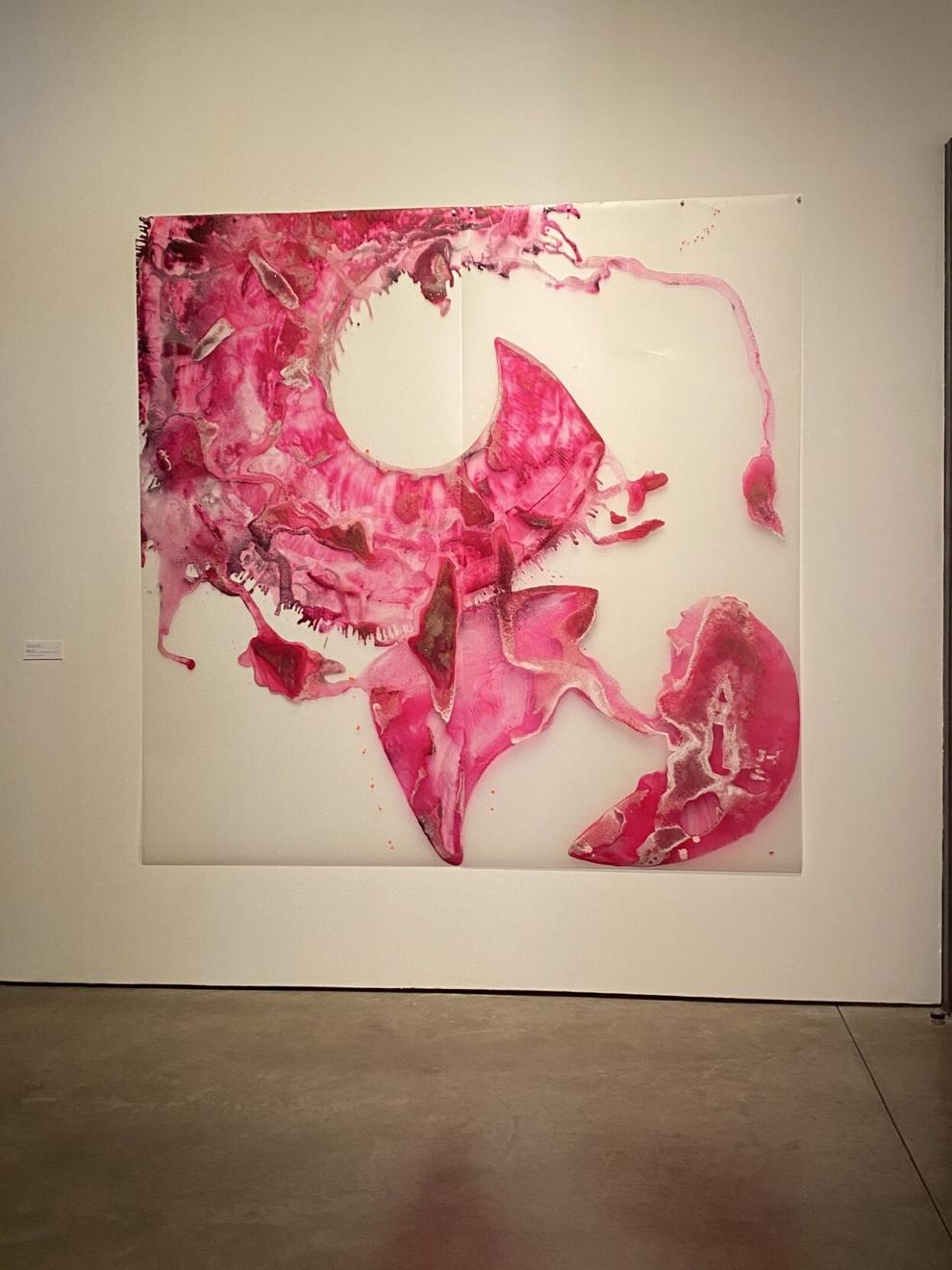 After many years of working together and supporting one another, Nellie King Solomon, who attended the museum's reopening, said this will be the first time the two will actually exhibit together, although their shows are distinct in subjects and approaches. She was excited that Jennifer McCabe, SMoCA's director and chief curator, saw fit to include them both.
The focus of the older Solomon's contribution is graphic design, architecture and writing and includes both past and recent work, while the younger Solomon's exhibition consists of a few recent series of abstract paintings done on Mylar, a type of industrial polyester film.
"Intentionally the show holds different but complementary narratives," Nellie King Solomon said, describing her project. She described this as some of her "tougher work" that doesn't usually get chosen by galleries. She said her paintings challenge ideas of where America stands in the present moment and deal directly with the pandemic's curfews and closures and racial unrest brought on by the killing of George Floyd.
And yet, Solomon also included a piece that represented a break from the darker aspect of her art. "I actually shifted," she said, describing a large light-filled yellow painting in the show. "This is like an elixir or medicine for what it is we're going through — more of what we need."
Solomon's exhibition was originally scheduled for mid-summer, and the museum planned a 900-person opening. She was somewhat disappointed to miss out on a great party, she quipped, but now that the show is finally up, Solomon feels very enthusiastic. She experienced it as a boost to her own momentum at a time when many artists are finding themselves at loose ends. 
"I've had all this momentum of the show and what hopefully will transpire from it," she said. "It was a great gift at a time when the art world is kind of being burned — being able to come and meet people feels healthy and full of growth at a time most people aren't feeling that."
Although Solomon's work is not explicitly Jewish and she was not raised in a devoutly Jewish household, she said she was raised in "a very Jewish way." She comes from a family of makers: filmmakers, writers, designers, architects and engineers. "My family repeatedly had to live by their wits and make something and care about hard work and ambition and reinvention and survival — all of those are incredibly Jewish qualities," she said.
"America takes its mess and turns it into culture, and that's ultimately what Jewish people do really well: take a good hard look at where we are and bring it forward and create culture out of what is hard to name," she said. "We sought refuge in America, and we make culture out of the mess and confusion and complication that is America — I've definitely made paintings about that." JN