Giving back to the community can take many forms.
Photographers at the Arizona Front Porch Project are offering family portraits from a safe distance and donating a portion of the proceeds back to community organizations. At Sagewood, a senior living facility in Phoenix, residents are coming together to thank the staff for protecting them from COVID-19.
This week, we feature two more stories of local individuals and organizations who are living the concept of tikkun olam.
Out of the studio and onto the porch
Normally, at this time of year, Howie Schatzberg would be photographing champion horses in competitions across the country.
"When you do horses, it's quick, it's easy, it's fun — and you're done," Schatzberg said.
Since the coronavirus struck, however, Schatzberg and fellow photographers Jane King and Casey McBride have switched gears: Instead of photographing horses in the ring, they're photographing families on their front porches.
"It's been all over the board, people just come out dressed up in cool outfits," Schatzberg said. "Some people have been in pajamas, some people have brought out this whole staged deal with COVID-19 and toilet paper … somebody brought out a couple of horses and a cow sitting out in a coffee table, it was hysterical."
Local iterations of the Front Porch Project have sprung up around the country as a way to document families' lives during lockdown. King, McBride and Schatzberg started the Arizona Front Porch Project at the beginning of April, when they realized that taking a family portrait at home might actually be more appealing to some family members.
"We all have families, so we're in that same group that says, 'Wouldn't it be fun to go to a studio and take pictures of your family?' And then we have teenagers and younger kids who are thinking they hate this," Schatzberg said. Now, "they're all together in one place, we'll drive up to their house, they can come out and we can take their picture."
Since the project started, the demand has been "crazy," Schatzberg said. "In one day, we'll do 30 homes … I think we've done well over 100 homes, easily, and it's been super well-received."
Proceeds from the project go to three community partners chosen by the photographers: the Humane Society of the White Mountains, Foothills Food Bank & Resource Center and Congregation Kehillah.
"I'm a member of Kehillah, so I wanted to give a portion to Kehillah," Schatzberg said. "Rabbi Bonnie Sharfman, my rabbi, is extremely amazing with the local community, and we have people in our congregation who are affected by this — business-wise or not."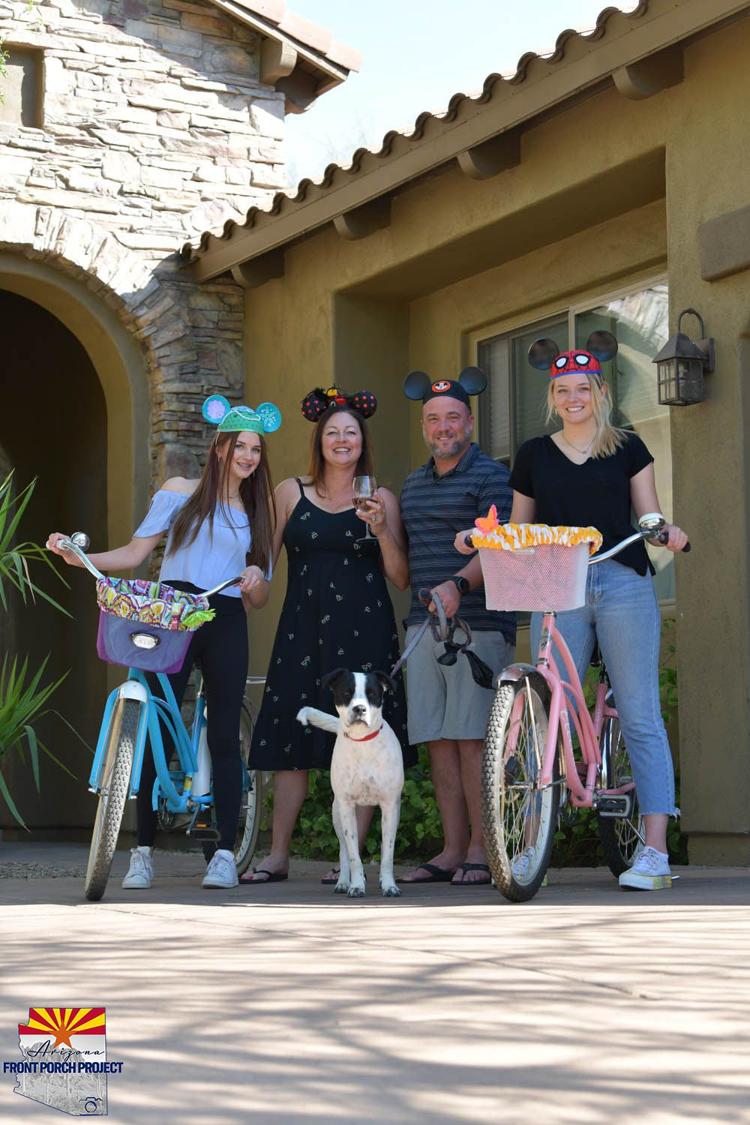 Throughout each photo session, the photographers take steps to stay safe. They text the family when they arrive instead of knocking on the door, take the photos from at least six feet away using a long lens and don't accept offers of donuts and other treats. But the visits are still social, and Schatzberg said most families have a lot of fun with the photographer.
Even as shelter-in-place restrictions loosen, the Arizona Front Porch Project plans to continue offering front porch photos to families in the Greater Phoenix area.
"It's totally different, but at the same time, it's comfortable," Schatzberg said. "It's been 100% fun, 100% easy … I think it's actually loosened people up in a weird way. It's not a formal setting. I think going to their home makes it comfortable for them, so it's been cool."
Retirement community residents give back
While the country faces uncertainty about the future of the coronavirus, one thing is clear: residents at Sagewood, a senior living community in Phoenix, are grateful for the workers who are keeping them safe.
"The feeling arose as a result of this pandemic … that the staff has really, really gone out of their way to accommodate people and see that they are not in harm's way," said Mort Scult, member of the Sagewood Residents' Council. "A lot of the things that the staff has done has been to insulate us to the point where we have not had any reported incident."
Staff now deliver packages and meals directly to residents, follow housekeeping procedures to protect residents' health and monitor people coming in and out of the community to make sure they're not carrying the virus.
"It's almost a closed community because we can get all of our meals brought to us, the doorbell rings and we pick up a paper bag of what we ordered for either lunch or dinner or breakfast," said Ken Bash, chair of the Sagewood Residents' Council. "We don't really have to go anywhere and expose ourselves like so many people elsewhere do. Even if they're staying in their homes, they still have to find ways to get their groceries and to eat, and we don't have to do that."
At the end of April, the residents' council voted to establish an Above and Beyond Appreciation Fund to thank staff for going beyond their regular duties and protecting residents' health.
The council's initial goal was to raise $70,000, which would allow them to give $200 to every employee. After two weeks, the campaign had the participation of around 60% of residents, and Bash said they were close to their goal.
"We wanted to do it so that when we give this to people, it would be something that would be meaningful and helpful, not just something that they could go out and maybe buy a newspaper or a taco at Taco Bell or that type of thing," Scult said.
In a regular year, Sagewood residents donate money to an employee appreciation fund, which is distributed at the end of the year based on hours worked and type of employment. The new Above and Beyond fund is entirely separate, an additional bonus that will be distributed equally to all employees this week.
Now seemed like the right time to let the staff know how much they were appreciated, Bash felt.
"When we get to June, that's a time when we have a lot of people leave — particularly the young people — and yet they have gone through this now with us, and they provided all this service," Bash said. "I wanted to be sure that we got to them while they were still here, and before they left that we recognize them."
Ultimately, residents' goal is to recognize the courage of staff members who may be putting themselves at risk so that residents don't have to.
"I think we live in a time when we take so much for granted. You employ somebody to do a job and they do the job, and you may give them a bonus at the end of the year for having done a good job," Scult said. "But the thing about it is that they have put themselves in harm's way; we are so thankful for the work that the staff has done, beyond what they would normally be expected to do." JN