Health care workers are being hailed as heroes for facing the coronavirus under difficult circumstances. In recognition of their efforts, the Jewish Community Relations Council's board initiated what it calls an "ER lunch challenge."
Wanting to do something to help people on the frontlines, but unsure of what would be best, Adam Goodman, JCRC's board chairman, reached out to Banner Health Foundation — he is a Foundation board member — and asked what would be most helpful.
Providing lunch for an ER staff seemed to fit the bill, and the company recommended Banner Estrella Medical Center in the southwest Valley as recipient. On April 28, Chompie's Restaurant, which has coordinated other events with Banner Health, signed on to bring and serve the food.
It was all serendipitous, according to Goodman. "We felt like (Chompie's) was on brand," he quipped.
Serving food to one lunch shift was not the only intention of JCRC. The idea is also to engage other Jewish organizations to combine forces and make the impact more widely felt.
Because the challenge is not meant to hinder any organization's ability to fund their own missions, Goodman said the idea is for board members to use their own money — as little as $20 — to pay for a lunch.
"It's a way for the boards — as units — to do something meaningful together," Goodman said.
The size of the board will determine the size of the gift, or in this case, the lunch. Goodman noted that JCRC's board is small yet they were able to feed about 50 people, according to Banner Health.
The ER staff enjoyed the generous portions and great food, said Andy Kramer Petersen, Banner Health Foundation's president and CEO. "The team in our hospital is incredibly grateful for the donation. It really lifts everyone's spirit. It reminds them that the community respects and cares for them."
Banner health care workers have received a lot of acknowledgment from across the Greater Phoenix area, Petersen said. They have already received nearly 11,000 donated meals at various hospitals.
"We've seen a beautiful outpouring of support," said Petersen.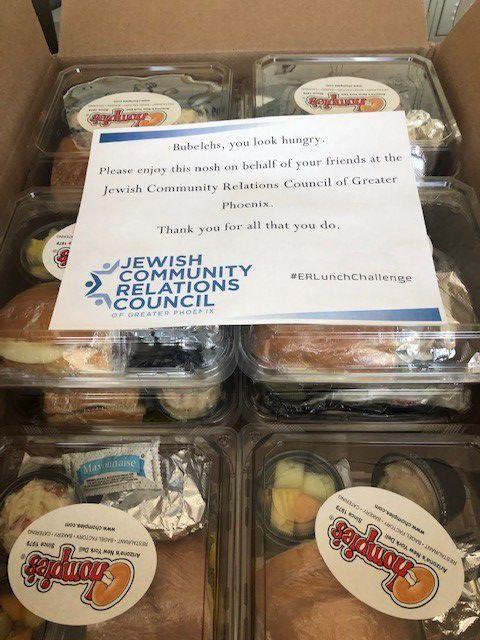 Accompanying the food from Chompie's was a note that read, "Bubelehs, you look hungry. Please enjoy this nosh on behalf of your friends at the Jewish Community Relations Council of Greater Phoenix. Thank you for all that you do."
JCRC began issuing challenges to other boards last week and are keeping their eyes on social media to see when another lunch pops up. So far, boards have been responding positively saying, "We love it!" and "We're in!"
"It's nice to think of the Jewish community writ large doing something impactful for the rest of the community," said Goodman. With such a positive response so far — both from Banner Health and Jewish organizations — he suspected the idea will catch on quickly.
Meanwhile, the JCRC is prepared to throw the gauntlet down again for the lunch challenge — and not just to boards.
"The next wave might be synagogues," Goodman said. JN