Tiffany Shlain, author of "24/6: The Power of Unplugging" (Simon & Schuster, 2019), will kick off the Bureau of Jewish Education's 2021 Passages lecture series on Jan. 10 at 7 p.m.
Originally scheduled to speak at the Martin Pear Jewish Community Center last March, Shlain was forced to postpone her event due to the worsening coronavirus pandemic. Her talk, as well as all presentations in this year's series, will be virtual on Zoom.
Shlain plans to speak about her book, recently released in paperback, which emphasizes the importance of taking one day a week from technology — what she terms "technology Shabbats."
"It's a wonderful social way to kick off this day," Shlain said. "So much of the value is in the actual quiet of Shabbat and the time for reflection and true connection with the people in your lives right in front of you instead of the ones on the screen."
Myra Shindler, BJE's executive director, is excited about Shlain's upcoming presentation.
Before the pandemic, Shindler would often see parents on their phones when they picked up their children from school — talking on their phone rather than to their children. "Wouldn't it be nice to have a 'tech Shabbat' as Tiffany calls it, where we are present for the people around us?" Shindler asked.
Pre-pandemic, silencing one's cell phone for an entire day might have been a heavy lift for a society besotted with social media and instant messaging. Now, with social distancing guidelines in effect, people are more dependent than ever on technology both socially and for work, and the idea seems simply unattainable.
And yet, Shlain, a technology junkie herself, said the interest in managing time with screens in order to live well is increasing exponentially during the pandemic. People were "burned out" before COVID-19 and now that they do "absolutely everything on a screen," taking one day off a week is even more essential for mental health and real connection, she said. And she insists it's achievable.
Even Shlain's 17-year-old daughter said her family's technology Shabbats are the one consistent thing during the course of the pandemic. They serve as a comfort as well as a respite.
"They're a break from the stress of the pandemic news and the election news and a break from everything going on," said Shlain. "And they replenish and rejuvenate us."
Shlain is not religious but rather a self-described cultural Jew. Her Judaism is no less important to her for that and is reflected in many aspects of her work in film and writing. "I love the culture, I love the history, I love the wrestling with ideas and humor and the food and the rituals," she said.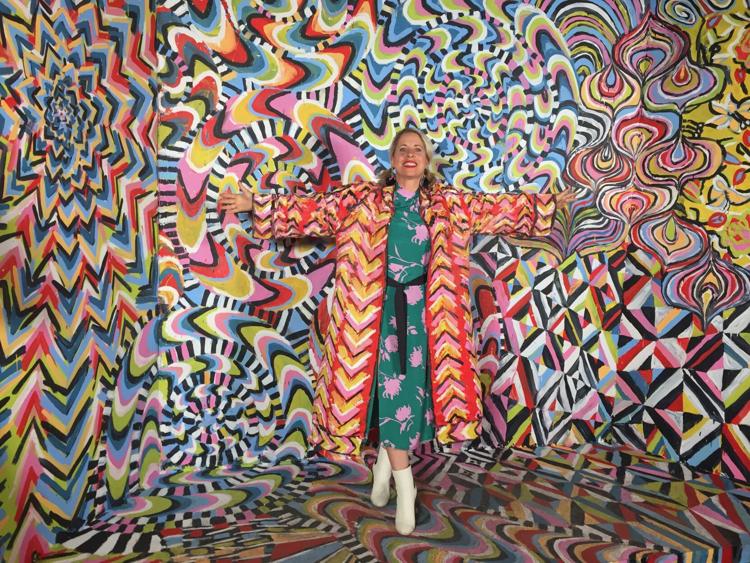 For the blonde and blue-eyed filmmaker and author, "revealing" her Judaism is always a choice. While she doesn't write or make films exclusively about her religion, she's comfortable mixing it with her more secular interests, especially technology, which is how she came to write and speak about the importance of technology Shabbats.
Shlain and her family turn off their cell phones, laptops and other technology for an entire day, and they've been doing that almost every week for ten years. And she's found it's not nearly as difficult as one might think.
"It's not a fast, a detox or a punishment," Shlain insisted. Instead, it's all in the way the idea is presented, and in her talk she will share methods for people to approach their partners, their families and their colleagues to get them on board with the concept.
The biggest benefit for Shlain — typical in that she is immersed in social media, work emails and being online most of the day — is that the façade can fall from the 24/7 mentality. She emphasized that people aren't built for that stress all day every day no matter how much they've been convinced they should be. One day away from it all helps to refresh minds and spirits.
"I get my soul back and my mind back," she said.
Shlain is grateful for the opportunity to speak to the BJE. She feels the urgency to share what she called, "this ancient practice that's simple and free and rooted in deep ancient wisdom."
She explained that technology Shabbats have been used in Jewish schools and camps, but Shabbat is not only for Jews. However, it's especially available to Jews, including those who previously saw Shabbat as simply a fun dinner to have with family and friends once every month or so.
The pandemic increased interest in her book and talks, and she will share how it also gave her the impetus to think about the virtual world differently and more expansively. Corporations and organizations started consulting with her about developing digital wellness programs during the pandemic. She is attempting to transfer her ideas on this topic into the new realm of Zoom and virtual meetings.
"I've probably done more talks in the last nine months than I even did before, but they're all virtual so I can actually do more of them, and the demand is so much higher," she said.
She also works remotely and gave up her film studio space in San Francisco. She enjoys the flexibility it all allows her, but she misses the human interaction too.
"There's nothing that replaces being in a room with other people and experiencing something together, but I have been doing a lot of experimenting with how to bring that online."
Shlain will expand on all of these topics and take questions and answers also.
BJE's series features five more speakers over the course of the next three months: Eugene Kontorovich, Rahel Musleah, Naftali Aklum, Robyn Helzner and Malka Simkovich. The final event is March 7.
Shindler isn't worried that the series being exclusively virtual will take away from it. "Shlain, as well as all our speakers, are so animated and passionate about their topics, the Passages series will translate well virtually," she said. JN
Tickets are available at bjephoenix.org.