For decades, Cheryl Lynn Greenberg, professor of history at Trinity College in Hartford, Connecticut, wrote and lectured widely about the historic dynamics of the political partnership between Jewish and Black people in the United States. As relations ebbed and flowed between the communities, the professor watched and dutifully recorded them — always with an eye on what the next iteration might be.
In a Zoom presentation for Arizona State University's Center for Jewish Studies on Oct. 25, Greenberg asserted that after a prolonged disengagement, the years leading up to the 2016 election was a time of "resurgent, optimistic and liberal energy" on the part of both Black and Jewish groups enthusiastic about once again combining efforts to advance shared values. They focused on how to harness their sense of renewed energy. Now, she said, "that all feels rather quaint."
"Jewish and Black liberals and progressives believe justice, egalitarianism and democracy are threatened and find themselves in an entirely new moment of threat and danger — one that's overly familiar with frightening overtones," she said. Even for those in the audience who might disagree with her assessment, Greenberg said, "that sense of optimism between Blacks and Jews, between liberals and progressives has turned into a grim determination on their part to fight against moving backward."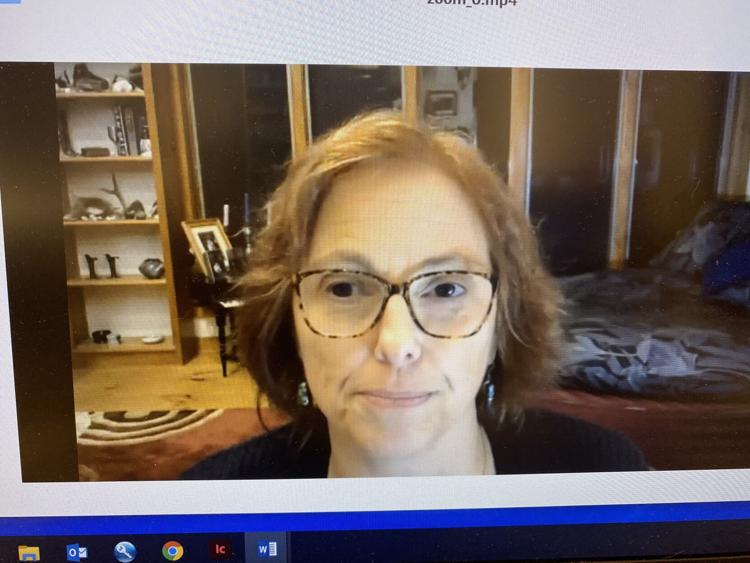 In the second of a series of five lectures concerning what Hava Tirosh-Samuelson, director of the Center for Jewish Studies, called "the burning issues in Jewish life," Greenberg, the author of "Troubling the Waters: Black-Jewish Relations in the American Century" (Princeton University Press, 2006), sketched the history of Black and Jewish relations from its starting point in the 1930s through its highs up to and including the civil rights era, to its more complicated lows in the late 1960s, '70s and into the early 21st century. 
Since natural coalitions don't exist, Greenberg posited, the coming together of the two groups was never inevitable. The question her lecture tried to answer centered around why two such disparate groups would find common cause at all and how it was sustained in the past and might be again.
Greenberg emphasized that although the Black and Jewish coalition was not always an easy one, it remains an example of a highly effective political coalition whose successes and failures hold lessons for other groups.
She marks the beginning of the partnership when large numbers of Jews immigrated from Eastern Europe in the early 20th century while Black people, in what is called the Great Migration, moved in large numbers from the South to the North in search of jobs and away from increasing violence against them. Both groups were concentrated in urban areas and were targets of hate.
Organizations such as the NAACP and the National Urban League as well as the National Council of Jewish Women and the American Jewish Committee joined forces early; women in leadership at NCJW and the National Association of Colored Women were often at the vanguard of the relationship.
Still, Greenberg said, there were many Jews in the early 20th century who felt they had enough problems without working with Black people, whose situation was even worse. But the rise of fascism in the 1930s spurred a real alliance: Famous figures such as Rabbi Stephen Wise of AJC and W.E.B. Du Bois of NAACP joined in anti-bigotry rallies; the Yiddish press covered lynch mobs, calling them pogroms; the Black press wrote about Jews in Germany. In 1938, a Black Baptist church raised funds for Jewish refugees saying that, "as a race of people whose souls have been made sensitive through many years of persecution and suffering, we extend our profoundest sympathies to the Jewish people in their present plight."
Greenberg explained that two outsider groups choosing to work together was as unlikely as it was important, and by deciding their separate interests converged, they created what she termed a "spacious self-interest" — one that would allow them to rearticulate their previous narrow agendas in a more universal way. They chose to attack bigotry across the board, deciding that was the only way to assure safety.
Not all Jews accepted this logic, however. Southern Jews in particular, sat out the alliance fearing that drawing attention to themselves would only provoke anti-Semitism. Greenberg said that in Georgia, the lynching of Leo Franks was something they pointed to as proof of their analysis.
In general, the bond between Blacks and Jews deepened into the 1940s and '50s with a newfound liberalism in the country. Their work focused on integration, on challenging segregation and poll taxes, legal strategies and expanding the social safety net. All major Jewish organizations filed amicus briefs in the Supreme Court's Brown v. Board of Education case.
The relationship between the two groups began to fray in the 1960s. Much of the tension centered around divergent views of reality. Many Jews came to the U.S. as poor immigrants and worked their way up. However, Greenberg said, they did not see their whiteness as something that assisted them in entering the middle class and did not recognize the barriers of structural racism. They believed in an elusive and theoretical race blindness that Black people saw as unrealistic.
Meanwhile Blacks began to see integration as "cultural genocide," and groups like the Black Panthers preached distrust of white liberals who, when faced with a choice, would align with other whites ahead of liberal ideas.
The inability to see one another's point of view was a harbinger of the coming fracture, Greenberg said. It was a point she returned to often.
One key problem between the communities was the idea of race. Ashkenazi Jews did not want to identify as white given that they had suffered at the hands of white gentiles. But Black people saw them as white and benefiting from white privilege. It is a tension that persists today, she pointed out — a tension she wrote about in "'I'm Not White — I'm Jewish': The Racial Politics of American Jews," a chapter in the 2013 book "Race, Color, Identity."
The fact that Jews continued to build businesses in Black neighborhoods where other whites didn't want to be and hired Black domestic workers only exacerbated the employer versus employee dynamic, which Greenberg argued led to Black people wondering if they were being exploited by a Jewish overclass.
Such issues are still relevant today, but Greenberg said that if Jewish organizations included more Jews of color in leadership positions and listened to their concerns, it might lead to more understanding and better choices.
Even though the turn of this century seemed desultory for the relationship between the two groups, Greenberg said the last decade showed many signs of hope. Partnerships between the Urban League and AJC, Black Trade Unionists and Jewish Labor Committee, Religious Action Center and NAACP — especially in terms of voter registration projects — bode well in Greenberg's view, as do Black churches and synagogues acting in unison. By and large, Jews remain committed to civil rights and although there are different positions in the Jewish community about working with Black Lives Matter, the protests spurred by the killing of George Floyd this summer rekindled joint political efforts.
"Internal divisions should not prevent work to move forward," Greenberg said at the end of her talk. "Acknowledge them, confront them and move on. We can't wait."
Monique Mendel, past president of Phoenix Holocaust Association, found the presentation important and salient. Things she felt during her years teaching in Black neighborhoods in Los Angeles and Phoenix were confirmed by Greenberg's talk.
"She was spot on," Mendel said. "The clippings she used were powerful. It's just a hard thing to talk about, but it's more important than ever that we come together."
"The focus on Black and Jewish relations is important because it has a very complex history, and it's very rich," said Tirosh-Samuelson. "Part of it is not so cheerful and you have to talk about these complicated aspects as well. It was very useful to get the history of the relationship in light of general problems in American Jewish society — especially since World War II. That was excellent."
Lisa Kaplan, assistant director of Jewish Studies, thought the event was wonderful. "It is my hope that it served as a rallying cry for our times when it is more important than ever that we stand up with the African American community to demand equal protection under the law," she said. JN