Koral Zaarur sometimes worries her prominence as a Jewish student leader at Arizona State University makes her an easy target for anti-Semites. "I'm hated by some because of my religion," she said. She finds herself wondering whether "someone will act on this hatred."
Zaarur, president of ASU's Students Supporting Israel, spoke about her experiences Feb. 16, during a university webinar about anti-Semitism on campus. She joined the panel's moderator, Hillel at ASU Executive Director Debbie Yunker Kail, to discuss students' personal experiences of anti-Semitism and point out university resources for combating it.
There has been a "dramatic rise" in anti-Semitism on campus, mirroring a rise in anti-Semitism around the country and the world, according to Yunker Kail. Last August, posters featuring "Hitler was right," "unity of our blood" and other anti-Semitic comments were found on ASU's campus for the second time in less than a year.
Nationwide, nearly nine out of 10 American Jews say anti-Semitism is a problem in the United States, with more than a third describing it as a serious problem, according to an American Jewish Committee survey published in October 2019.
Hava Tirosh-Samuelson, director of Jewish Studies at ASU, was also on hand at the event. She described anti-Semitism as a problem not just for Jews, but for all of society, which still has not learned "the most tragic lessons" of the Holocaust.
"It can appear on the right as well as the left," she said. "It can be conscious as well as unconscious; it can be promoted by people who have never met us, or it can be promoted by people who benefit directly from anti-Semitic propaganda."
Yunker Kail agreed that anti-Semitism takes myriad forms and is not the exclusive domain of any political ideology. Extremists on the right might be easier to spot, but some Jewish students report facing challenges when entering "progressive spaces" because Jews are seen as benefiting from white privilege, so their voices are not listened to or recognized as valid, she said.
The best tools students have to combat such misperceptions — and anti-Semitism in general — is education and getting to know people one-on-one, she advised. Emily Kaplan, a junior at ASU involved in Hillel, Chabad and Jewish Arizonans on Campus, has had to deal with anti-Semitic comments during her college tenure.
"We all know Nazis and swastikas are bad, and, yes, that's obvious," she said. "But now we are facing subtle anti-Semitism — things that sound questionable, but are hard to gauge." She sees posts denying the Holocaust in her social media feed as well as those promoting Rep. Marjorie Taylor Greene's (R-Ga.) idea that a Jewish space laser caused California wildfires. The biggest challenge for her generation, Kaplan said, is addressing these flippant anti-Semitic comments online.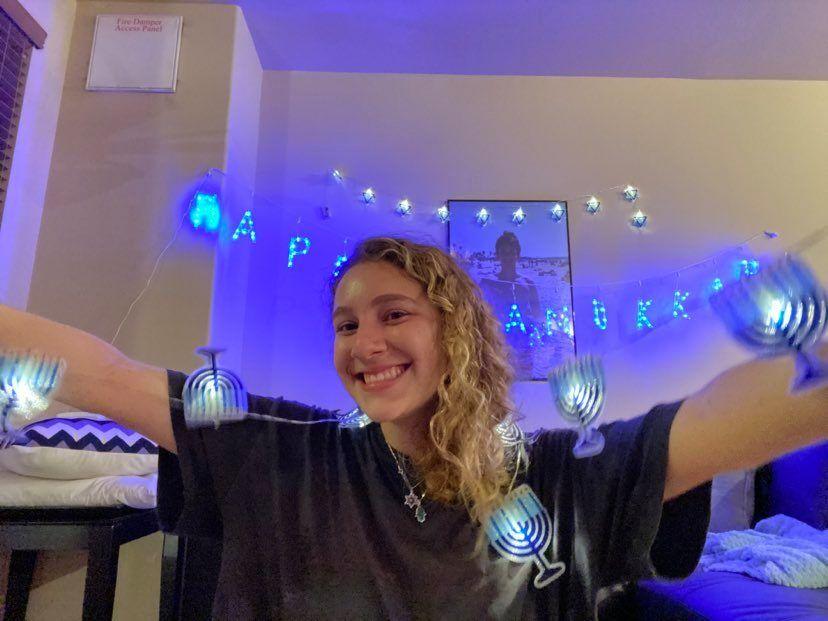 "Anti-Semitism is everywhere on the internet, and the worst part is I can report it as many times as I want, but nothing happens," she said.
One goal of the webinar was to let students know they are not alone. Several speakers talked about how to report incidents and pointed out multiple people who can provide assistance.
Cassandra Aska, ASU's deputy vice president and dean of students, told students that her office can be a valuable resource.
"Communicating to us that you are experiencing something, or that you are on the receiving end of an incident is very important," she said. "Call the dean of students and report it. Call ASU police and report it. That's the starting point."
Michael Thompson, ASU's police chief, has given his cell phone number to several student Jewish leaders to assure them he will address any concerns or incidents right away.
"I have tried to make sure that everybody understands within the department that we are every bit as much of an educator as we are an enforcement agency," he said. "Our mantra is that we are to provide a safe and secure environment for everybody to live, learn, work and grow in."
Carlos Galindo-Elvira, an ASU alumnus and former director of the Arizona Anti-Defamation League, was one of 73 people who tuned into the webinar to hear what the university had to say on the topic.
Galindo-Elvira couldn't agree more with Tirosh-Samuelson that anti-Semitism is a societal problem, and he pointed to the example of the riot at the U.S. Capitol on Jan. 6. Several participants that day sported anti-Semitic symbols.
It was "heartbreaking" to hear Zaarur voice concerns for her safety, he said. He remembers that feeling from working for ADL, where he received threats.
"For a young person, the weight must be so much more profound, to have those first feelings of lacking security," he said. "But thankfully, there's an organization like ASU Hillel that can bring hope and help to students." JN